Chicken
3 Ingredient Buffalo Wings
---
Behind the Recipe
Wings. Butter. Hot Sauce. It's Almost Too Easy.
Okay, the first thing you'll notice is that this recipe actually has six ingredients, but we took some liberties because half of them (salt, pepper & vegetable oil) are almost guaranteed to be in your pantry already.
Which leaves just three key ingredients left to pull off the easiest, tastiest, lip-smacking party wings you ever cooked on the grill!
The beautiful part about this grilled buffalo wings recipe is how you can make them different every time! While this recipe uses buffalo sauce, you can sub in any type of sauce: teriyaki, garlic parmesan, spicy Asian, honey mustard... whatever gets your mouth watering! Go crazy with it.
Here's a few extra tips for grilling the perfect party wings:
Before the grill, you can marinate your chicken wings to ensure the flavor really gets into all of those nooks and crannies.
You can cook these wings up to 3 days ahead. When you're ready to eat, just place 'em on the grill for some char and heat, toss them in buffalo sauce, and devour.
If you want to kick things up a notch, add some wood chips while you're grilling for an extra layer of flavoring.
Only brush your wings with sauce during the last minute of cooking.
After grilling, toss your wings in the buffalo sauce while they're still warm for the perfect glaze.
Next time you invite everyone over, break out this recipe for 3-ingredient buffalo wings (and a few extra napkins). Now, get out there and make something tasty!
Ingredients
2 lbs party wings
1 tbsp vegetable oil
1 tsp kosher salt, plus more
½ tsp freshly ground black pepper, plus more
¼ c (½ stick) unsalted butter
⅓ c hot sauce
Preparation
---
Pat your party wings very dry with paper towels.
Place wings in a large bowl and toss with 1 tablespoon vegetable oil, 1 teaspoon salt, and ½ teaspoon pepper in a large bowl until coated on all sides.
Melt a half stick of butter in a small pot. Once melted, remove from the heat, and stir in ⅓ cup of hot sauce until well-blended. Voila! you just made buffalo sauce.
Preheat your Nexgrill for two heat zones: one side on medium and the other on medium-high. (If you have a smaller grill, start on medium, and increase the heat to medium-high at Step 3.)

Place your wings directly on the grill over medium heat, turning occasionally until the skin starts to brown, about 12 minutes. (If you need to work in batches, that's okay.)

Move wings over to the medium-high zone of your grill (or increase heat to medium-high), and cook for an extra 5-10 minutes. NOTE: If your wings start to burn, pull them over to a cooler section of the grill or reduce the heat.

During the final minute of cooking, take ¼ cup of your buffalo sauce mixture and start brushing those wings all over.

Once cooked through or a digital meat thermometer reads 165ºF, pull wings from the grill and into a large bowl.

Pour the rest of your buffalo sauce into the bowl, and toss them to coat evenly.

Season with a little salt and pepper, and serve 'em up hot!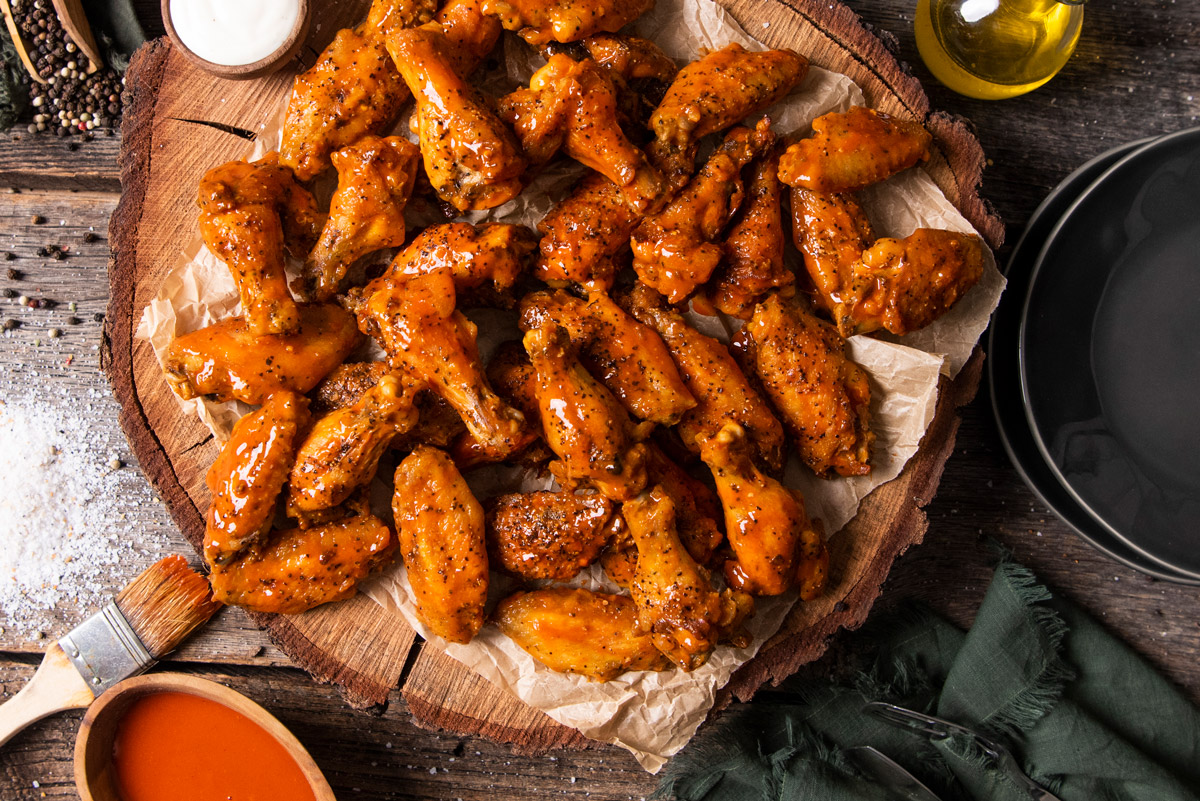 Let's be friends!
Follow us on social media and fill us in on all your grilling adventures using #EveryonesInvited. We promise to keep you up to date with all our latest grill tips, stories, recipes, and more—everything you need to stay satisfied between cookouts.
Looking for more recipes to get under your belt? Check out the rest of our unique grilling ideas to get the most out of your grill.
Try Pairing It With These Other Recipes
---
Everything You Need
To Make This Recipe
---