Beef
Cherry Sage Short Ribs
---
Behind the Recipe
I Spent Six Summers in the Cherry Orchards
Picking fruit with my older brothers is one of my fondest memories. The days were long, but sunburns and scratches faded with every bite of tart, dark cherries. Hot weather still takes me back to that little Michigan farm, losing pit-spitting contests to Bill, and cracking jokes through red-stained lips.
Seems like ages ago when we came up with this recipe for Cherry Sage Short Ribs. Yet every July when the heat breaks 90º, I pull out the grill and call up my brothers. We may live states apart now, but we'll always have plenty of memories, and plenty of cherries.
Ingredients
3 lbs. of beef short ribs
25 cherries, pitted
¼ cup of molasses
1 tsp. of Sriracha or favorite hot sauce
1 large shallot, diced
1 tbsp. of water
8-10 sage leaves
½ tsp. of Worcestershire sauce
A pinch of sea salt
4-6 cloves of garlic
Preparation
---
Over medium heat, fill a small saucepan with the cherries, molasses, Sriracha, the shallot, water, Worcestershire sauce, sea salt, and about 5 of the sage leaves. Cook until the shallot is tender, then set aside to let cool.
Transfer your mixture to a blender or food processor, and blend until smooth.
Place the beef short ribs in a large dish. Brush half of the sauce you just made over the ribs, saving the other half, and then refrigerate the ribs for about an hour.
Preheat the grill to medium low heat, and position your Evolution infrared heating plates into place.
Set the ribs on the grill on top of the infrared plate. Add in the garlic cloves, and several more sage leaves around the ribs.
Grill the ribs for an hour, then coat them with the remaining sauce.

Grill the ribs for an additional hour, then remove from heat.

Let your ribs cool for around 5 minutes, then dig in!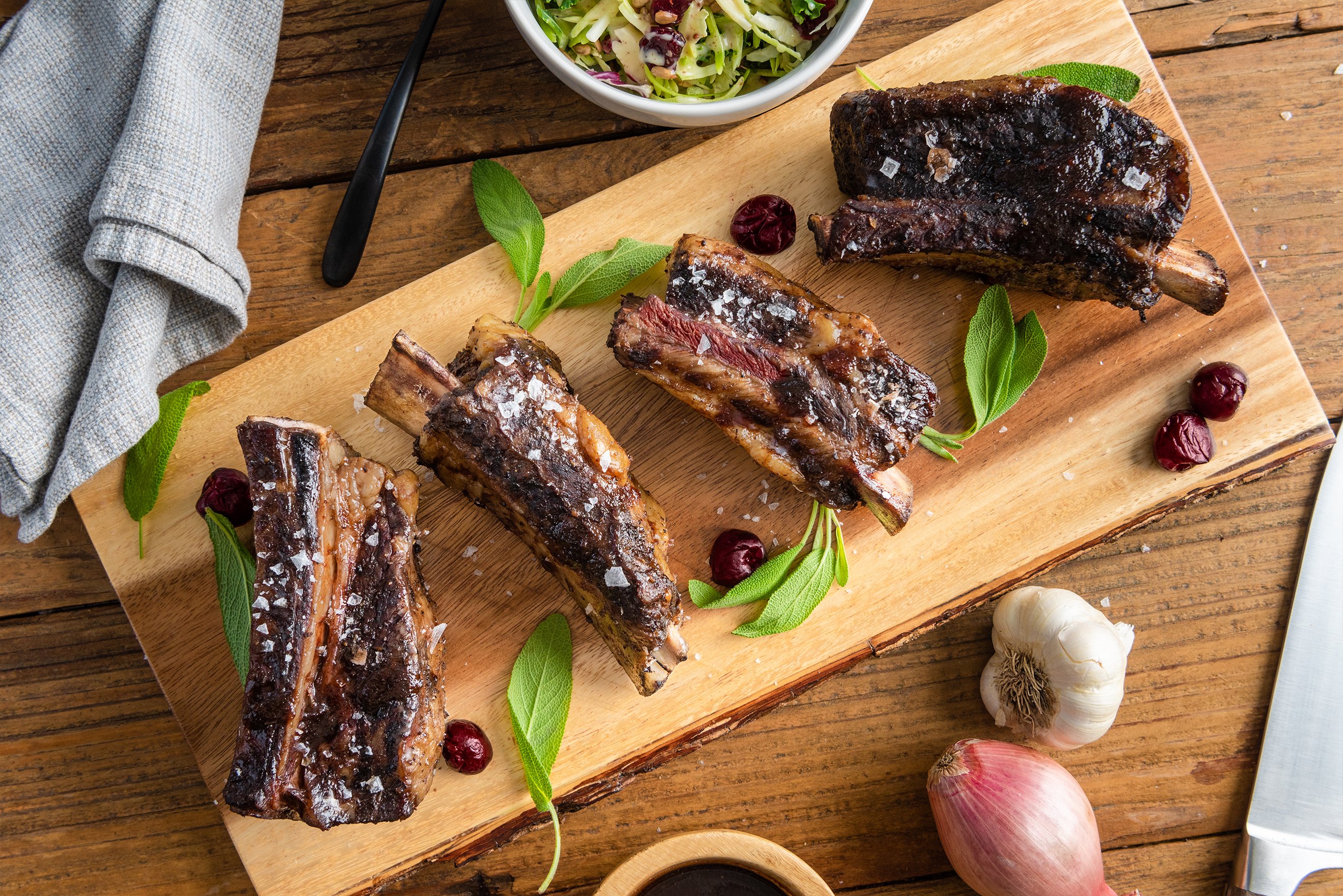 Let's be friends!
Follow us on social media and fill us in on all your grilling adventures using #EveryonesInvited. We promise to keep you up to date with all our latest grill tips, stories, recipes, and more—everything you need to stay satisfied between cookouts.
Looking for more recipes to get under your belt? Check out the rest of our unique grilling ideas to get the most out of your grill.
Try Pairing It With These Other Recipes
---