Breakfast
Grilled Breakfast Burrito
---
Behind the Recipe
Wrapping Familiar Flavors into a Recipe All My Own
Sunday mornings at Grandma's were especially delicious. There were always homemade tortillas, queso fresco, and huevos a la Mexicana con poco chile (because no one in their right mind could handle grandma's idea of spicy).
I didn't know how much I'd miss her cooking until I went away to college. And after a semester's worth of cold cereal and leftover pizza for breakfast, I decided it was time to bring some familiar flavors to campus. The breakfast burrito my roomies and I created is too delicious not to share… and tastes pretty darn close to what we ate back home, too. Here's hoping grandma isn't too mad that I added french fries to the mix.
Ingredients
1 large gold potato, cut into fries
2 lbs. beef skirt, cut into thin strips
2 tbsp. carne asada seasoning
1 tbsp. garlic powder
4 large flour tortillas
8 eggs, whisked
1 tbsp. canola oil
1 tbsp. butter, melted
1 cup cheddar cheese, grated
Preparation
---
Begin by whisking eggs in a large mixing bowl
Slice steak, potatoes, and avocados into thin strips
Toss beef slices in asada seasoning and garlic powder until seasoning evenly coats beef
Coat potato slices with Canola oil
Pre-heat griddle to 450 degrees
Once your griddle is up to temperature, place seasoned beef on grill, only searing each side. When you see juices rising to the surface of the meat, it's time to flip. Once cooked, remove from grill and set aside.

Place potato slices directly on griddle and cook until golden brown, then set aside.

Lower grill temperature to medium-low heat – around 300 degrees. Scramble eggs on top of residual beef fat, adding salt and pepper as desired.

One at a time, lay out your tortillas and pile on scrambled eggs, carne asada, and fries. Top with grated cheddar, avocado slices, Pico de Gallo, and whatever else will hit the spot.

Fold in sides of each tortilla and roll tight. Brush burrito with melted butter and place on griddle until warmed through and golden brown. About 5 minutes per side.

Take a moment to admire your work, then have at it.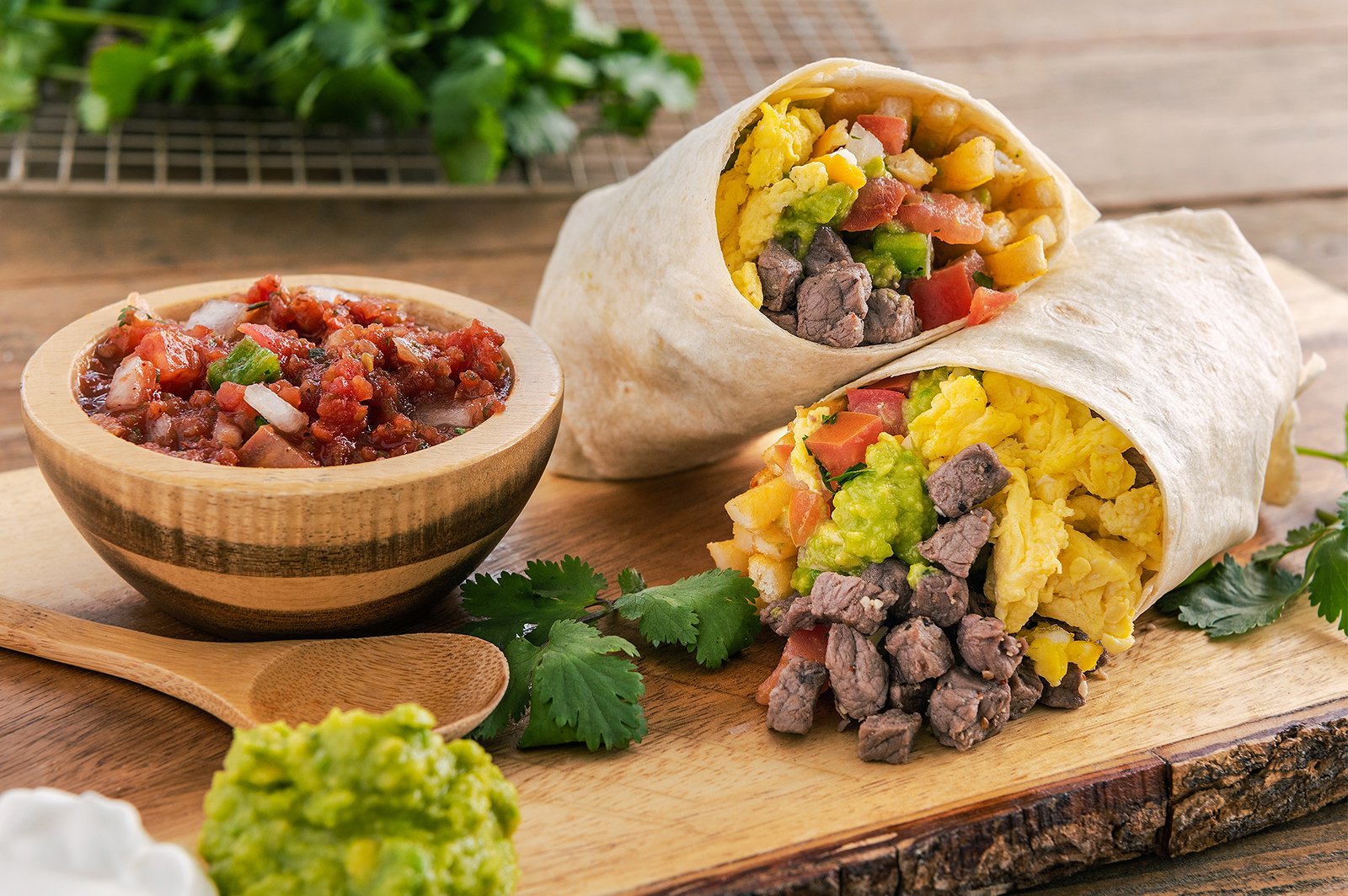 Let's be friends!
If you don't already, follow us on social media and fill us in on all your grilling adventures using #EveryonesInvited. We promise to keep you up to date with all our latest grill tips, stories, recipes, and more—everything you need to stay satisfied between cookouts.
Getting tired of your usual recipes? Take a look at our other grilling recipes and find something to spice up your next backyard barbeque.
Try Pairing It With These Other Recipes
---
Everything You Need To
Make This Recipe
---