Finding His Calling
Nikolaj Juel is a father, husband, hunter, tracker, food writer and chef at an organic farm in Denmark. He learned to love the outdoors at a young age, but he hasn't always been the cookbook-writing head chef he is today.
In his twenties, he left for London with a guitar on his back to pursue a career in music. "I was a badass guitarist." he likes to say, and casually added, "I've played with guys like Jason Mraz and Cat Stevens and James Morrison."
But it was there in the outskirts of London, in one of Jamie Oliver's kitchens, that Nikolaj really learned how to cook fish and game meat.
When he moved back to Denmark, his experience landed him a head chef position at a large organic farm, where he discovered how to combine his talent for cooking with his passion for hunting and tracking.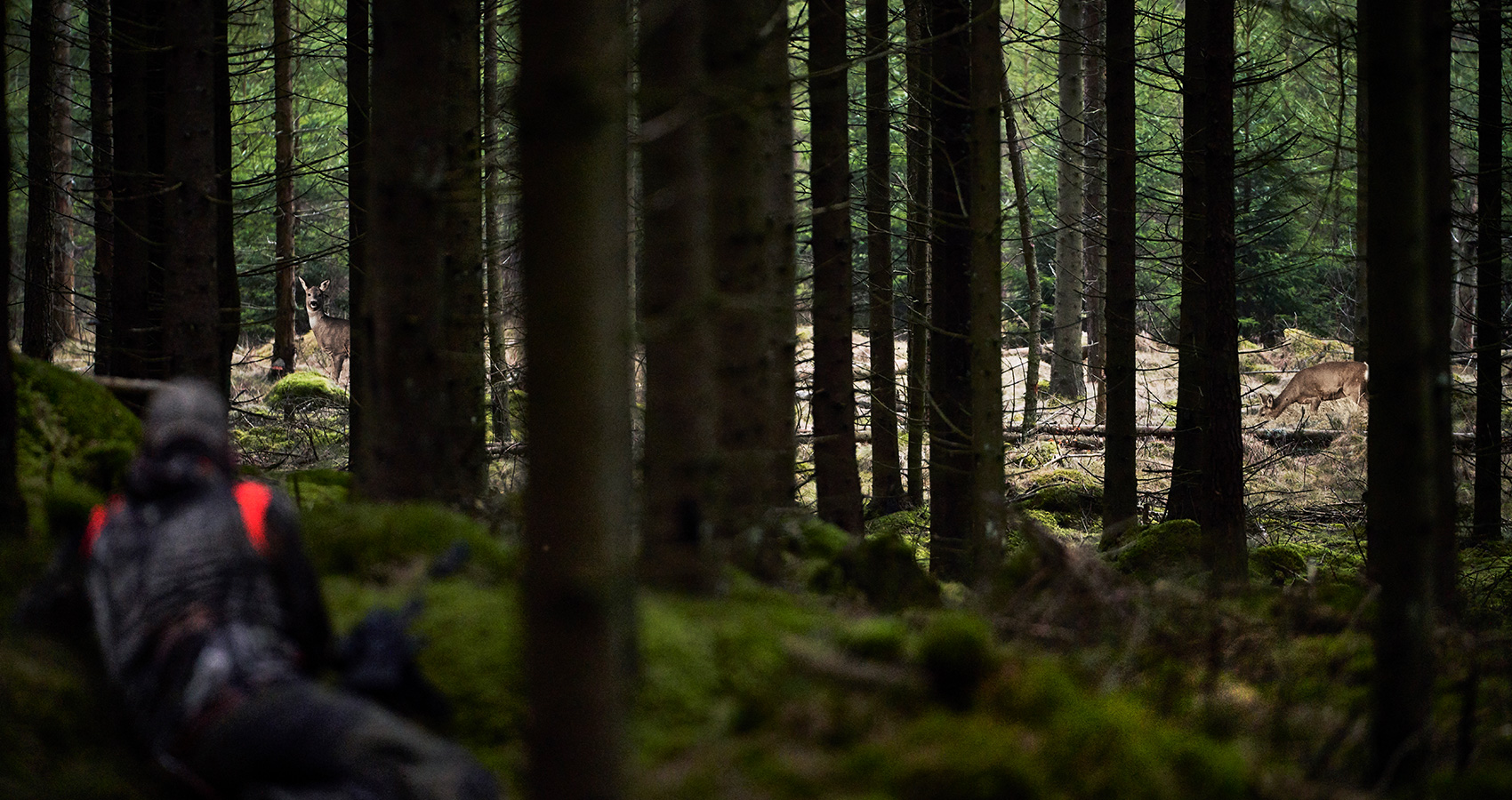 The Hunt Is On
My voice lowered when Nikolaj took the rifle off his back and peered through the scope. "I've never done anything like this," I told him. "I'm not even sure how I feel about it."
Briefly, Nikolaj broke his gaze to give me a reassuring look. As he turned back he said, "I love hunting, but I don't think that everyone should own a gun."
"What does that mean?" I asked.
"Hunting is a way of preserving nature," he explained. "If a deer population becomes too dense or grows out of control, it's much more likely that the group develops diseases, and that places the entire population under more stress."
He went on… "I would never hunt a roebuck or a fallow deer that I see has potential to have healthy babies. I hunt selectively. You're actually helping to maintain the deer population by culling the older or weaker from the group. It makes sense to go out and help maintain the balance of nature, and that's what I'm a part of when I go hunting."
I had never thought of it this way. Growing up in the suburbs, I always figured hunting was just a culture I didn't connect with. But here with Nikolaj, among the wilderness, it made sense. Sometimes I think we view hunting as an evil act, but when done responsibly, it's really more of a balancing act that provides a sustainable source of food.
---
…you see the whole forest come alive, it's just an amazing feeling. It's like fuel to my soul.
Back at the Campsite
The hunt was over sooner than anyone expected. Even Nikolaj was surprised by how quickly it passed. We were making our way back to the campsite carrying a fallow deer when he started telling me about his cookbook, Walk on the Wild Side
"A lot of the hunting community in Denmark, they don't really know how to cook the game they shoot. They have, like, one recipe," he laughed.
"I kind of wanted to do a different take on it, because I love all kinds of different food. So my partner [Columbus Leth] and I made a game cookbook with lots of recipes inspired by different culinary approaches–Japanese, Mexican, Nordic and Italian culture."
There at the campsite, he handed me a copy of his cookbook to check out while he and his crew began prepping the meal. I flipped through page by page in awe, not recognizing a single dish in the 300-page book.
There was pappardelle pasta with wild boar, duck beast with polenta, and pheasant ragu in bianco. All recipes crafted specifically to show hunters and anglers a vast range of approaches for preparing game, fish, and wild ingredients. All conceived and perfected by a man who was clearly hungry for something different than your average dish.
Bringing It to the Grill
As the food prep continued, our conversation drifted to the differences between grilling in Denmark and grilling in America.
"You guys have a totally different grill culture than we do over here," he chuckled. "I saw this thing with David Chang on Netflix. That one about cooking in fire pits in very elaborate ways. That was pretty interesting."
Nikolaj ignited his Nexgrill 4-burner and opened the lid. By that time his crew was in full restaurant mode. The air smelled of fresh spices and boiling greens. The tables were set with candles and rustic lanterns.
Nikolaj gently placed the first cut of meat across the cast iron grates. He was making lightly seared Carpaccio rolled and crusted in thyme leaves and herbs, with baby beet roots and wild rocket (AKA wild arugula).
The second course was butterflied leg meat, marinated in herbs like sage, rosemary and garlic, and juniper berries. "The berries take over some of the gaminess of the meat," he said, placing a sauté of spring vegetables and salsa verde over the dish.
It was nothing short of a feast. And as we sat there, joking around, giving cheers, dining on wild ingredients, and surrounded by one of the most picturesque forests I'd ever seen, I felt a sense of place that's hard to describe.
It wasn't just being out there in nature. It was (in the truest sense of the word) consuming the wilderness around us. Letting it fill us, respecting its vastness, and drawing from its strength.
"The connection with nature is really important to me," said Nikolaj. "If I can go out and harvest an animal and bring it home to my family, and make some delicious healthy food out of it, it's been a good day. Cooking for others is the best way to share a moment."
Special thanks to Nikolaj Juel & Columbus Leth of Walk on the Wild Side, and Stedsans in the Woods for hosting us.
Let's be friends!
If you don't already, follow us on social media and fill us in on all your grilling adventures using #EveryonesInvited. We promise to keep you up to date with all our latest grill tips, stories, recipes, and more—everything you need to stay satisfied between cookouts.
Make The Same Delicious Recipes
---