Chicken
Buttermilk Brined Rotisserie Chicken
Preparation

20 mins, plus 4-12 hrs marinating time
---
Behind the Recipe
Turn Little Birdie
You know how fried chicken is always the most juicy and tender under all of that crispy breading? It's because of an old school trick where buttermilk is used to brine and season the chicken. I've taken the same brine technique and used it in a grilled chicken so you get all of the flavor, tenderness, and juiciness of fried chicken inside the beautifully roasted skin of a rotisserie chicken.
As seen on Beyond the Flame with Susie Bulloch.
Ingredients
Here's everything you need to make this recipe:
1 3-4 lb. chicken
4 cups buttermilk
4 tsp. salt
1 tsp. black pepper
2 tbsp. smoked paprika
1 tbsp. garlic powder
1 tbsp. onion powder
2 tsp. celery seeds
2 cloves garlic
1 shallot
2 sprigs rosemary
2 sprigs thyme
Preparation
---
Fill a large re-sealable bag with 4 cups buttermilk, 4 tsp. salt, 1 tsp. black pepper, 2 tbsp. smoked paprika, 1 tbsp. garlic powder, 1 tbsp. onion powder, and 2 tsp. celery seeds.
Place your chicken into the mixture, and set in refrigerator to brine for 4-12 hours.
Remove from the brine, drain excess, pat dry, and season liberally with salt.
Fill the cavity of the chicken with 2 cloves of garlic, 1 shallot, 2 sprigs of rosemary, 2 sprigs of thyme.
Secure on the rotisserie.
Preheat your Nexgrill to 400-450º.

With your chicken on the rotisserie spit, place it onto the grill, and turn on the rotisserie spinner (rotisserie requires a nearby power outlet).

Cook for approximately 1 hour to 1 ½ hours, basting with melted butter every 20 minutes.

Monitor internal temperature with a digital meat thermometer. When thighs read 150-155º, remove the chicken and rotisserie spinner.

Let rest for 10-15 minutes. Slice, serve and savor!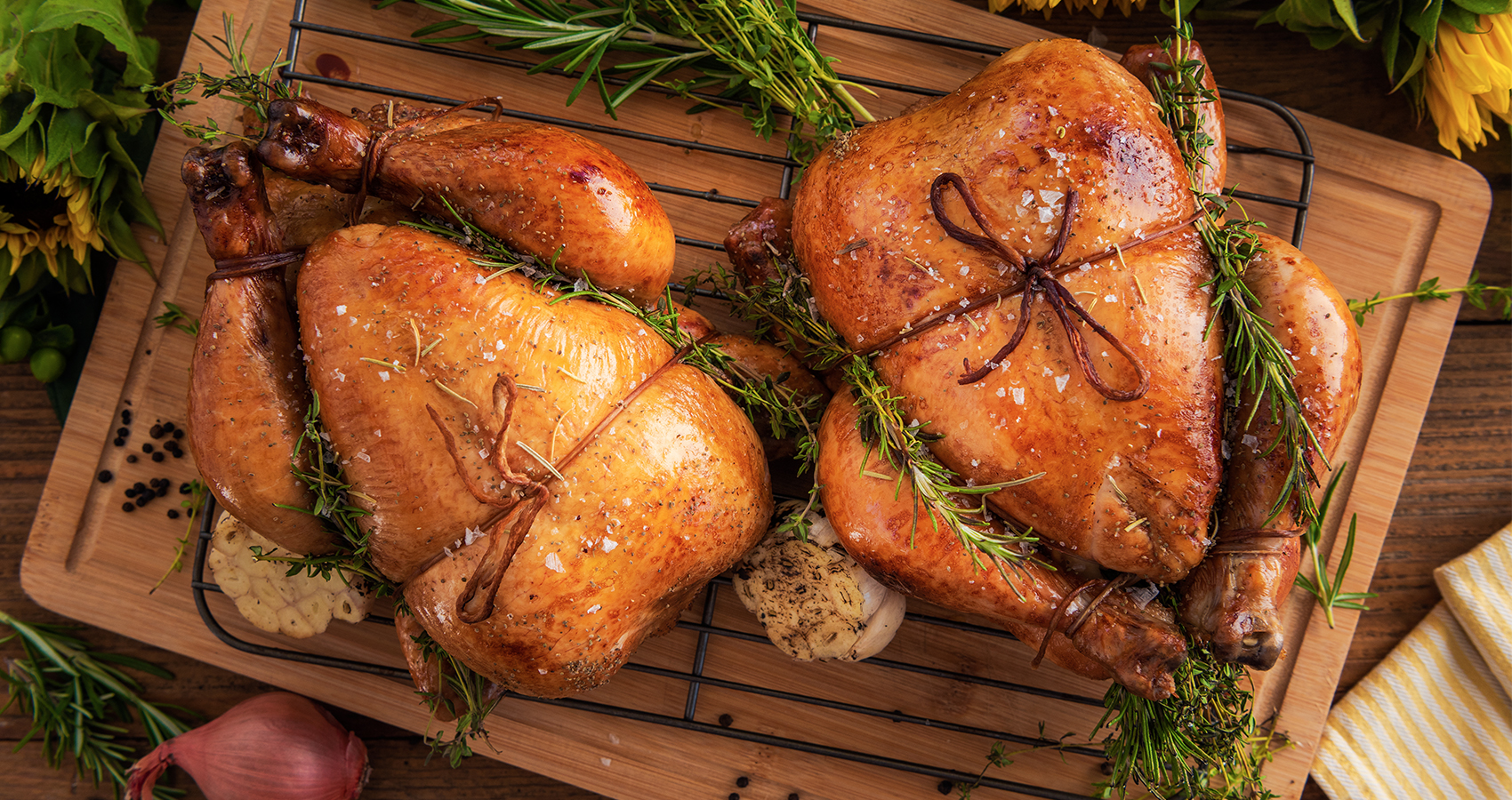 Let's be friends!
Follow us on social media and fill us in on all your grilling adventures using #EveryonesInvited. We promise to keep you up to date with all our latest grill tips, stories, recipes, and more—everything you need to stay satisfied between cookouts.
Looking for more recipes to get under your belt? Check out the rest of our unique grilling ideas to get the most out of your grill.
Try Pairing It With These Other Recipes
---
Everything You Need To
Make This Recipe
---