Sides
Grilled Artichokes with Bacon Breadcrumbs
---
Behind the Recipe
Quartered, Cooked & Drizzled with Goodness
Any day I can get my kids to devour vegetables and beg for more is a good day. These grilled artichokes are just the right texture combo of soft and crisp and just the right flavor combo of sweet, savory, and acidic. Each bite you get tender grilled artichoke, crispy bacon breadcrumbs, and creamy lemon aioli. They're the most addictive vegetables ever, for adults and kids alike.
As seen on Beyond the Flame with Susie Bulloch.
Ingredients
Artichokes


4 medium artichokes
6 tbsp. salted butter
1 tbsp. salt
1 tbsp. lemon juice
Bacon Breadcrumbs


½ cup panko breadcrumbs
½ cup grated parmesan cheese
4 slices bacon, cooked & crumbled
¼ cup finely minced parsley
1 tsp. salt
½ tsp. pepper
Lemon Aioli


1 egg
1 tsp. Dijon mustard
Zest & juice of 2 lemons
1 clove garlic
1 cup olive oil
1 tsp. salt, plus more to taste
Preparation
---
Artichokes
Bring a large pot of water to a boil. Add in a tablespoon of salt and a tablespoon of fresh squeezed lemon juice.
Cut the stems off the artichokes, and cut them into quarters. Using a paring knife, carefully remove the fuzzy hair layer (called the choke) from the heart of the artichoke so you're left with the meat of the artichoke plus several of the exterior leaves.
Place the artichokes into the pot of boiling water and boil for 10-12 minutes until the artichokes are still firm, but fork tender.
Remove them to a baking sheet, and brush with 6 tbsp. of melted salted butter, being sure to get butter in between the leaves and all over the heart.
Bacon Breadcrumbs
In a separate bowl, stir together all ingredients for the bacon breadcrumbs and set aside.
Lemon Aioli
In a small blender or food processor, add 1 egg, 1 tsp. Dijon mustard, the zest & juice of 2 lemons, and a clove of garlic. Pulse to combine all ingredients. Then increase the speed of your blender to medium, and slowly drizzle in 1 cup of olive oil. Continue blending for 60-90 seconds until the aioli has thickened, emulsified, and is very creamy and rich. Add in your salt, and don't be afraid to taste it. ;)
Preheat your Nexgrill to 400-450º.

Place the partially cooked and buttered artichoke quarters onto the grill so that a piece of the heart makes direct contact with the grill grates.

Grill for 3-5 minutes per side. Then flip the artichokes to their back so the heart is facing up, and fill each cavity with a large spoonful of bacon breadcrumbs.

Close the lid and grill for another 3-5 minutes until breadcrumbs are golden brown.

Remove artichokes to a platter, and drizzle with (or serve alongside) lemon aioli.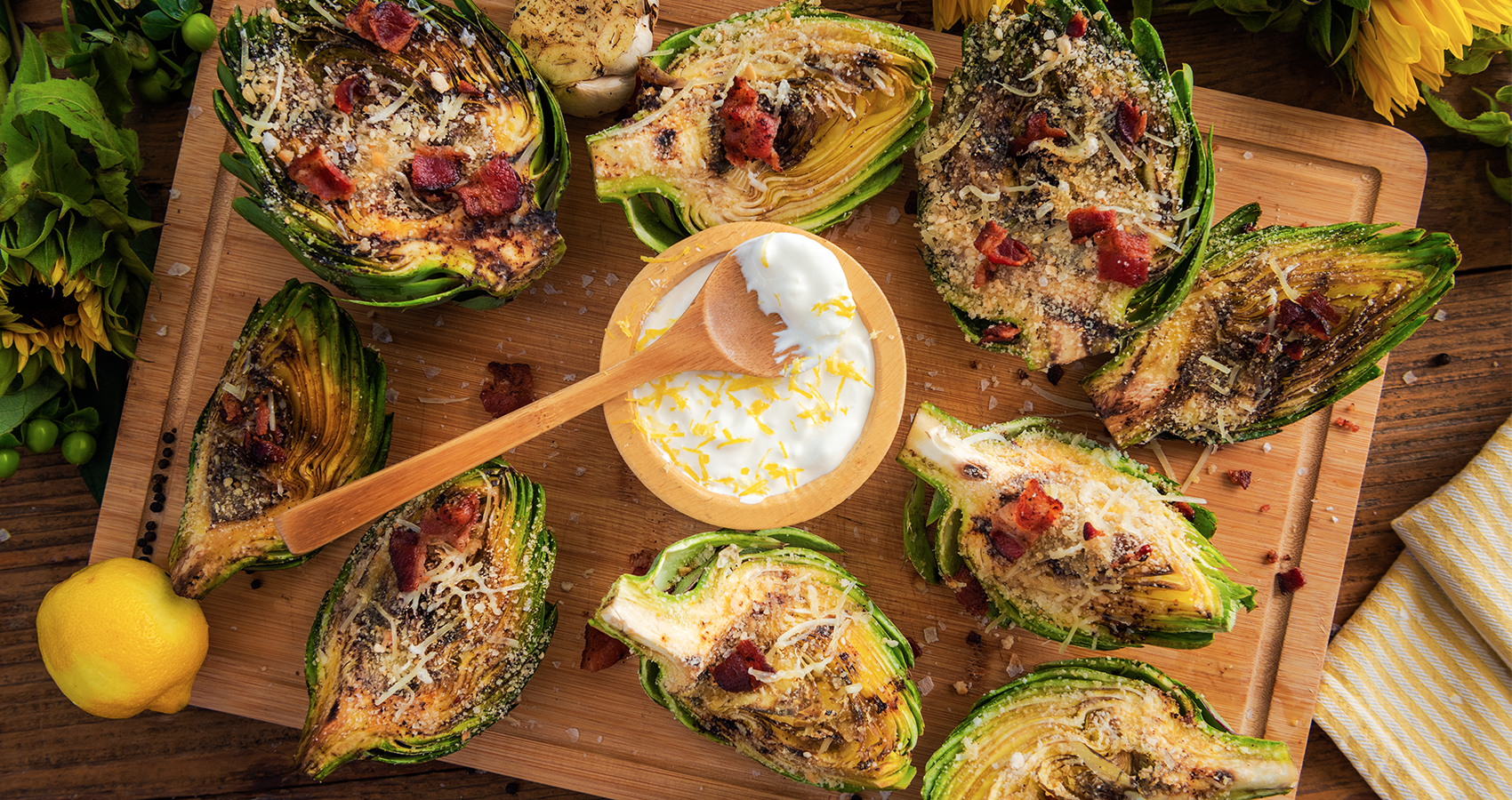 Let's be friends!
Follow us on social media and fill us in on all your grilling adventures using #EveryonesInvited. We promise to keep you up to date with all our latest grill tips, stories, recipes, and more—everything you need to stay satisfied between cookouts.
Looking for more recipes to get under your belt? Check out the rest of our unique grilling ideas to get the most out of your grill.
Try Pairing It With These Other Recipes
---
Everything You Need To
Make This Recipe
---