Sides, spicy, Vegetarian
Flamin' Hot Elote Bowls
---
Behind the Recipe
Everything You Love About Elote… Served in a Cup!
If you've ever eaten regular old Elote Street Corn on a stick, you've probably thought to yourself… dang, I wish I could serve this as a side at my cookouts!
Well, we're way ahead of you. Today, we're bringing all the zesty, creamy, crunchy goodness of Elote Street Corn and spinning it into a spicy side dish you can serve (or eat) straight out of a bowl! That's right. No more fussing with messy, hard-to-eat handhelds. This recipe makes it possible to serve elote alongside your potato salad, pasta salad, shoot… SALAD salad.
And just for good measure, we're adding a generous sprinkle of Flamin' Hot Cheeto dust over the top because we, like you, are grillers of culture.
Enjoy.
Ingredients
4 cans of whole kernel corn
1 tbsp. vegetable oil
4 tbsp. sour cream
1 tbsp. lime juice
1 tsp. chili powder
4 tbsp. mayonnaise
¼ tsp. cayenne pepper
Queso fresco, crumbled
1 bag Flamin' Hot Cheetos, dusted
Fresh cilantro, chopped
Salt
Pepper
Preparation
---
Strain your cans o' corn.
Preheat your Daytona™Griddle to medium-high heat.
Once the griddle is hot and ready, add a bit of cooking oil and distribute your corn evenly across the cooking surface. Keep the corn moving around on the griddle to allow it to cook evenly.

Once cooked and just beginning to pick up some color, remove your corn from the grill and set aside.

Next, mix together the sour cream, mayo, lime juice, chili powder, and cayenne pepper in a large mixing bowl.

Then add corn to large bowl and stir to incorporate.

Top with Cheeto dust, queso fresco, and fresh cilantro to taste.

Serve and enjoy!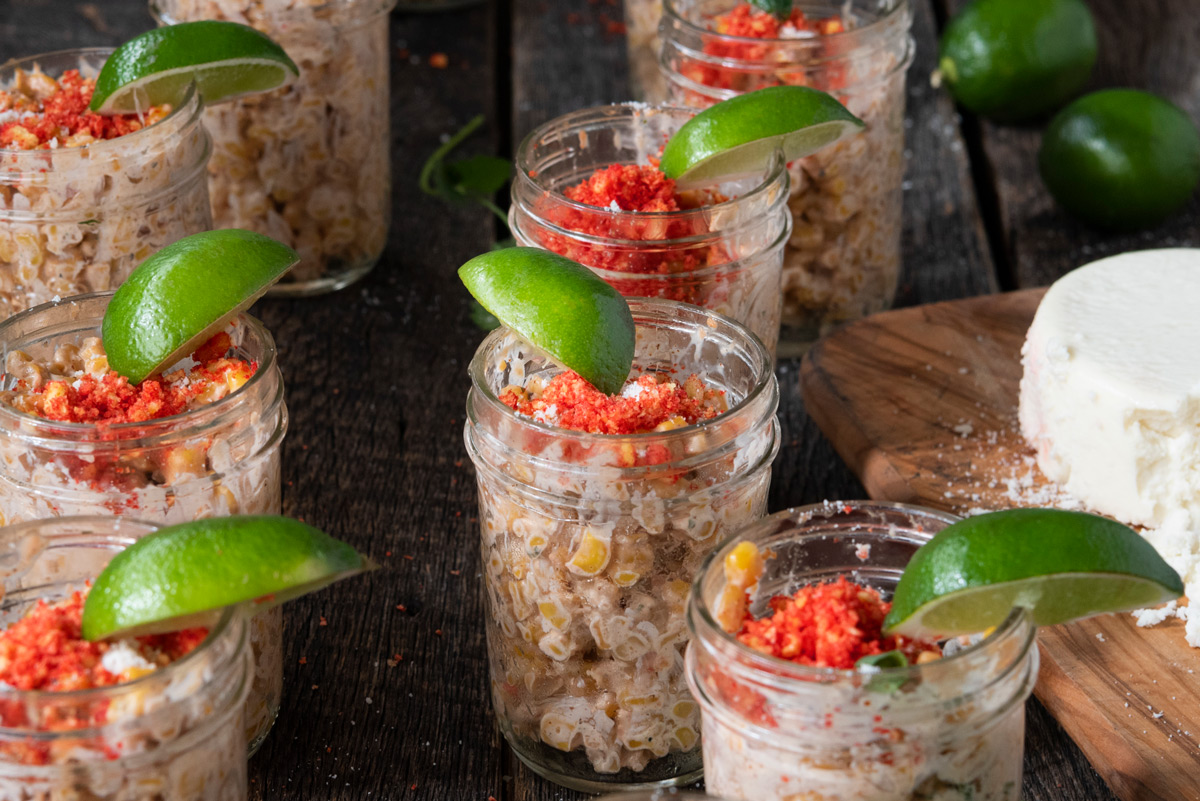 Let's be friends!
Follow us on social media and fill us in on all your grilling adventures using #EveryonesInvited. We promise to keep you up to date with all our latest grill tips, stories, recipes, and more—everything you need to stay satisfied between cookouts.
Looking for more recipes to get under your belt? Check out the rest of our unique grilling ideas to get the most out of your grill.
Try Pairing It With These Other Recipes
---
Everything You Need To
Make This Recipe
---