---
Behind the Recipe
The One That Brings Everyone to Their Feet
You know that feeling when you're grilling outside with friends and you announce "Food's ready–let's eat", and everyone hesitates for a slight moment? Like some polite, embarrassed standoff to see who's going to fill their plate first?
Yeah. No. Not with this smoked queso dip recipe.
This is the smoked queso dip recipe you want when you want everyone to jump to their feet, because this is the smoked queso dip that everyone can agree on. Put it over nachos, on top of burgers, on tacos and burritos… eat it with a spoon for crying out loud. Queso is the ultimate crowd-pleaser, and adding a little touch of smoke adds depth to its flavor.
We invite you to put your own spin on this recipe. In the meantime, here's a few ideas for how to adjust this smoked queso dip to your liking:
Sub in a different meat like shredded chicken, ground beef or chorizo
Go heavy on the jalapenos for a spicier result
Try a variety of peppers like banana peppers or chipotle peppers
Make your own pico de gallo instead of rotel
Use cream of mushroom instead of the milk
Ingredients
2 lb Queso Blanco Velveeta, cubed
2 lbs hot ground sausage, browned
8 oz shredded Mexican Cheese
2 10 oz cans Rotel
2 tbsp minced garlic
1 c milk
1 c flavored wood chips
Preparation
---
Soak your wood chips in water 30 minutes before cooking.
Preheat your Nexgrill to 250º.
Brown the ground sausage in a skillet until it's fully cooked.
Cut the Velveeta cheese into small cubes.
Place all ingredients into a cast iron skillet.
Add your soaked wood chips into the grill–If you're cooking with charcoal, you can place directly onto the hot coals. If you're cooking with gas, place chips in a smoker box or other safe container.

Place the cast iron skillet onto your grill for 45 min. to 1 hour until melted.

Give it a stir & serve!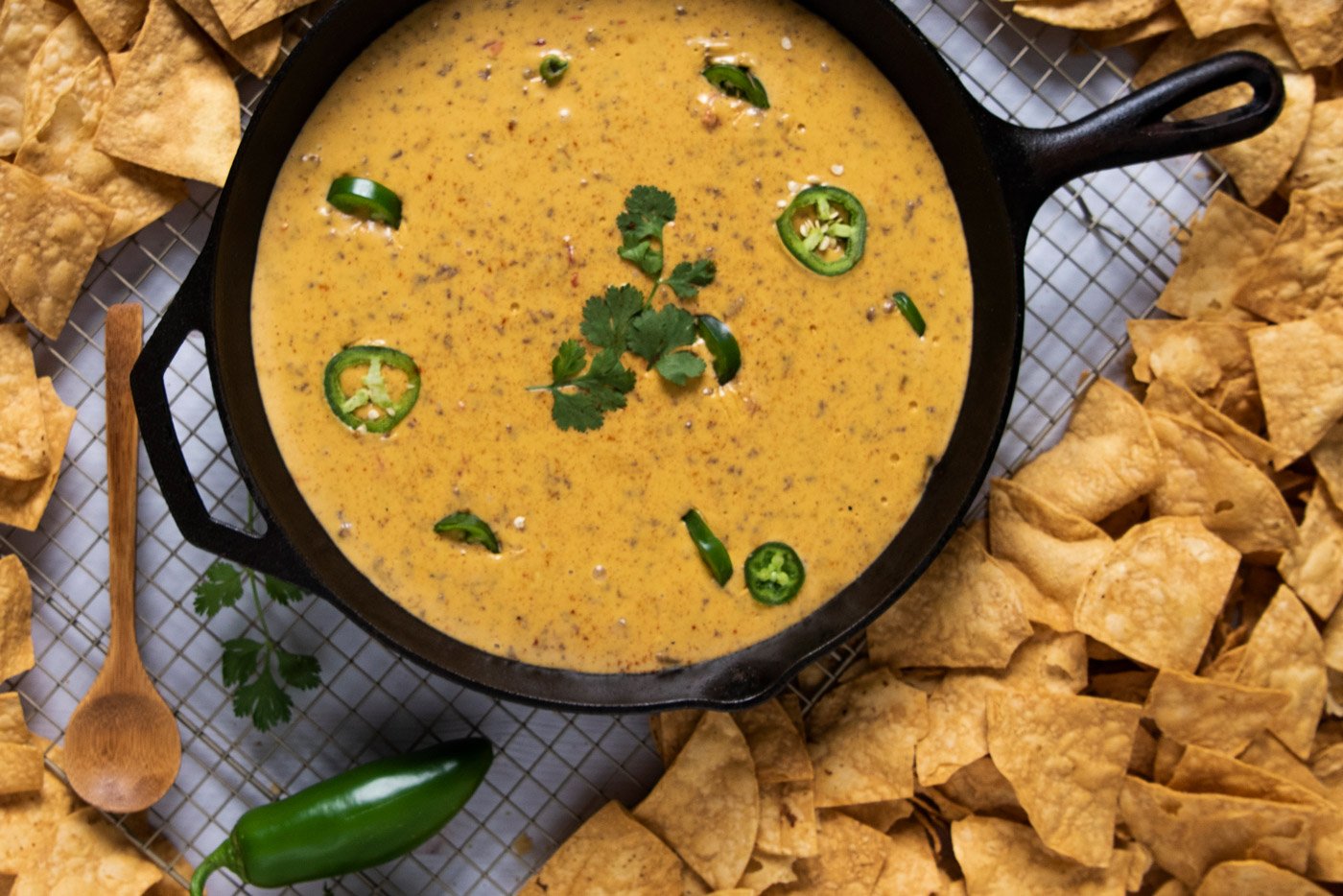 Let's be friends!
Follow us on social media and fill us in on all your grilling adventures using #EveryonesInvited. We promise to keep you up to date with all our latest grill tips, stories, recipes, and more—everything you need to stay satisfied between cookouts.
Looking for more recipes to get under your belt? Check out the rest of our unique grilling ideas to get the most out of your grill.
Try Pairing It With These Other Recipes
---
Everything You Need
To Make This Recipe
---