Vegetarian
Brown Butter Brussels
---
Behind the Recipe
It's Official: Brussels Sprouts Are Making A Comeback
It seems like yesterday these beautiful green cruciferous vegetables were just another veggie kids turned up their noses to, but Brussels sprouts are finding their way back into kitchens around the world, and we couldn't be more excited!
Whether you roast them, saute them, shave them onto a salad, pair them with bacon, drench them in honey and balsamic, or just grill 'em up, people are finding all sorts of creative ways to add Brussels sprouts to their diet.
Plus, they add tons of health benefits to your plate. Brussels sprouts are known to lower cholesterol; boost the immune system with vitamins C, E & A; support bone health with vitamin K; support eye health; provide a healthy source of fiber; lower blood pressure with potassium; and even support a healthy pregnancy.
In this recipe, we're going to brown some butter to give our grilled brussels sprouts a toasted, hazelnutty, savory flavor that will make you question why you haven't been eating brussels sprouts for years. And if you've never browned butter before, don't worry. We have some tips in the recipe below.
Ingredients
½ stick (4 Tbsp.) unsalted butter
1 lb. brussels sprouts, trimmed and halved
½ cup raw hazelnuts (AKA filberts), chopped
½ tsp kosher salt

Freshly ground black pepper, to taste

1 tsp finely grated lemon zest (rind of one lemon)
Preparation
---
Preheat your Nexgrill to roughly 450º.
Cut your unsalted butter into tablespoon sized pieces.
Place unsalted butter in a small saucepan and heat over medium heat. If your grill has a side burner, you could do it all right there.
As the butter melts, stir it constantly. About 30 seconds after melting, you'll see it start to foam and bubble. Keep stirring.
As the foam begins to lessen, the milk solids within the butter will start to cook and turn a brown color. You might notice a toasted nutty-like aroma. Keep stirring until you get an even brown color.
Hurry! Before the butter burns, pour it out of the sauce pan and into a large bowl.
In a large bowl, toss your Brussels sprouts and hazelnuts with the browned butter, salt and pepper.
Place Brussels sprouts mixture on a cast iron pan, face down in a single layer.
Place the cast iron pan onto your grill and roast for 10 minutes. Check about half way through and give your cast iron a shake to ensure the brussels aren't sticking. You'll know they're done with the Brussels sprouts are tender but not mushy.

Remove from the grill and toss in a large bowl with lemon rind zest.

Serve and indulge immediately.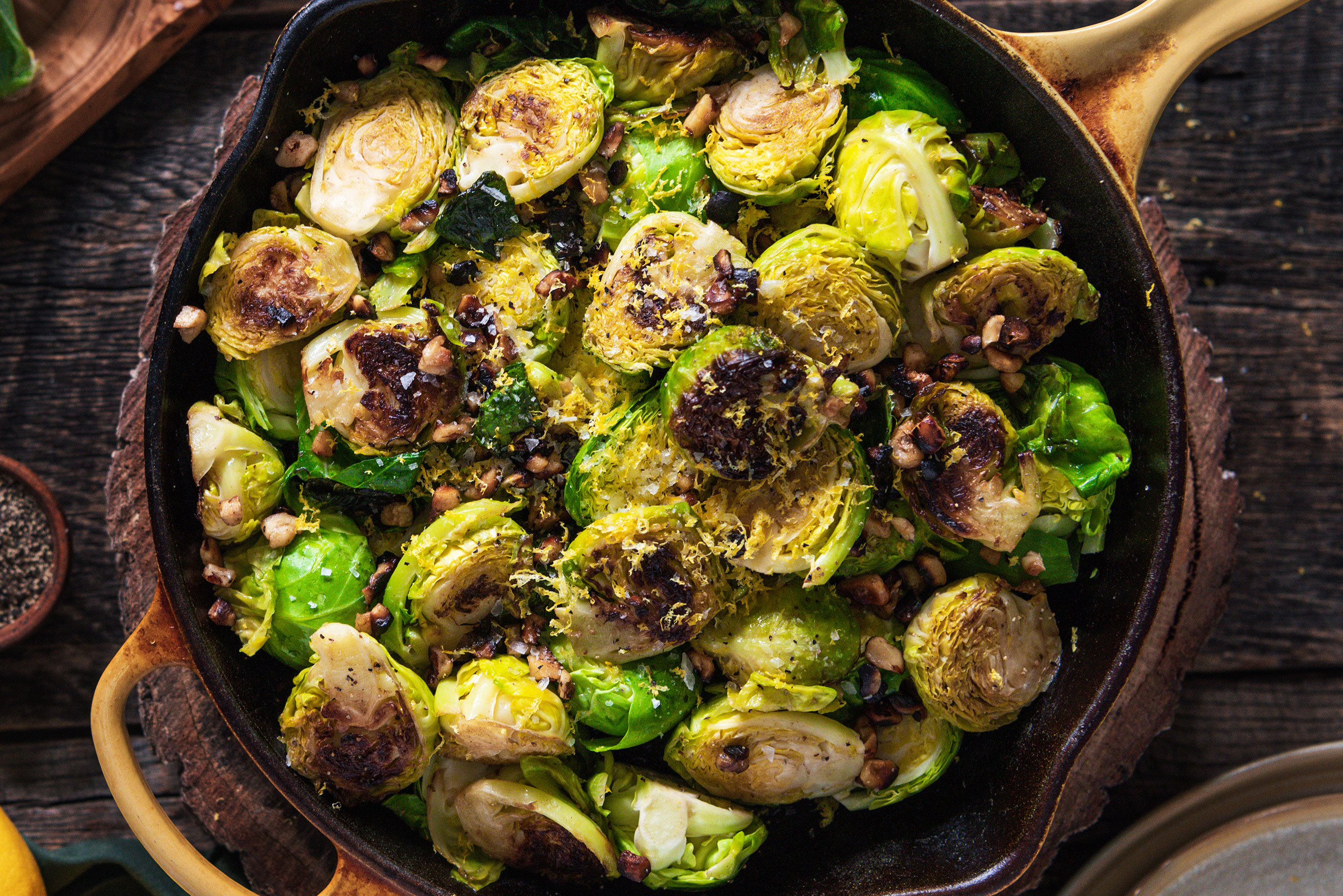 Let's be friends!
Follow us on social media and fill us in on all your grilling adventures using #EveryonesInvited. We promise to keep you up to date with all our latest grill tips, stories, recipes, and more—everything you need to stay satisfied between cookouts.
Looking for more recipes to get under your belt? Check out the rest of our unique grilling ideas to get the most out of your grill.
Try Pairing It With These Other Recipes
---
Everything you need to
Make This Recipe
---