Pork
Grilled Juicy Pork Tenderloin
Preparation

10 min + 1 hour Min. for Marinade
---
Behind the Recipe
When it Comes to Lean & Tender, It Don't Get Much Better
With the help of a little spice, rub or marinade, grilled pork tenderloin can be transformed into countless delicious meals. From Asian-inspired to Southwestern-inspired, the options are almost endless, but for our money, it's hard to beat this basic garlic-and-herb-marinated pork tenderloin.
Not only does it taste amazing on its own, but you can also use it with so many other recipes. Slice it into medallions and pair with other ingredients for sandwiches. Slice it thin for tacos and quesadillas. Or just serve it simply with your favorite sides.
If you've ever struggled with dry pork tenderloin in the past, the marinade for this recipe is your answer. Allowing your meat to marinade at least an hour (or preferably 6-8 hours) will help to tenderize the meat and keep them juicy even during exposure to intense heat.
Here are a few more tips to help you grill up the juiciest, tastiest pork tenderloin you've ever eaten:
There's a little honey in this recipe, so be careful that your grill isn't too hot when you add your tenderloin or those flavors may caramelize too quickly before the meat cooks. Set your grill for medium heat so it's not too hot
You can make this marinade up to 3 days in advance. Just seal it in an airtight container like a zip-loc bag in your fridge until you're ready to use it.
Be sure to grill your pork tenderloin to an internal temperature of 145º. Then, before cutting into it, let it rest a few minutes after leaving the grill so the juices can redistribute.
Ingredients
2 ½ lbs pork tenderloin
½ c olive oil
2 ½ tbsp honey
2 tsp Dijon mustard
3 tbsp soy sauce
1 tsp lemon zest
2 tsp lemon juice
1

tbsp

parsley leaves chopped, plus more for garnish
1

tbsp

thyme leaves chopped
1 tsp kosher salt
½ tsp pepper
2 tsp garlic, minced
Preparation
---
First, make the marinade. In a medium bowl, whisk together ½ cup olive oil, 2½ tablespoons honey, 2 teaspoons Dijon mustard, 3 tablespoons soy sauce, 1 teaspoon lemon zest, 2 teaspoons lemon juice, 1 tablespoon chopped parsley, tablespoon chopped thyme, 1 teaspoon kosher salt, ½ teaspoon pepper, and 2 teaspoons of minced garlic.
Then, place your pork tenderloin in a large bowl or large resealable bag, and pour in the marinade, making sure to completely cover the meat.
Allow the tenderloin to marinade in the refrigerator for at least 1 hour (or up to 8 hours).
Preheat your Nexgrill to medium heat, and pull the tenderloin out of the marinade. (Do not reuse the marinade.)

Place the pork on your grill over direct heat, and cook for 15-18 minutes, turning occasionally to get a nice sear on all sides.

After 15 minutes, check the interior temperature of the tenderloin. Once it's reached 145º or higher on your meat thermometer, pull it off.

Let your meat rest for 5 minutes to allow the juices to redistribute.

Top with remaining chopped parsley, slice, and serve.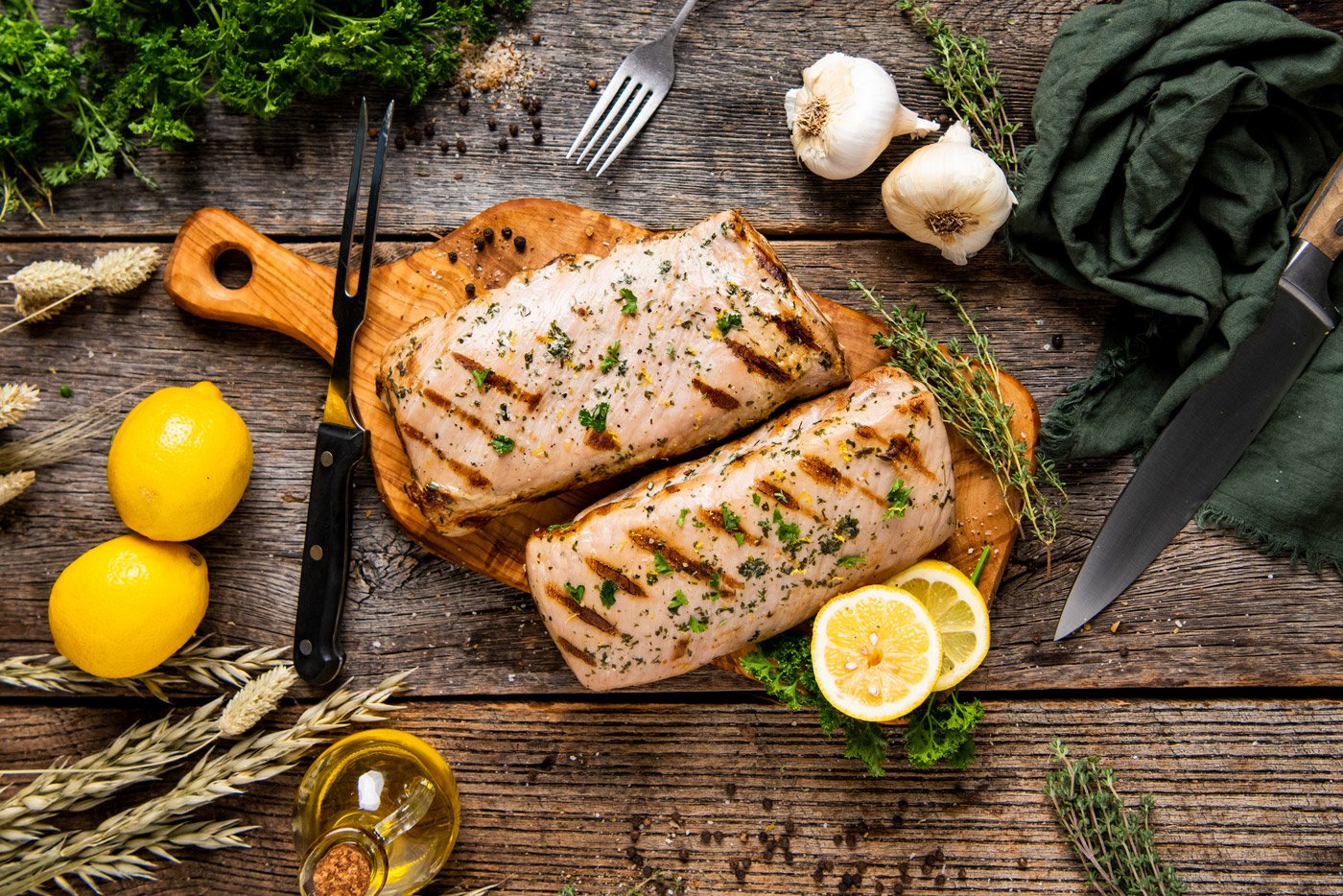 Let's be friends!
Follow us on social media and fill us in on all your grilling adventures using #EveryonesInvited. We promise to keep you up to date with all our latest grill tips, stories, recipes, and more—everything you need to stay satisfied between cookouts.
Looking for more recipes to get under your belt? Check out the rest of our unique grilling ideas to get the most out of your grill.
Try Pairing It With These Other Recipes
---
Everything You Need
To Make This Recipe
---