---
Behind the Recipe
The Flank Is Where
The Flavor's At
I'll just come out and say it. Tenderloin is overrated. If you're a bona fide carnivore who craves the true flavor of beef, steer clear of anything that comes wrapped in bacon or drenched in white wine sauce. Instead, try this recipe featuring a lesser used, yet seriously flavorful cut of meat – the flank steak.
While flank steak offers plenty of robust, beefy flavor on its own, this Flank Steak Roll Up recipe takes things to the next level. It's basically flattened out flank steak topped and rolled with everything you could ever want. Prosciutto, basil, peppers, parm – the kitchen sink if you want! Let the haters keep gumming down their boring, overpriced filets. You keep living like a flavor king, with the Flank Steak Roll Up.
Ingredients
1 large flank steak (around 24 oz.)
10 thin slices prosciutto
2 12 oz. jars roasted red peppers
24 basil leaves
3 tbsp. grated parmesan
¼ cup olive oil
¼ cup balsamic vinegar
2 garlic cloves, crushed
5 tbsp. flat leaf parsley, chopped
Salt
Pepper
Preparation
---
The day before grilling, prepare marinade by combining your olive oil, balsamic vinegar, garlic, 3 tbsp. flat leaf parsley, and ¼ tsp. freshly ground pepper. Mix well and set aside.
Butterfly your flank steak by carefully running a super sharp knife down the middle of the steak "long-ways", leaving a half-inch hinge at the other end. Be careful not to cut all the way through!
Place butterflied steak and marinade in a sealable bag or container. Make sure your steak is good and coated, then set in the refrigerator overnight.
Just before grill time, remove steak from marinade and spread it open, cut side up.
Place 4 bell pepper halves on butterflied steak to cover completely. Let's sprinkle on another tbsp. parsley here, too.
Next, cover with prosciutto slices, basil leaves, and sprinkle with parmesan along with your remaining 2 tbsp. parsley and ground pepper.
Beginning on a long side, roll up your butterflied flank steak as tight as possible while keeping all of your other tasty ingredients inside. Then secure your roll up by tying at 2-3 inch intervals with butcher's twine.
Once secure, grab your roll up and fire up your Nexgrill. You know what time it is.
Set up your Nexgrill for medium, direct heat. About 350 degrees.

Place Flank Steak Roll Up on grill surface, turning frequently and grilling until desired doneness. (We recommend shooting for 140 degrees – a perfect medium-rare)

Transfer Flank Steak Roll Up to a cutting board and – ready for the toughest part? – let rest for 10 whole minutes. Leave the room if you have to.

Once your 10 minutes are up, remove the butcher's twine, slice into half-inch thick servings, plate, and feast! I mean, a Flank Steak Roll Up? You've truly outdone yourself this time.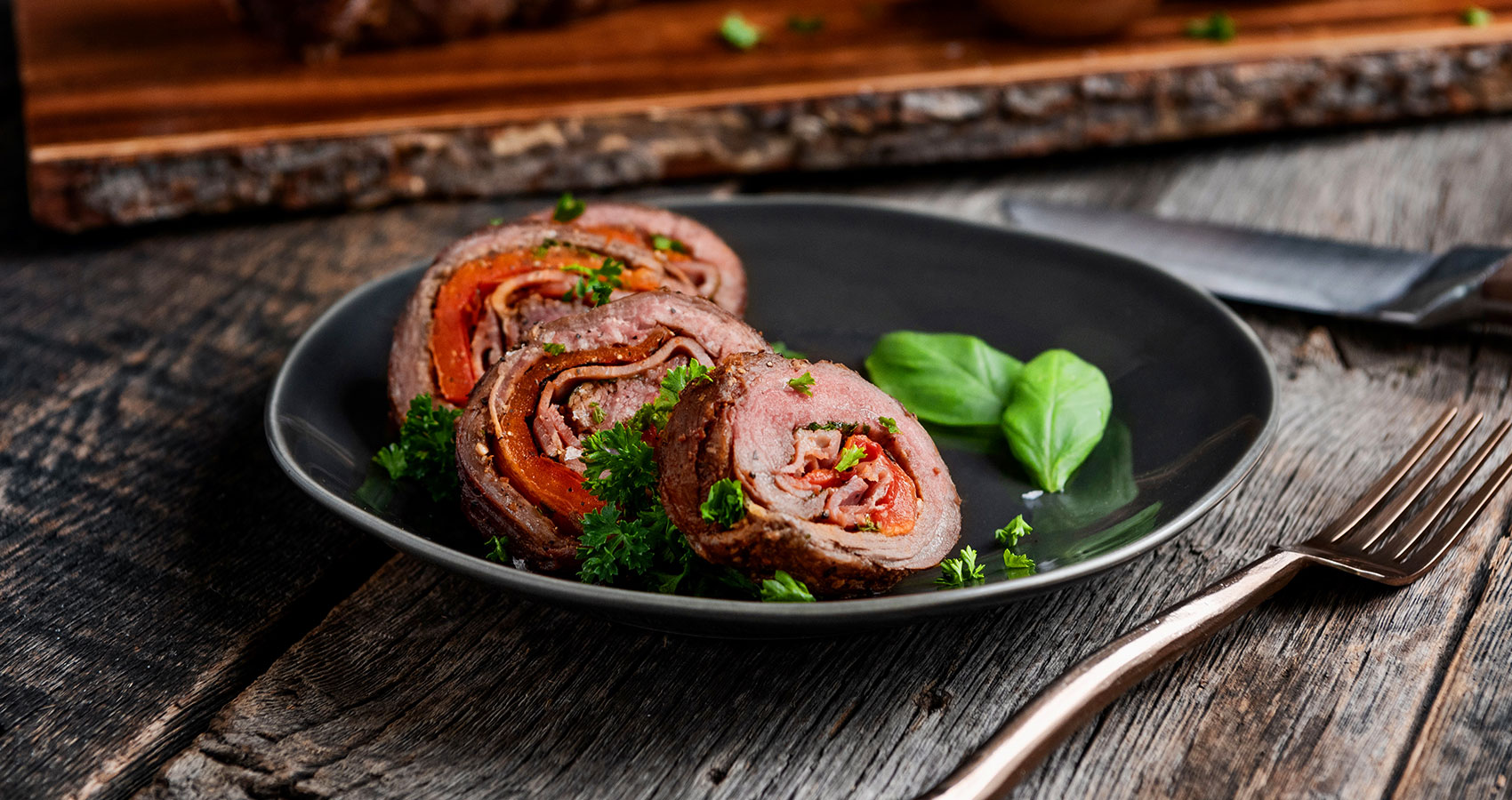 Let's be friends!
Follow us on social media and fill us in on all your grilling adventures using #EveryonesInvited. We promise to keep you up to date with all our latest grill tips, stories, recipes, and more—everything you need to stay satisfied between cookouts.
Looking for more recipes to get under your belt? Check out the rest of our unique grilling ideas to get the most out of your grill.
Try Pairing It With These Other Recipes
---
Everything you need to
Make This Recipe
---