Vegetarian
Grilled Vegetable Lasagna
---
Behind the Recipe
I Spent Junior Year In Naples
I was supposed to be studying international business, but my roommates and I were mostly interested in restaurant menus. There was pizza napoletana, frutti di mare, tagliatelle alla bolognese, and lasagna – oh my, the lasagna. Some of the best in the world!
By semester's end I had gained 20 pounds and a new sense of identity, and I thought, "When I return, how am ever I going to cut back calories while continuing to feed my inner Italian?" And after weeks of experimentation, I finally arrived at this vegetable lasagna recipe that reminds me of the good stuff and keeps my waistline in check. Bada bing!
Ingredients
1 cup chopped onion
2 medium garlic cloves, minced
3 tsp. olive oil
1 cup chopped zucchini
1 cup chopped yellow squash
1 cup thinly sliced carrot
1 cup chopped broccoli
1 tsp. salt (half for veggies, half for sauce)
½ cup all-purpose flour
3 ½ cups 1% milk
1 cup freshly grated parmesan (half for sauce, half on top)
¼ tsp. freshly ground black pepper
Dash of nutmeg
10 oz. package frozen chopped spinach, thawed and squeezed dry
1 cup low fat cottage cheese
1 cup shredded part-skim mozzarella
9 pre-cooked lasagna noodles, divided
Preparation
---
First, The Veggies
To prepare your chopped vegetables, heat 1 tsp. olive oil in a 10-12-inch cast iron skillet over medium-high heat. If you have a side burner like the Revelry 4-Burner does, now is a great time to fire it up!
Add chopped onion to skillet, sautéing for 4 minutes or until lightly browned.
Add minced garlic and sauté for another 30-60 seconds. Then transfer the mixture to a large bowl and set aside.
Heat another tsp. of olive oil in your skillet, adding zucchini and yellow squash. Sauté 4 minutes or until tender and just beginning to brown. Once cooked, combine with the onion mixture.
Heat final tsp. of olive oil, this time adding sliced carrot. Sauté 4 minutes or until tender.
Add broccoli and sauté another 4 minutes.
Transfer carrot and broccoli to onion mixture.
Top with a pinch of salt, tossing to combine.
Next, The Sauce
Place flour in a medium saucepan.
Gradually add milk, stirring with a whisk until blended.
Bring to a boil over medium heat. Cook 2 minutes or until thick, stirring constantly.
Remove from heat. Add parmesan, salt, pepper, and nutmeg, stirring until smooth.
Stir in spinach and set aside.
Last, The Lasagna
Combine cottage cheese and 1 ½ cups mozzarella. Stir well and set aside.
Spread ½ cup of your sauce mixture in the bottom of a prepared baking – ahem, grilling – dish.
Arrange 3 lasagna noodles over the sauce. On top of the noodles will be half of the cottage cheese mixture, followed by half of the vegetable mixture. Then another 1 cup of sauce.
Repeat these layers, ending with your last 3 noodles.
Spread remaining sauce on top of the noodles.
Top with remaining ½ cup grated parmesan and ½ cup grated mozzarella.
After all of that prep, the grilling is easy! Start by preheating your Nexgrill to 375 degrees.

Once you're up to temperature, grill vegetable lasagna for 25-30 minutes, uncovered in your cast iron skillet.

When cheese is bubbly and just beginning to brown, it's done! Remove vegetable lasagna from the grill and let stand for 10 minutes. Not only will all those tasty flavors continue to mingle, you're also letting your vegetable lasagna cool off to the perfect temp for feasting. Enjoy!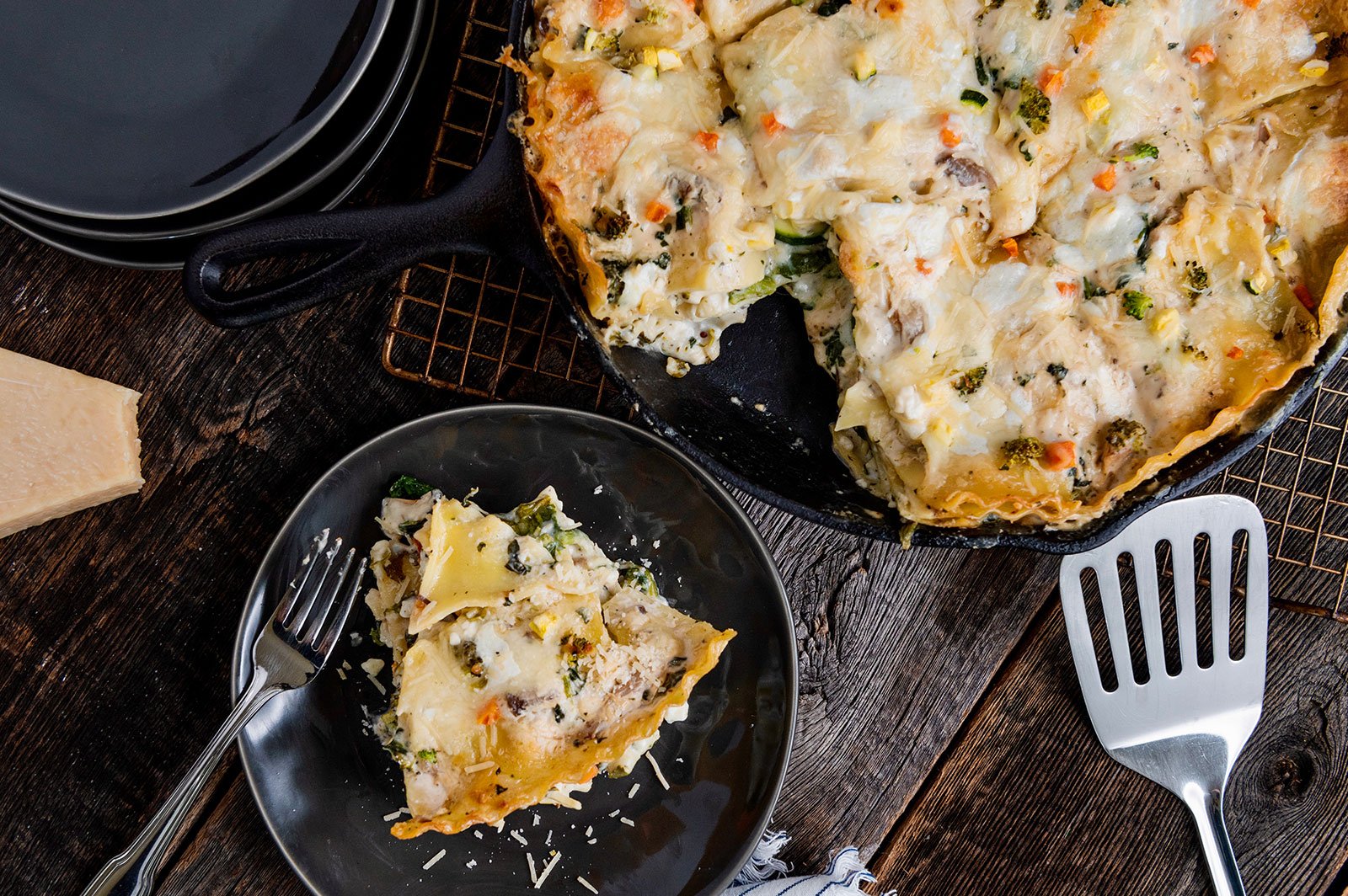 Let's be friends!
Follow us on social media and fill us in on all your grilling adventures using #EveryonesInvited. We promise to keep you up to date with all our latest grill tips, stories, recipes, and more—everything you need to stay satisfied between cookouts.
Looking for more recipes to get under your belt? Check out the rest of our unique grilling ideas to get the most out of your grill.
Try Pairing It With These Other Recipes
---
Everything you need to
Make This Recipe
---