Pork
Grilled Oktoberfest Kabobs
---
Behind the Recipe
Just Add Lederhosen
Oktoberfest has always sounded like heaven to me. A month-long festival where people from all over the world come together to eat, drink, and wear awesome clothes? Sign me up. Only thing is, a round-trip flight to Munich in September isn't exactly cheap. So I got to thinking… How might I bring a taste of Oktoberfest to me? Enter Grilled Oktoberfest Kabobs.
These tasty euro-style kabobs have exactly what you want in a fall cookout: kielbasa, onions, and potatoes coated with maple-beer sauce and stacked on a skewer. Even though Grilled Oktoberfest Kabobs may not be the authentic sausage or schnitzel you'd find at a true German festival, man do they pair well with an ice cold märzen. Prost!
Ingredients
1 packet kielbasa (12 oz.)
12 mini potatoes trimmed
1 yellow onion, quartered
½ cup pure maple syrup
1 cup dark beer
½ tsp. salt
Chopped parsley
Freshly cracked pepper
Preparation
---
Prep kabobs by cutting kielbasa into even 1-inch slices.
Cut halfway through each mini potato several times to create that signature hasselback look.
Quarter yellow onion and separate layers into bite-sized pieces.
Guide kielbasa slices, mini potatoes, and onion pieces onto skewers, alternating ingredients.
Whisk together maple syrup, salt, and dark beer. Surely, you can find a use for the rest of that beer you cracked open.
Drizzle half of your maple-beer sauce over skewers and keep the other half handy. It's grill time!
Set up your Nexgrill for medium, direct heat. About 350 degrees.

Place your kabobs directly on the cooking surface and grill for 8-10 minutes, occasionally basting with maple-beer sauce.

After 10 minutes, turn kabobs and brush with more maple-beer sauce.

Grill kabobs another 10 minutes or so, turning and brushing occasionally until kielbasa is heated through and potatoes and onion are crisp.

Plate your kabobs, garnish with parsley and pepper, and serve with grainy mustard if that's your style. Jawohl!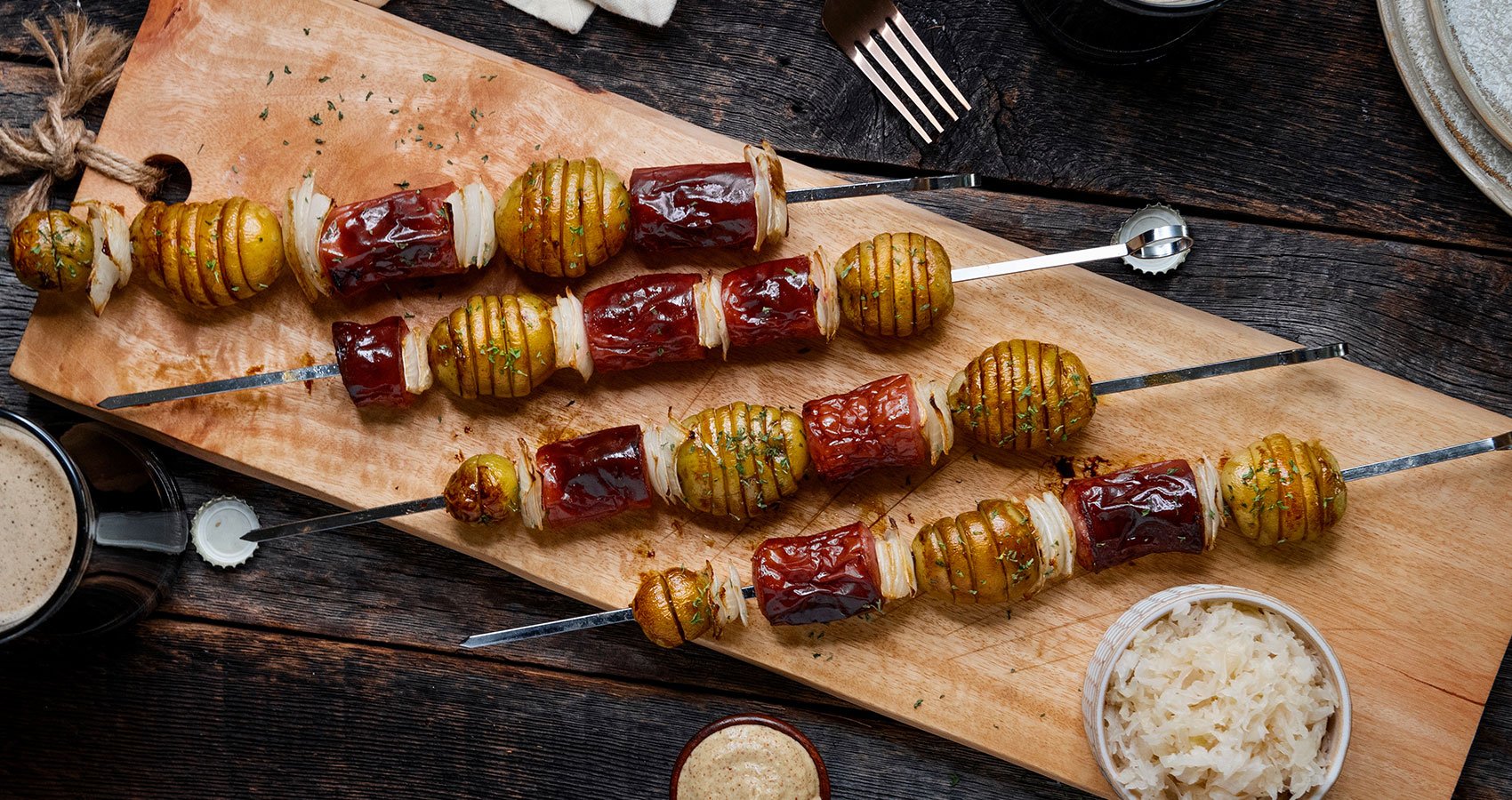 Let's be friends!
Follow us on social media and fill us in on all your grilling adventures using #EveryonesInvited. We promise to keep you up to date with all our latest grill tips, stories, recipes, and more—everything you need to stay satisfied between cookouts.
Looking for more recipes to get under your belt? Check out the rest of our unique grilling ideas to get the most out of your grill.
Try Pairing It With These Other Recipes
---
Everything you need to
Make This Recipe
---