Seafood
Grilled Swordfish with Charred Leeks & Citrus
---
Behind the Recipe
The Sea Was Angry that Day
The water was choppy, the Spanish Mackerel bait was runty, and I'd forgotten my lucky rod. But Poseidon was on our side that day. Just as we were about to give in, my brother cast his last line of the day and hooked a beautiful swordfish.
It must've been 2 hours that we struggled with the beast. Our forearms burning. Our Muscles cramping. Uncle Eli whooping and hollering from the helm of his Scout 350 LFX. When finally, mercifully, we reeled in the 200-pound monster. Still can't believe we hooked a Sword like that. And I'll never forget the meal that night. Every catch tastes good when you've fought for it, but this citrusy grilled swordfish recipe was one for the record books.
Ingredients
4 medium leeks
1 cup of green olives
¼ cup of dill, coarsely chopped
3 tbsp. extra-virgin olive oil, divided, with extra
3 oranges
4 1-inch thick swordfish steaks
Ground pepper to taste
Sea salt to taste
Preparation
---
Set your Nexgrill for high heat.
Trim off the dark green parts on your leeks, and remove any tough outer layers. Rinse off any dirt and pat dry. Set aside.
Using the side of a large chef's knife, smash open the olives and remove the pits. Be careful to leave the olive flesh in big pieces. Set aside.
Slice off both ends of the oranges, fully taking off the pith, then stand the orange upright and slice off the sides.
Following the orange's curve, slice away all peel and pith from top to bottom.
Lay each orange on its side and cut it crosswise, into ¾-inch thick rounds. Set aside.
Sweet! You're well on your way to creating the grilled swordfish marinade that really makes this recipe sing.
Set your leeks on the grill un-oiled, turning occasionally for 10-12 minutes, or until the outside layer is blackened. They should be soft by the end, and potentially oozing some juice.

Transfer the leeks to a platter for cooling, and reduce grill to medium-high heat.

Oil up your grill grate, and then rub the swordfish steaks with the olive oil and sea salt.

Lightly char the steaks until the fish is firm when pressed. This should take about 5-7 minutes per side on the grill.

While fish is charring, cut your leeks into ½-inch thick rounds and place them in a bowl with the olives, dill, vinegar, a big dash of sea salt, 3 Tbsp. oil, and then toss to combine. (Make sure you keep checking your fish, though.)

Plate your swordfish, and arrange the sliced oranges around the dish.

Spoon your leek mixture over each steak, and then drizzle with more olive oil, and pepper to taste.

Go wow your guests with the most mouthwatering grilled swordfish they'll ever taste.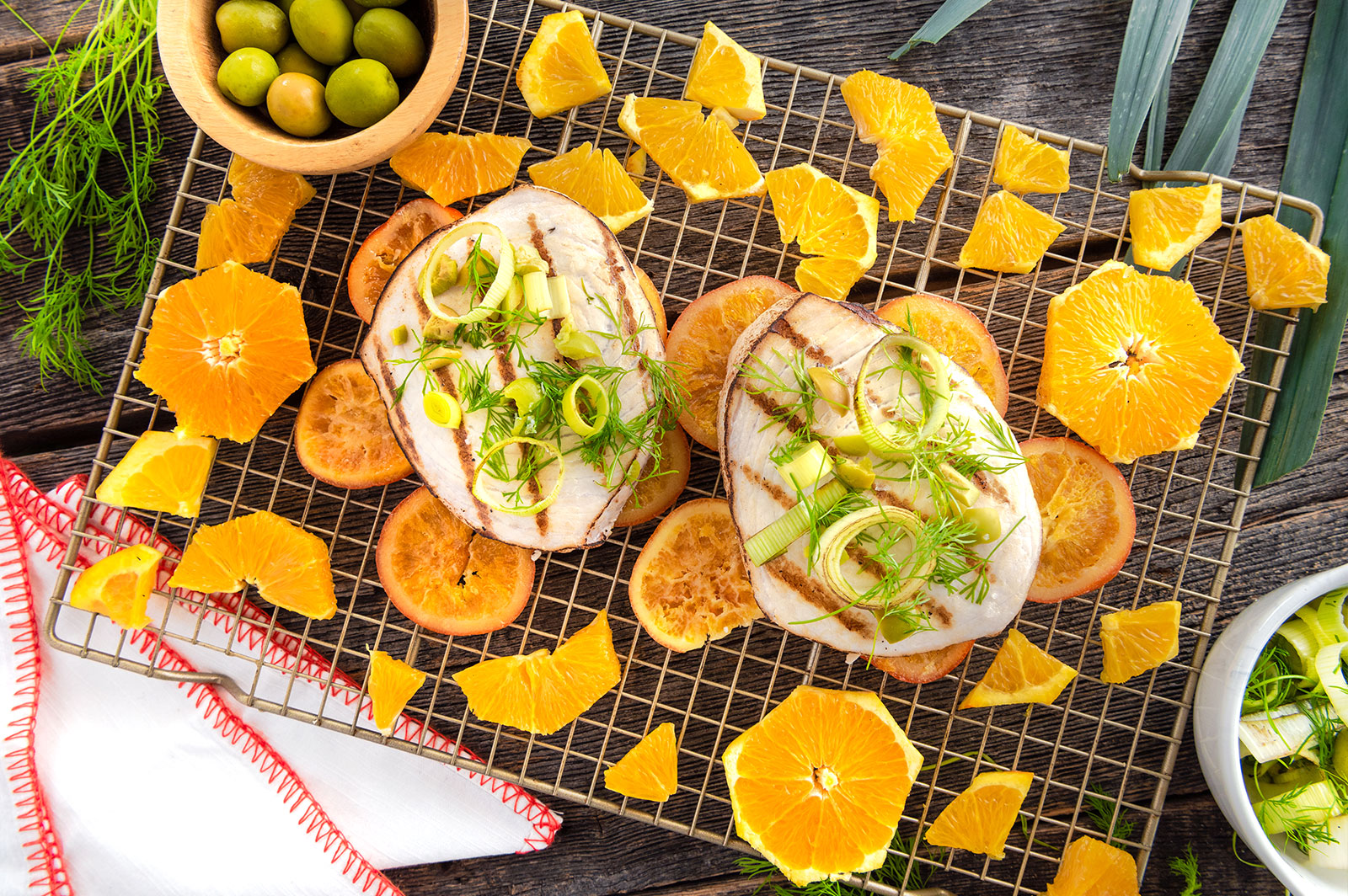 Whether it's out at sea or at your Nexgrill, it's always great to reel in something different. That's exactly what you'll get with this whopper of a recipe for grilled swordfish.
Let's be friends!
Follow us on social media and fill us in on all your grilling adventures using #EveryonesInvited. We promise to keep you up to date with all our latest grill tips, stories, recipes, and more—everything you need to stay satisfied between cookouts.
Looking for more recipes to get under your belt? Check out the rest of our unique grilling ideas to get the most out of your grill.
Try Pairing It With These Other Recipes
---
Everything You Need To
Make This Recipe
---