Beef
Low & Slow Brisket Sliders
---
Behind the Recipe
Is It Ready Yet, Grandpa?
There were two things in this world my grandfather loved to do: sitting and smoking brisket. Bonus points if he could do them at the same time. So every Saturday, he'd light up his charcoal kettle and settle into this great big wooden rocking chair. Sunup to sundown, that's where he'd stay. Never in a rush. Sweet Rob Roy on the rocks in one hand – tongs in the other.
And then there was me. Nine years old, excited to see grandpa, and always ready to eat. Typically, I wouldn't make it past 10am before asking, "Is it ready yet, grandpa?" He'd smile and remind me in his gravelly baritone that the longer we waited, the better it would taste. After hours of asking and anticipation, that first bite of smoky, melt-in-your-mouth brisket slider proved grandpa's point every time. And now I know – low and slow is forever worth the wait.
Ingredients
1 brisket (6-8 lbs.)
Rub mix(4 tbsp. kosher salt, 4 tbsp. pepper, 2 tbsp. paprika)
12 egg bun rolls
1 14 oz. bag store-bought coleslaw mix
1 cup mayonnaise
⅓ cup apple cider vinegar
1 tbsp. prepared horseradish, drained
1 ½ tsp. kosher salt
1 tsp. Worcestershire sauce
1 garlic clove, minced
1 tsp. pepper
¼ tsp. cayenne pepper
Preparation
---
To prepare your brisket, use a sharp knife to carefully trim away excess skin and fat, reducing the width of your fat cap down to somewhere between ½ and ¼ of an inch.
Once trimmed, generously coat entire brisket with salt, pepper, and paprika rub. Set aside.
For the slaw, create a white BBQ sauce by combining mayo, apple cider vinegar, horseradish, kosher salt, Worcestershire sauce, minced garlic, pepper, and cayenne in a mixing bowl. Once all ingredients are incorporated, add coleslaw mix and toss until evenly coated.
Into the fridge goes your White BBQ Sauce Coleslaw. And grab your brisket! It's grill time.
Set up your Nexgrill kettle for low, indirect heat using the Snake Method. 225 degrees is the sweet spot!

Place brisket on the grill over indirect heat, fat cap side up – away from any coals or flames.

Add wood chips (we like hickory) to your heat source for some seriously smoky flavor infusions.

Cook until the internal temperature of your brisket reaches 155 degrees. This could take anywhere from 3-5 hours, but this stuff's worth it!

Once your brisket reaches 155 degrees, wrap it in foil and continue cooking until its internal temperature climbs to 190 degrees. Another 2-4 hours.

Remove your brisket from the grill and let it rest inside the foil for about an hour. This step is crucial! Don't let your growling stomach spoil all of your hard work.

Carefully unwrap your brisket baby and realize immediately your life will never be the same. But stay focused! We still need to assemble.

Slice brisket against the grain as thinly as possible.

Bottom bun, three slices of brisket, a healthy scoop of coleslaw, top bun, and repeat.

You did it. You can now look in the mirror and know that a brisket-smoking, slider-stacking pit master is staring back. Enjoy those brisket sliders. You earned 'em.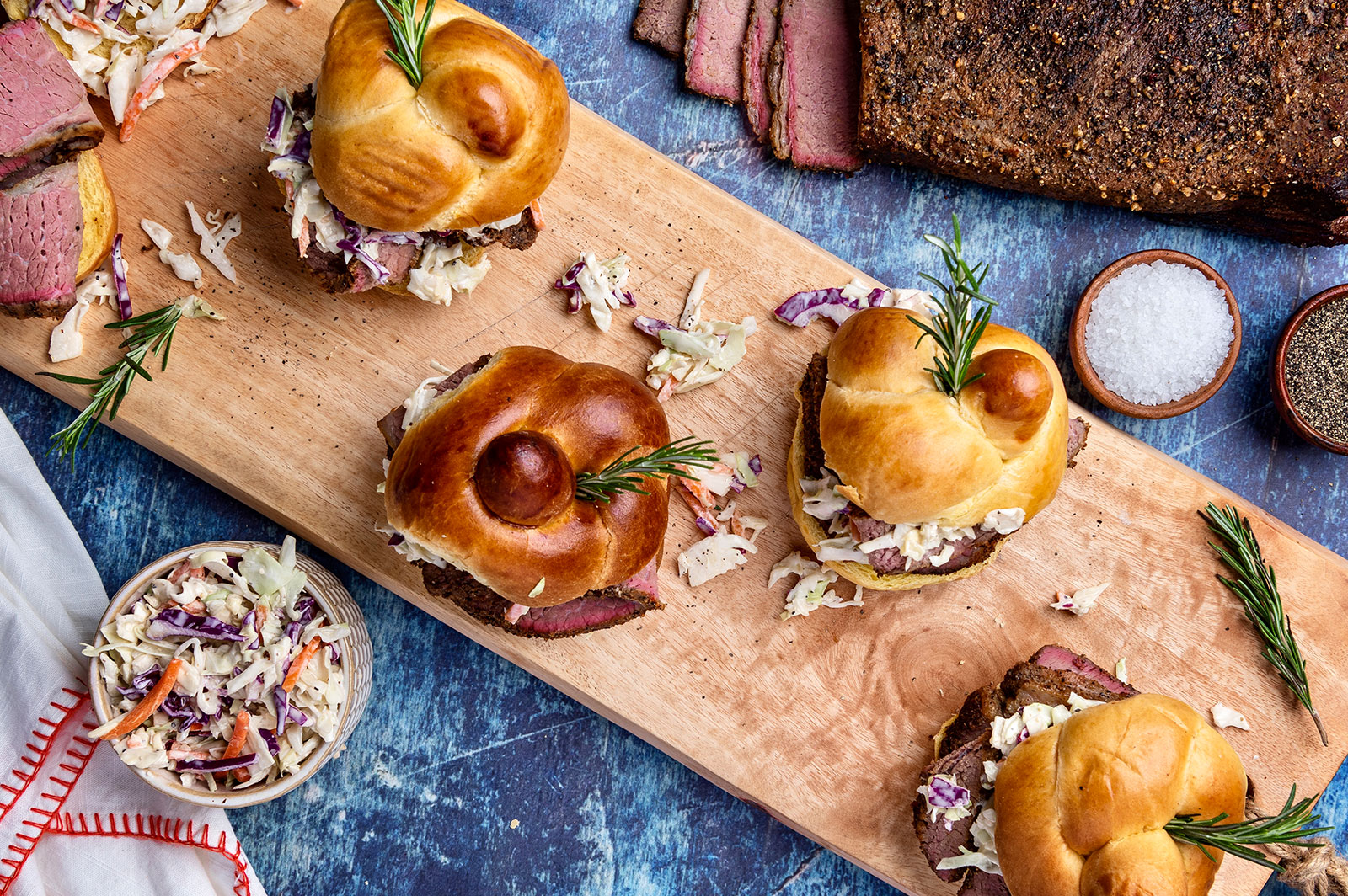 Let's be friends!
Follow us on social media and fill us in on all your grilling adventures using #EveryonesInvited. We promise to keep you up to date with all our latest grill tips, stories, recipes, and more—everything you need to stay satisfied between cookouts.
Looking for more recipes to get under your belt? Check out the rest of our unique grilling ideas to get the most out of your grill.
Try Pairing It With These Other Recipes
---
Everything You Need To
Make This Recipe
---