Sides
Smoked Cast Iron Mac & Cheese
---
Behind the Recipe
Some Dishes Make You Hungry Just Looking at Them
That's exactly what's going to happen when you serve this smoked cast iron mac & cheese to your friends and family–hot off your smoker grill.
This is so much better than your everyday store bought mac & cheese because this recipe adds an undeniable smoky flavor to the mix.
We recommend you use cherry, apple or peach wood chips or pellets. They're milder than other smoking woods like hickory, maple and oak–which is a good thing with a recipe like this one.
Maybe you've heard: When exposed to smoke, soft and wet ingredients (like macaroni noodles) can absorb the wafting flavors much quicker than a thick cut of meat. If you really want to infuse more smoky flavor into your mac and cheese, leave it in your smoker grill at 225º for more than 1 hour.
This smoked cast iron mac & cheese is the perfect recipe for bringing everyone together. Share your photos & reactions with us on Facebook and Instagram.
Ingredients
MAC AND CHEESE
1 lb elbow macaroni noodles (cooked according to package instructions)
½ c butter (1 stick)
4 tbsp flour
1 tbsp mustard powder
2 c half and half
4 oz cream cheese
3 c cheddar, shredded
1.5 c gouda, shredded
BREAD CRUMB TOPPING
1 c panko bread crumbs
¼ c butter (½ stick), melted
1 tsp cracked black pepper
½ tsp smoked paprika
Preparation
---
First, bring a large pot of salted water to a rolling boil, and cook your macaroni noodles until al dente (not too hard & not too soft).
Preheat your smoker grill to a low and steady 225º. using apple or cherry wood.
On your stovetop (or a side burner), heat a cast iron skillet over medium. Add ½ c cup butter and melt. Then whisk in 4 tbsp flour until you reach a smooth, thin paste-like consistency. After that, whisk in 1 tbsp mustard powder.
Carefully (try not to splash) add 2 cups of half-and-half. Turn up the heat and bring this mixture to a boil, whisking gently while the temperature rises.
When you see your cream mixture boiling, reduce the heat to a simmer, and whisk in 4 oz. cream cheese until smooth.
Next, add 3 c of cheddar cheese and 1.5 c of gouda cheese, and whisk firmly until melted.
Turn off your heat and add the cooked macaroni noodles to your cheese mixture, stirring carefully to coat all the noodles well.
In a small bowl, make the bread crumb topping: Combine 1 c panko bread crumbs, ¼ c (half stick) of melted butter, 1 tsp cracked black pepper, ½ tsp smoked paprika, and 1 cup of panko bread crumbs.
Cover the top of your mac and cheese this mixture over the top of your mac and cheese.
Place the skillet with mac and cheese into your smoker, and cook for 1 hour.

Pull from the grill and serve hot!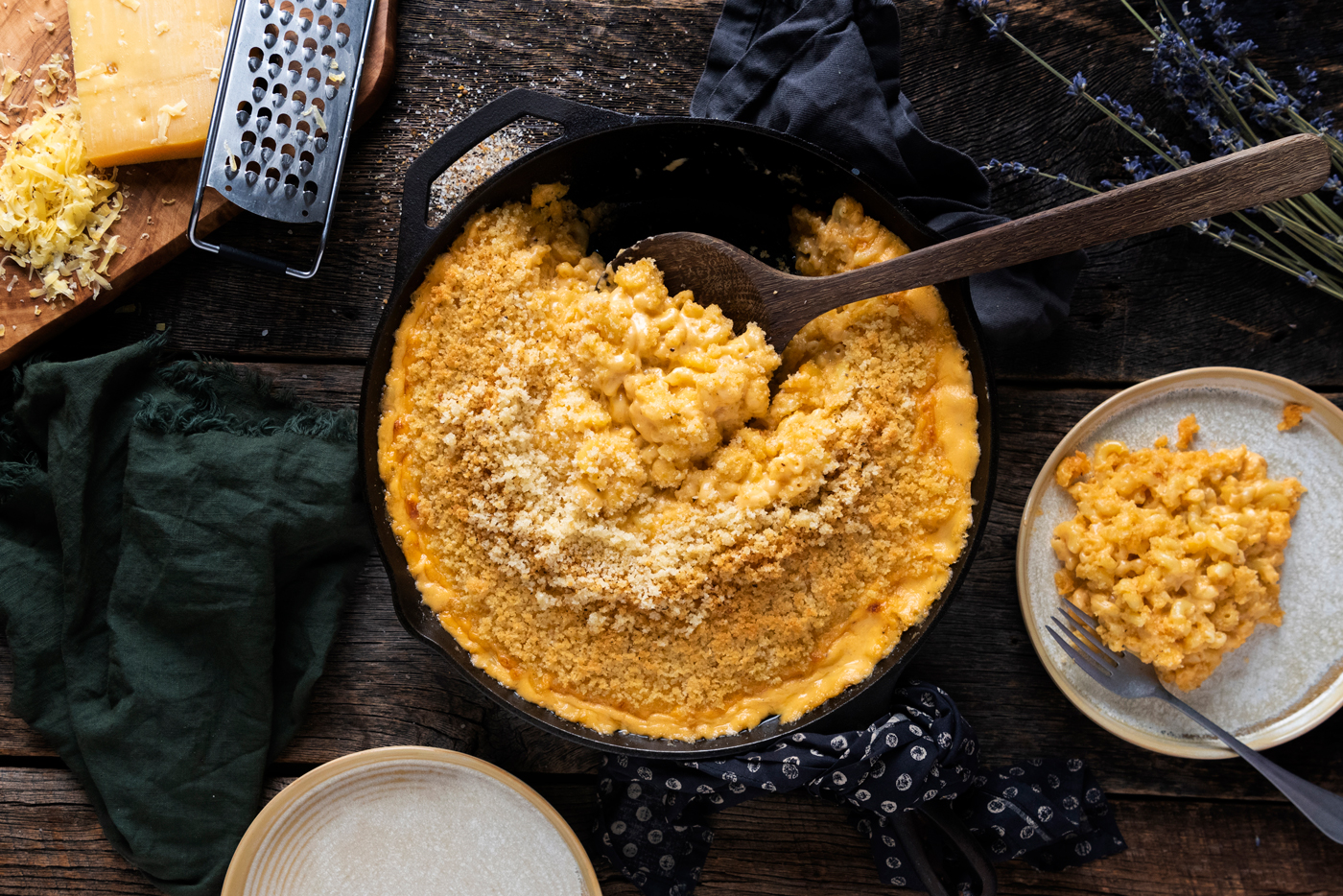 Let's be friends!
Follow us on social media and fill us in on all your grilling adventures using #EveryonesInvited. We promise to keep you up to date with all our latest grill tips, stories, recipes, and more—everything you need to stay satisfied between cookouts.
Looking for more recipes to get under your belt? Check out the rest of our unique grilling ideas to get the most out of your grill.
Try Pairing It With These Other Recipes
---
Everything You Need
To Make This Recipe
---