Vegetarian
Tofu Teriyaki Pineapple Burger
---
Behind the Recipe
I'll Try Anything Twice
Anything but surfing that is. It was the summer of '88. Me and my high school flame were road tripping across the Emerald Coast when we decided to give surfing a try. After an hour, every muscle in my body was screaming. Never did get up on that board.
Covered in salt and sand, we followed our noses across the beach to a little mom & pop burger stand, where the scent of grilled pineapple buoyed my spirits. Together we wolfed down two thick, sweet tofu teriyaki burgers and watched the sun go down. I didn't learn how to surf that day, but the taste of caramelizing fruit and gooey tofu would stay with me for years to follow.
Ingredients
Teriyaki Sauce
⅓ cup of low sodium soy sauce
3 tbsp. of water
3 tbsp. of honey
2 tbsp. of rice vinegar
1 clove of garlic, grated
½ tsp. of fresh ginger, grated
½ tsp. of Sriracha
2 tsp. of cornstarch + 2 tsp. of water, mixed well
Avocado Spread
1 ripe avocado
The juice from 1 lime
1 tsp. of honey
Kosher salt to taste
Black pepper to taste
Tofu Patties
½ cup of low sodium soy sauce
1 cup of water
1 tbsp. of ginger, ground
½ tsp. of garlic, minced
¼ cup of light brown sugar
3 tbsp. of agave
3 tbsp. of corn starch
2 (14 oz.) packages of firm tofu, pressed and dried
2 tbsp. of sesame seeds
Burger Fixings
4 fresh pineapple rings
1 red onion cut into half-inch thick slices
Olive oil
4 buns
Preparation
---
Starting with the tofu patties, mix all the ingredients from that list together, except for the tofu itself.
Slice each package of tofu in half.
Press each new tofu section into four patties with hands and a spatula.
Place the patties in the marinade, and refrigerate for at least 15 minutes.
Moving on to the avocado spread, simply blend all the ingredients from that list and set next to the patties in the fridge.
For the Teriyaki sauce, whisk all the ingredients together, except the cornstarch and water mixture, in a small saucepan.
Bring to a boil, and boil for 2 minutes.
Whisk in the cornstarch and water mixture, then boil for an additional minute, or until the entire mix has thickened.
Remove from heat, and transfer to an airtight container. Pop it in the fridge.
Take the tofu patties out of the fridge, and grill them on high heat for 8-10 minutes per side.

While the patties are grilling, coat the pineapple rings and red onion slices with olive oil.

Grill the red onion slices for 4-6 minutes per side, but take the pineapple rings off the grill after 3 minutes per side.

If you want toasted buns, set them on the grill for no more than one minute.

Once everything is grilled and ready, place the patties on the bottom half of the bun and spread your teriyaki evenly over the top of the patty.

Next, set your pineapple ring and grilled onions on the saucy patty.

Finally, spread your avocado mixture on the top bun, and smoosh onto the burger. Enjoy!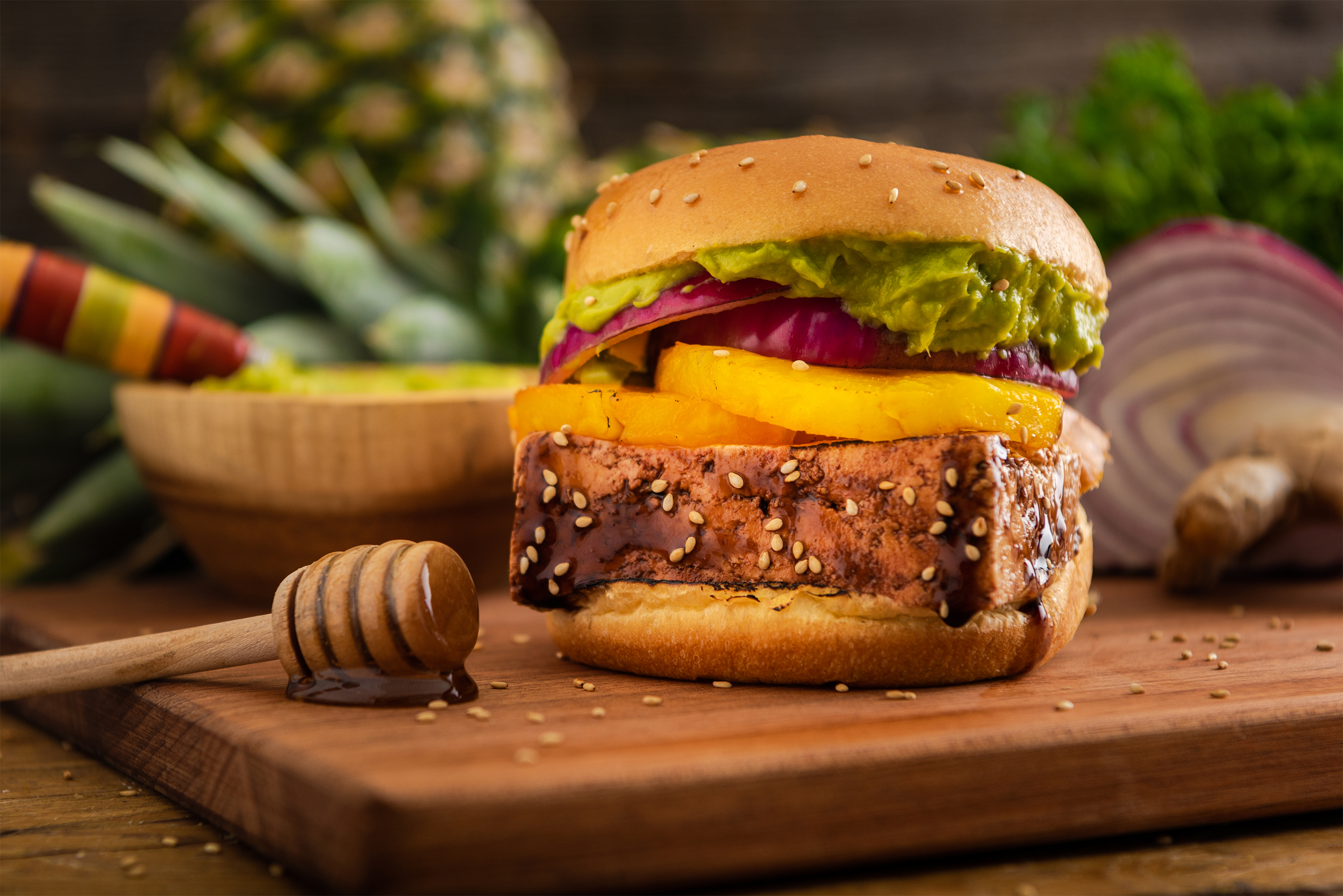 Let's be friends!
Follow us on social media and fill us in on all your grilling adventures using #EveryonesInvited. We promise to keep you up to date with all our latest grill tips, stories, recipes, and more—everything you need to stay satisfied between cookouts.
Looking for more recipes to get under your belt? Check out the rest of our unique grilling ideas to get the most out of your grill.
Try Pairing It With These Other Recipes
---
Everything You Need To
Make This Recipe
---