---
Behind the Recipe
Nothing Beats Authentic Beef Birria Tacos
If you haven't experienced legit Beef Birria Tacos before – oh my spice, they're very nice! Made even better on the griddle, the Nexgrill DaytonaTM gets you closer to authenticity than ever before.
Trust us, this Tacos de Birria recipe is the real deal when it comes to spicy cultural phenomenons – and we don't mean in a 90's girl-group kind of way. Dating back to the 16th century, we're talking proper Mexican food.
It's been said to leave guests all fired up and wanting more. So, best to keep the griddle hot and margaritas flowing for an indulgent night of good times.
Even better, there isn't just one way to enjoy Birria. Save any leftovers for stews, burritos, quesadillas, and more. You can add veggies, beans, or an extra Arbol chili for a hotter take. What's more, you can swap out the beef for lamb, mutton, or even goat!
Speaking of variety, Birria's sensational flavor originates from the various spices and chilies used to eliminate the "gamey" taste of goat. Historically, this meat was a Mexican staple because it was so readily available – especially to the poor.
Now, trending harder than a Twitter scandal, people are falling for this exquisite traditional dish all over again. Enjoy this flavorful beef Birria taco recipe with family and friends and bring your taco game from really good to the real deal.
Ingredients
Meat:

3 lbs. boneless chuck roast
2 tsp. salt
½ tsp. pepper
2 tsp. vegetable oil
Cosumé sauce:

Spices:

1 tbsp. black peppercorns
1 tbsp. cumin
1 tbsp. coriander seeds
6 whole cloves (or ¼ tsp. ground)
4 bay leaves
½ cinnamon stick
Mexican dried chilies: 6 guajillo, 4 ancho and 1 arbol
Herbs:

1 tbsp. oregano
1 tbsp. paprika
1 tbsp. thyme
1 yellow onion
8 cloves of garlic
4 vine-ripened tomatoes
1 tbsp. apple cider vinegar
1 tbsp. granulated beef bouillon
6 cups beef broth
Tacos:

12 corn tortillas
12 oz. Oaxaca cheese (or shredded mozzarella/Monterey Jack)
½ white onion (chopped)
¼ cup cilantro (minced)
1-2 tbsp. lime juice
Pinch of salt
Preparation
---
1. For the beef, pat dry with a paper towel, season with salt and pepper, and chop into 4-inch chunks.
2. Preheat the griddle to 300°F and add 2 tbsp. vegetable oil.
3. Sear half of the beef on all sides until deep brown.
4. Remove and repeat with the other half of the beef.
5. While the griddle's hot, toast your spices at medium-heat heat until fragrant, then store in an airtight container.
6. Add 1 tbsp. oil to a dutch oven and place over medium-high heat.
7. Add onions and garlic and cook for 1 minute or until soft.
8. Slice chilies and remove seeds using a thin blade.
9. Season with toasted spices, de-seeded chilies and the rest of ingredients (except for broth).
10. Add seared beef, chili sauce, and broth to consumé sauce and leave to marinate overnight to deepen flavor.
11. Mix onion, cilantro, lime, and salt together in a bowl, store in tupperware in refrigerator.
The next day, add beef in consomé sauce to a dutch oven pot, place on griddle at low heat and bring to a simmer.

Cover with your Daytona™ heavy-duty lid and cook for 3 hours, or until beef is melt-in-your-mouth tender.

Transfer beef to a bowl, shred with two forks and add salt to taste.

Dip uncooked tortillas in consomé sauce for added flavor.

Cook one tortilla at a time until golden brown on griddle, flip, and add cheese.

Close lid, cook until cheese begins to melt, and top with shredded beef.

Lightly char the other side, fold over to form a taco, and remove from the grill.

Serve with fresh cilantro topping and a bowl of consomé sauce for dipping for authentic Tacos de Birria.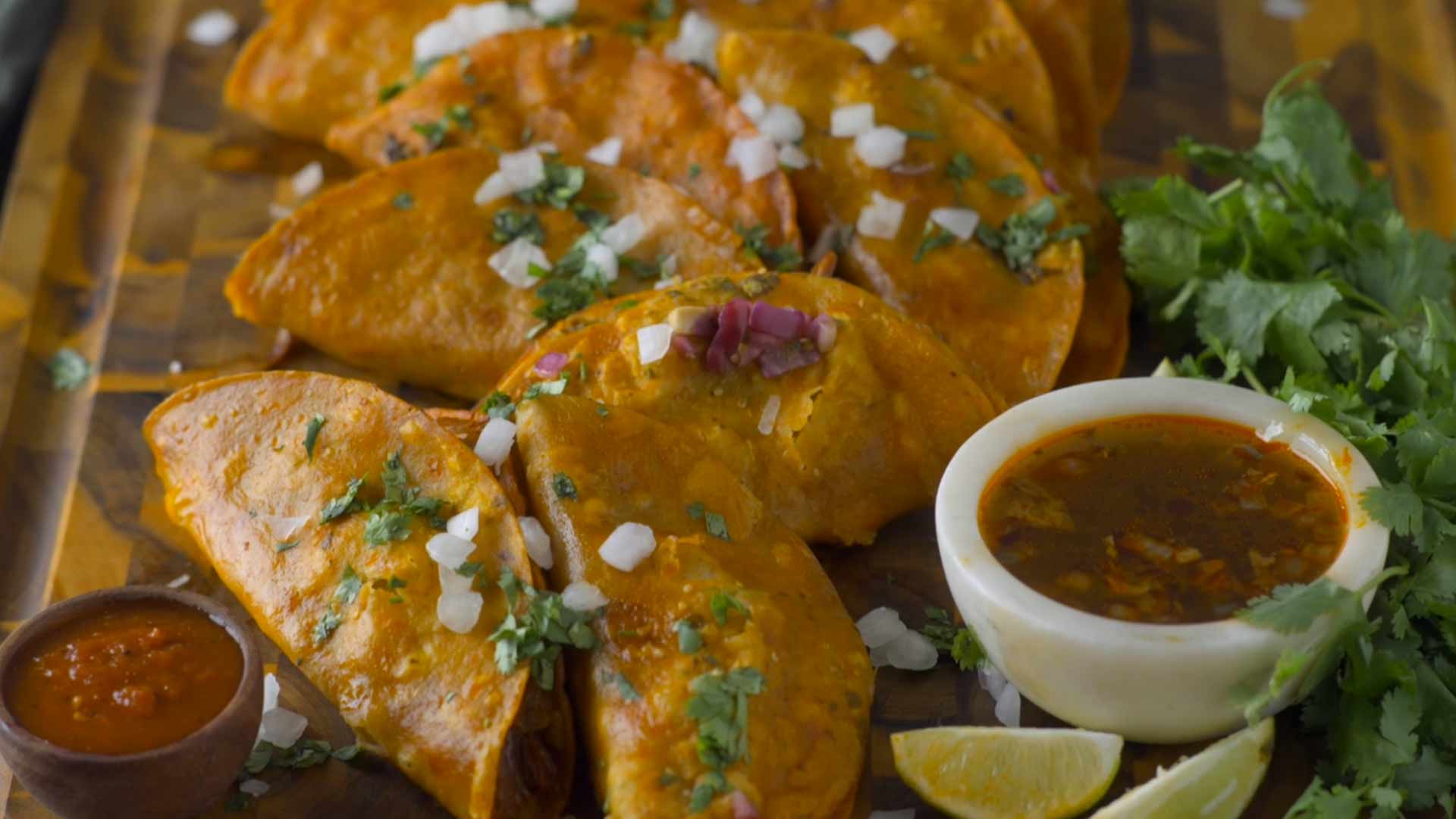 Let's be friends!
Follow us on social media and fill us in on all your grilling adventures using #EveryonesInvited. We promise to keep you up to date with all our latest grill tips, stories, recipes, and more—everything you need to stay satisfied between cookouts.
Looking for more recipes to get under your belt? Check out the rest of our unique grilling ideas to get the most out of your grill.
Try Pairing It With These Other Recipes
---
Beef, Breakfast, grilling
Everything You Need
To Make This Recipe
---