Chicken, grilling
Beer Can Chicken
---
Behind the Recipe
Sit That Bird on a Beer Can!
Everyone loves a good lager, and it turns out chickens do, too! This super simple recipe demonstrates how grilling a bird that's perched atop an open can of beer results in the most tender, juicy meat imaginable.
You'll only need a couple of ingredient to pull this off: a whole chicken and that lone can of light beer that's been hiding in the back of your fridge for who knows how long. But by all means, make this cook your own by mixing in your favorite BBQ rub.
In just an hour of indirect grilling, you'll have a succulent, gently cooked chicken with a hint of hoppy flavor.
Ingredients
4 lb. whole chicken
2 tbsp. olive oil
¼ cup BBQ rub
1 tsp. salt
1 can beer
Fresh herbs to garnish (optional)
Preparation
---
Rest chicken at room temperature for about an hour before cooking.
Preheat your Neevo™Digital Smart Grill to 350˚F.
If you're making your own BBQ rub, prepare it now.
Brush your chicken all over with olive oil.

Spread BBQ rub all over the chicken and inside the cavity.

Open the can of beer and pour out about a quarter. Poke a few holes in the top of the can.

Now it's time for the chicken to meet the beer. Slide the chicken on the beer can so the legs touch the ground. The chicken legs will work as a tripod to stabilize itself.

Place the chicken and can on the unlit side of the grill for indirect cooking and insert your digital temperature probe into the thickest part of the chicken breast or thigh.

Close the lid and cook your chicken for 60 to 90 minutes or until your SureTemp™ Controller reads a food temperature of 165˚F.

Once cooked, remove chicken from grill and carefully remove the can. Let the meat rest for 5-7 minutes before carving.

Garnish with fresh herbs to taste and serve. And for the love of all things grilled, please do not drink that beer.

Variation 1 - Make it spicy: Mix together 1 ½ tbps. chili powder, 1 tsp. ground cumin, ½ tsp. coriander, 1 ½ tsp. salt, ¼ tsp. cayenne pepper and ½ tsp. pepper. Garnish your cooked chicken with a squeeze of lime juice and a handful of chopped cilantro.

Variation 2 - Make it buttery: Drizzle the chicken with 3 tbsp. melted butter, then coat it with 2 tbsp. cajun seasoning mixed with 1 ½ tsp. salt.

Variation 3 - Make it herbaceous: Stir together 1 tsp. garlic powder with 2 tsp. dried Italian seasoning and 1 ½ tsp. salt.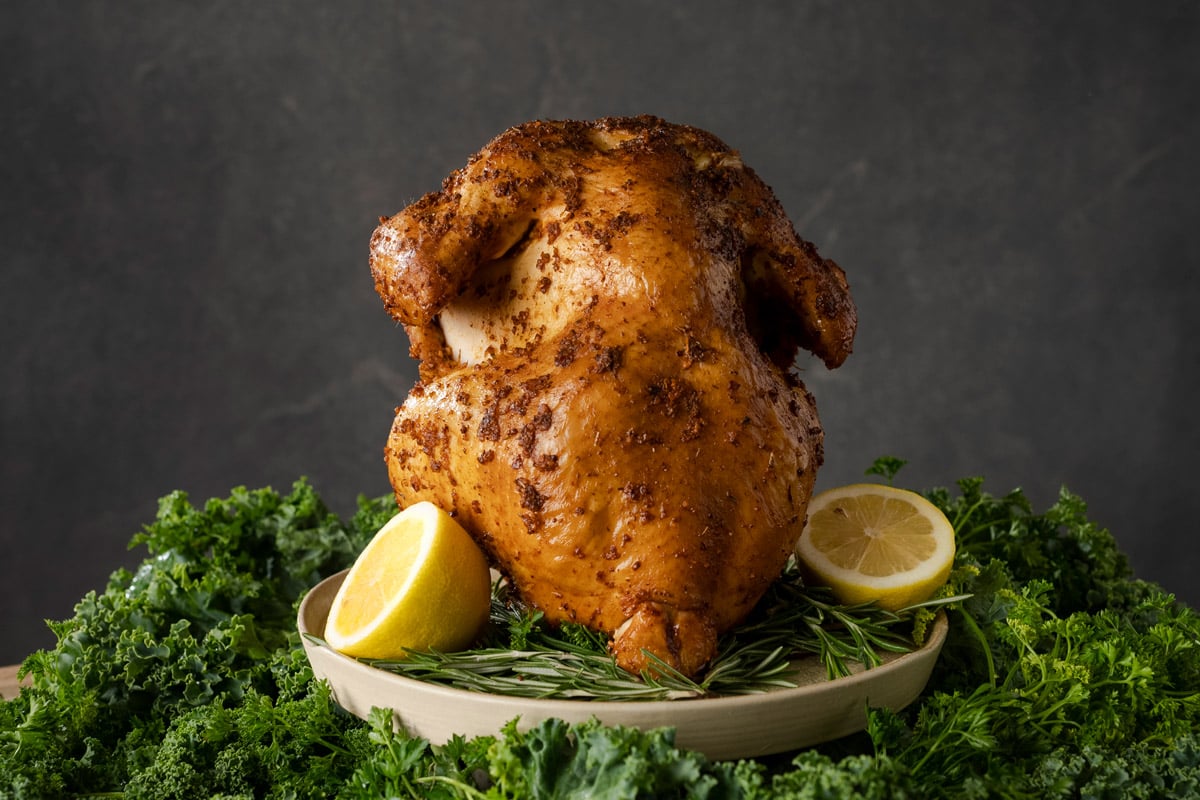 Let's be friends!
Follow us on social media and fill us in on all your grilling adventures using #EveryonesInvited. We promise to keep you up to date with all our latest grill tips, stories, recipes, and more—everything you need to stay satisfied between cookouts.
Looking for more recipes to get under your belt? Check out the rest of our unique grilling ideas to get the most out of your grill.
Try Pairing It With These Other Recipes
---
Everything You Need To
Make This Recipe
---