Fish, Fried
Crispy Beer Battered Fish
Cook Time

5 Minutes per Batch
---
Behind the Recipe
Deep Fried and Made Outside
Nothing invites everyone outside more than a good ol' fashioned fish fry, and this recipe for crispy beer battered fish is the perfect place to start.
For this recipe, we're using the new Nexgrill 18-Quart Fish Fryer w/ Double Baskets. You can also use a deep frying pan on the grill or the oven. Just know that getting good results depends on the ability to maintain consistent oil temperature.
Here's a few extra tips to help you fry some seriously crispy and delicious beer battered fish:
Fry your fish in batches, only placing a few in the basket (or pan) at one time. Adding too many at once cools down the oil too much.
When you first place food into hot oil, all that bubbling is just moisture trying to escape from the fish. That's perfectly normal. The trick is to remove them after the moisture escapes, but before the oil has a chance to seep in.
Use your eyes and ears to tell when the fish are done. When you notice the bubbles subsiding, that means steam and moisture from the fish have escaped, and it's time to pull the food from the oil, or it may flow in and risk making the fish greasy.
Skip the paper towels, and let your fried fish dry on a wire rack. When you put them on paper towels, the breading will steam from below and leave your fish soggy instead of nice and crunchy.
Don't forget the extras! A fish fry just wouldn't be the same without fresh lemon slices, tartar sauce, hot sauce, and malt vinegar to complement the food.
Hope you enjoy this recipe for crispy beer battered fish!
Ingredients
1/2 c cornstarch
1-1/2 tsp baking powder
3/4

tsp

salt
1/2

tsp

Creole seasoning
1/4

tsp

paprika
1/4

tsp

cayenne pepper
1 c all-purpose flour, divided
1/2 c 2% milk
1/3 c beer or nonalcoholic beer
2 c crushed unsalted top saltines (about 40)
4 cod fillets (6 oz each)
Oil for deep-fat frying
Preparation
---
Start with ½ cup of flour in a shallow bowl.
Next, make the batter. In a separate bowl, mix ½ cup cornstarch, 1½ teaspoons baking powder, ¾ teaspoons salt, ½ teaspoon Creole seasoning, ¼ teaspoon paprika, ¼ teaspoon cayenne and just ½ cup flour until well combined. Stir in ½ cup milk and ⅓ cup beer until smooth.
Then, crush up 2 cups of saltine crackers and place in a third shallow bowl.
Coat the cod fillets with flour. Then dip in batter. Then coat with crackers.
Place cooking oil in your Nexgrill Fish Fryer, and heat to 375º. (We recommend oil with a high smoke point such as peanut oil or canola oil.)
Fry your breaded cod fillets in batches for 2-3 minutes on each side or until golden brown. Be sure not to overcook or your fish will taste too oily.

Drain on a wire rack (or paper towels in a pinch).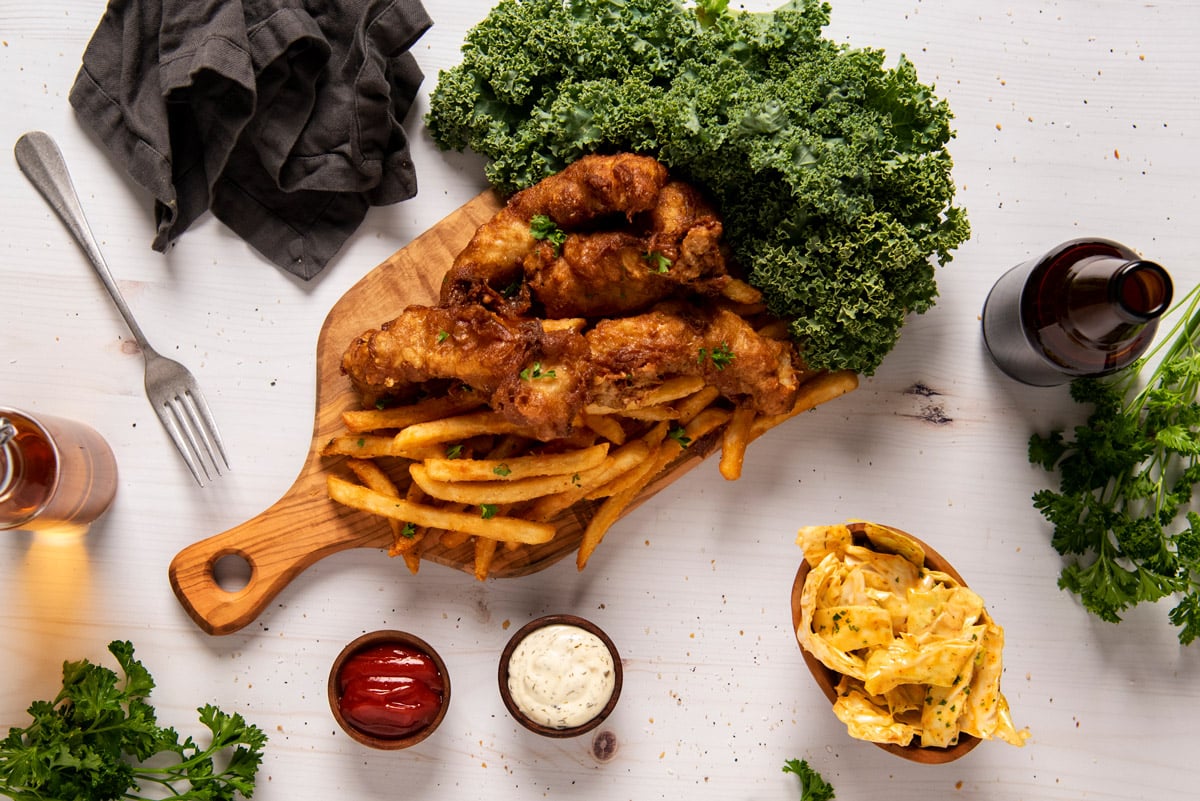 Let's be friends!
Follow us on social media and fill us in on all your grilling adventures using #EveryonesInvited. We promise to keep you up to date with all our latest grill tips, stories, recipes, and more—everything you need to stay satisfied between cookouts.
Looking for more recipes to get under your belt? Check out the rest of our unique grilling ideas to get the most out of your grill.
Try Pairing It With These Other Recipes
---
Everything You Need
To Make This Recipe
---