Fried, Sides
Blooming Onion with Dipping Sauce
---
Behind the Recipe
Sweet Tears of Joy!
Get your tastebuds ready for the icon of all appetizers! First served back in the 80's at Outback Steakhouse restaurants around the world, this at-home air fryer recipe for blooming onion will make you cry sweet tears of joy – and we don't mean those pesky, stinging tears as you cut the onion's signature petals.
Fact: While onion crying may burn, it causes no actual harm to your precious peepers! The thing is, onions contain amino acids. So when you slice and dice 'em, an enzyme in the air creates sulfuric acid – the stuff that makes your eyes well up.
Tip: Use a sharp knife, chill your onions in water and ice (preferably in the refrigerator), and use a fan to blow the sniveling fumes away. Otherwise, you can opt to wear safety or swimming goggles while you chop.
This low-calorie air fryer recipe isn't just mind-blowingly yummy, you can also swap out certain ingredients to make it keto-friendly. Either way, this recipe is a whole lot healthier than its deep-fried variant.
Ready to bring the world-famous Blooming Onion right to your own backyard? Fire up your Neevo's Air Fryer and dig into the recipe below.
Ingredients
BLOOMING ONION
4 large sweet onions (Vidalias are perfect!)
10 cups of flour (almond flour, if keto)
4 tbsp. paprika
4 tsp. cayenne pepper
2 tsp. ground cumin
2 tsp. dried thyme
2 tsp. dried oregano
8 large eggs
4 cups milk
Oil in a spray bottle (olive oil works well)
Salt and pepper to taste
DIPPING SAUCE
1 cup mayonnaise
1 cup sour cream
2 tsp. ketchup
1 tbsp. horseradish
1 tsp. paprika
1 tsp. salt
1 tsp. garlic powder
3 tsp. dried oregano
Black pepper to taste
Cayenne pepper to taste
Preparation
---
Cutting
Peel the onions' skins off and cut off the tips (not the root side).
Place the onion cut side down.
Begin making vertical cuts downward, starting a half inch from the top center. This half inch is what holds the onion petals together.
Depending on the size of your onion and how large you prefer each petal, make 8-16 vertical cuts.
Flip your onion over and gently pull the onions' petals apart to create the beautiful blossom effect.
Egg Mixture
Whisk the milk and eggs together in a bowl.
Submerge the onion into the mixture making sure that every petal is fully coated.
Flour Mixture
Whisk the flour and seasoning together in a separate bowl.
Fully coat the outside of the onion and each inside petal with the mixture.
Repeat all steps for Egg and Flour Mixture with remaining onions.
Sauce
Combine the Blooming Onion Dipping Sauce ingredients in a mixing bowl and refrigerate.
Line your air fryer basket with a piece of foil and place your air fryer basket back into the air fryer.

Set the air oven to 375°F for 10 minutes to preheat.

Once preheated, add your onions to the air fryer basket.

Spray the onions all over a few times with a cooking oil of your choice.

Select Air Fry mode and set a timer to cook for 10 minutes.

After 10 minutes, remove the crisp, brown blooming onions from the basket.

Serve with Blooming Onion Sauce and savor restaurant-quality appetizers in your own backyard!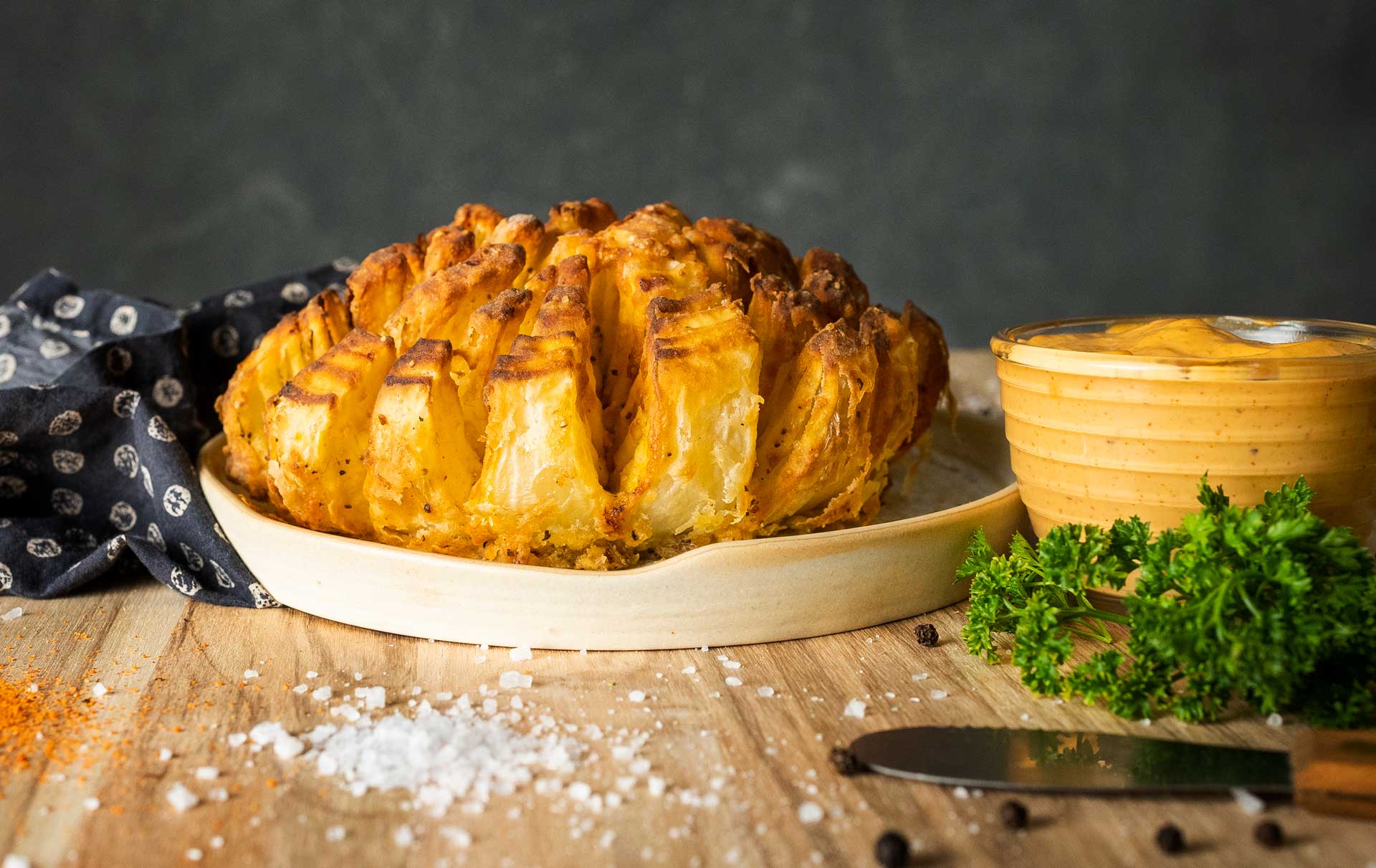 Let's be friends!
Follow us on social media and fill us in on all your grilling adventures using #EveryonesInvited. We promise to keep you up to date with all our latest grill tips, stories, recipes, and more—everything you need to stay satisfied between cookouts.
Looking for more recipes to get under your belt? Check out the rest of our unique grilling ideas to get the most out of your grill.
Try Pairing It With These Other Recipes
---
Everything You Need
To Make This Recipe
---