Beef, grilling
Cali Smash Burgers
---
Behind the Recipe
Animal Style
If there's any other way to grill smash burgers without using a Daytona Griddle and still call the end-product a perfect animal style burger, then we need to know.
According to legend, animal style burgers derive their name from the local surfers and skaters who would order their mustard-grilled smash burgers and sauce, boisterously devouring them like animals. With no shame in the name, the animal style burger deserves its lip-smacking, face-wiping enjoyment wherever it's made.
Again, we suggest making them the 'perfect way' by smashing those patties on your Daytona Griddle.
Ingredients
2 tablespoons vegetable oil, plus more for brushing
2 large onions, finely chopped
Kosher salt
1/4 cup mayonnaise
2 tablespoons ketchup
1 tablespoon sweet pickle relish
1/2 teaspoon white vinegar
2 pounds ground beef chuck
4 hamburger buns, split
1/4 cup sliced dill pickles
3/4 cup shredded iceberg lettuce
4 to 8 thin slices tomato
Freshly ground pepper
1/4 cup yellow mustard
8 slices American cheese


Preparation
---
Preheat your Daytona Griddle to medium-high heat
Prepare your ground beef by rolling them into balls
Slice open some burger buns
Heat the vegetable oil in a large skillet over medium-low heat. Add onions and a 3/4 teaspoon of salt, cover and cook until golden and soft, which should take about 30 minutes. Add ½ a cup of water to the skillet, scraping up the browned bits from the bottom. Simmer until the water evaporates, about 2 more minutes; transfer to a bowl.

Mix the mayonnaise, relish ketchup, and vinegar in a bowl. Squash the beef into patties, about 4 inches wide and a 1/2 inch thick.

Heat your Daytona Griddle over medium heat; brush lightly with vegetable oil. Then toast the buns on your griddle. Spread each bun bottom with 1 tablespoon of the mayonnaise mix, then top with pickles, lettuce, 2 slices of tomato and some more of the mayonnaise mix.

Season the patties with salt and pepper. Place the patties on the griddle and cook for approximately 3 minutes. Spread 1 and a half teaspoons of mustard on the side of each patty that is uncooked, flip and top with 1 slice of cheese; continue cooking about 2 more minutes till medium rare. Top the patties with caramelized onions, cheese-side up. Sandwich the double patties on the buns.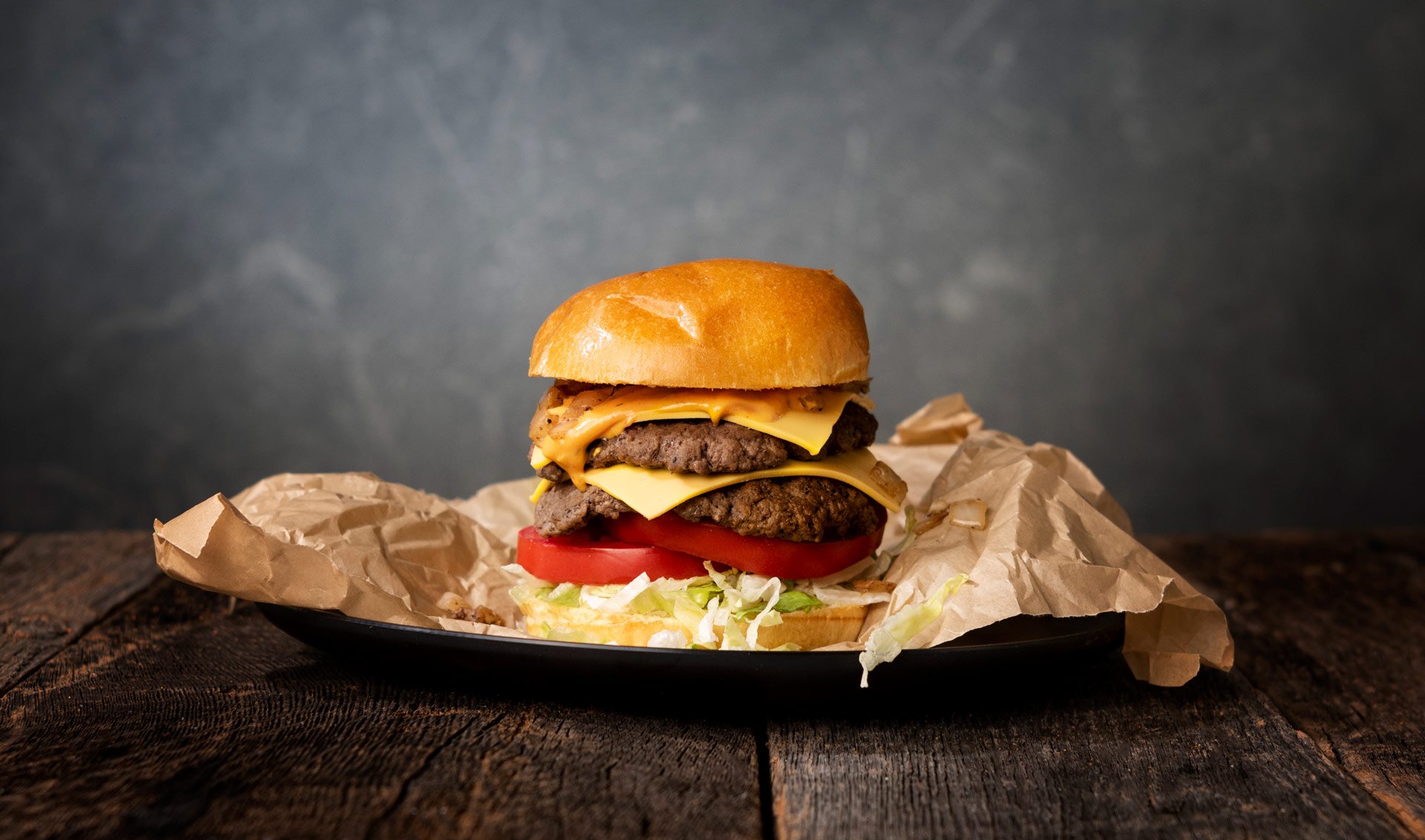 Let's be friends!
Follow us on social media and fill us in on all your grilling adventures using #EveryonesInvited. We promise to keep you up to date with all our latest grill tips, stories, recipes, and more—everything you need to stay satisfied between cookouts.
Looking for more recipes to get under your belt? Check out the rest of our unique grilling ideas to get the most out of your grill.
Try Pairing It With These Other Recipes
---
Everything You Need To
Make This Recipe
---