Dessert
Smoked Bourbon Cream Cheese Cinnamon Buns
Preparation

2 hours, 5 min
---
Behind the Recipe
Made from Scratch, So You Can Taste the Love
We're not going to lie... this recipe for Smoked Bourbon Cream Cheese Cinnamon Buns requires a lot of love. But trust us… when you sink your teeth into these fluffy, gooey, pecan-smoked cinnamon buns, you'll instantly know that it's worth every ounce of work.
The magical aroma from your grill will waft through the air to the delight of anyone nearby. The dough, with its maple flavor, is sure to make mouths water. It all comes together to make the perfect balance of sweet and rich, with just a hint of smokiness.
Here are a few tips to help you make this irresistible dish:
For the wood-smoked flavor, go with pecan wood or pecan pellets. The sweet, nutty, rich flavor pairs perfectly with the other ingredients (it's basically the holidays in your mouth).
Prepare the frosting while the buns are cooking on the grill. Little shortcuts like this can help you save time.
If you want to skip the work of making your own dough, you can always purchase store bought dough (skip ahead to step #9 in the instructions if you bought your own dough).
If you're having trouble getting the yeast to activate, you may be using water that's too hot. Or in some cases, your yeast may be too old.
Pro Tip: When you're slicing your dough into buns, use non-waxy dental floss! Wrap it around the dough and watch it slice right through.
We hope you enjoy this recipe for Smoked Bourbon Cream Cheese Cinnamon Buns!
Ingredients
CINNAMON ROLLS
2 .75 oz packets of active dry yeast
1 c + 1 tsp light brown sugar, divided
1 c warm water (not too hot)
5 c all-purpose flour
⅓ c cane sugar
1 tsp maple extract
1 c warm milk
1 egg, beaten
½ c butter, softened
1 tbsp cinnamon
Pecan wood or pellets for smoking

BOURBON CREAM CHEESE FROSTING
8 oz cream cheese softened
½ c butter, softened
2 c powdered sugar
1 oz bourbon
½ tsp maple extract
1 tsp milk
½ tsp salt
Preparation
---
If you're using a charcoal or gas grill, soak your pecan wood chips in a bowl of water to prevent burning.
In a large mixing bowl, whisk together 2 packets yeast, 1 tsp brown sugar, and 1 cup of warm (not scolding) water. Whisk to combine, and let sit for 5 minutes until you notice bubbles. NOTE: If you don't see bubbles, the yeast isn't active and you'll have to start again.
In the same bowl, add 5 cups of all-purpose flour, ⅓ cup cane sugar, and 1 tsp maple extract. Mix together using a hand mixer or stand mixer for 1 minute. While that mixes, gradually pour in 1 cup warm milk and 1 beaten egg, and mix for 1 more minute. NOTE: Don't overwork the dough.
Now that you have your dough (yay!), remove it from your bowl and place on a lightly floured surface.
Knead the dough until it's soft.
Grab a large mixing bowl, and coat it with nonstick spray.
Add your dough to the bowl, cover it loosely with a towel, and place in a warm location for about 45 minutes to allow the yeast to activate and the dough to rise (this is a process called "proofing"). By the time it's ready, the size should have nearly doubled.
While your dough is rising , get a small bowl, and mix together ½ cup (1 stick) of softened butter, 1 cup of light brown sugar, and 1 tbsp of cinnamon. Set aside.
Remove your dough from the large mixing bowl, lay it on a flat surface, and gently punch it down to flatten it out. Use a floured rolling pin to flatten the dough into to 16"x8" rectangle (as best as you can).
Take your butter, brown sugar, and cinnamon mixture, and spread it out onto the dough.
Next–starting from the short end and finishing on the opposite short end–roll the dough up tightly. Then take your thumb and index finger, and gently pinch the edges to seal them together.
Cut your dough into sections about 2" wide until you have 8 pieces.
Finally, we'll prepare the bourbon cream cheese frosting: Add 8 oz. of softened cream cheese and ½ cup of butter to a mixing bowl, and mix on low. Gently incorporate 1 oz bourbon, ½ tsp maple extract, 1 tsp milk, and ½ tsp salt until creamy smooth.
Now for the fun: Preheat your gas grill, charcoal grill, or pellet smoker to 325 degrees F. If you're using a pellet smoker, use pecan wood pellets.

Grab a large cast iron skillet, and heavily spread ½ c of softened butter along bottom and sides.

Place your cinnamon rolls inside the cast iron and cover with a towel. Let the dough continue to rise naturally until nearly doubled in size.

Place the cast iron onto the grill and cover for 20 minutes until they reach a lovely golden brown color on top.

Remove the cinnamon buns from the heat, let them cool for 5-10 minutes, and then slather them with your homemade bourbon cream cheese frosting. Serve immediately.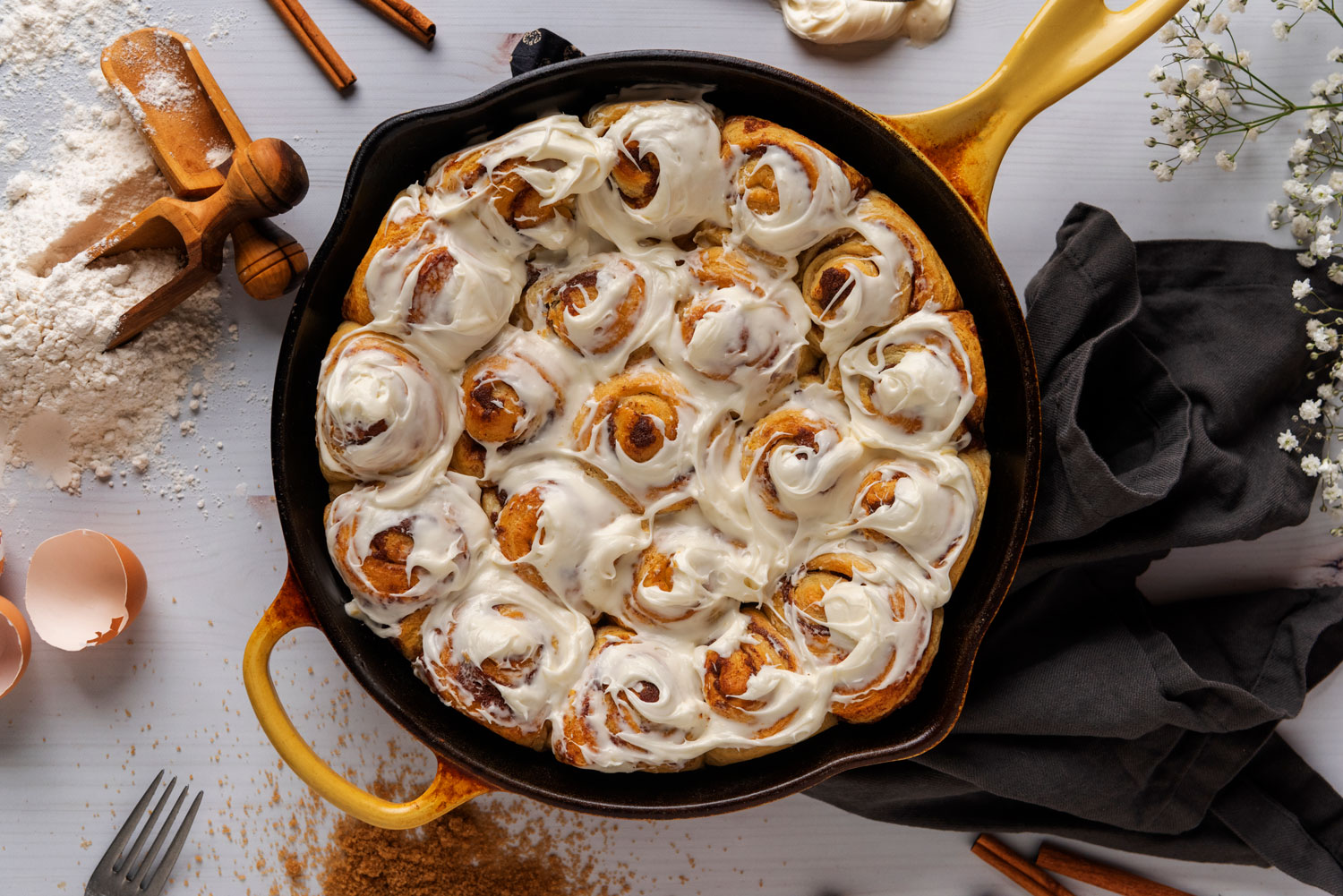 Let's be friends!
Follow us on social media and fill us in on all your grilling adventures using #EveryonesInvited. We promise to keep you up to date with all our latest grill tips, stories, recipes, and more—everything you need to stay satisfied between cookouts.
Looking for more recipes to get under your belt? Check out the rest of our unique grilling ideas to get the most out of your grill.
Try Pairing It With These Other Recipes
---
Everything You Need
To Make This Recipe
---