Dessert
Grilled S'mores Pizza
---
Behind the Recipe
A New Take On A Campfire Classic
So you don't have a campfire. Who cares?! As long as you have a grill and a few minutes, this recipe for grilled s'mores pizza is just what you need to rekindle the nostalgia of eating s'mores on a summer night with friends and family.
If you've never tried making dessert on a grill before, then this recipe for grilled s'mores pizza is a great place to start. With only a few classic ingredients (plus pizza dough), you'll be able to wow even the pickiest of dessert lovers. Plus, there's no worrying about scorching the marshmallows!
Here's a few tips for making sure your grilled s'mores pizza comes out just right:
Want to get a nice round shape? After stretching your pizza dough, let it rest for about 5 minutes. Then use your fingers to push out the edges again.
Lightly oil the grates of your grill so that the dough doesn't stick.
Marshmallows cook quickly–about 2-3 minutes. Be careful to prevent them from burning.
Looking to substitute some ingredients? Try using chocolate chunks or dark chocolate chunks instead of chips. Or scrap that and go with peanut butter cups, white chocolate bars, or peppermint patties! You can also sub in cinnamon graham crackers for regular graham crackers.
Want to make a sweeter pizza dough? Try making it from scratch instead of with refrigerated pizza dough. You can mix the crushed graham crackers into the crust!
Ingredients
1 lb refrigerated pizza dough
2 tbsp olive oil, divided (or melted butter)
2 c chocolate chips
3 c min marshmallows
½ c chocolate hazelnut spread (such as Nutella)
3 honey graham crackers, crushed
¼ tsp flaky sea salt (optional)
Preparation
---
Sprinkle some flour on a flat surface, and allow your pizza dough to rest on it for 20 minutes.
Meanwhile, preheat your Nexgrill to high heat, and then turn it down low (to about 350º F).
Roll out the pizza dough to about ¼ inch thick.
Brush one side of the dough lightly with oil.
Lightly oil the grill grates so the dough doesn't stick. Here's how: Pick up a tightly folded paper towel with tongs, dip it into olive oil, and carefully graze the grill grates.

Place the dough oil side down directly onto the grill grates.

Grill for 2-3 minutes. Then grab your spatula and check on the dough. You want to see it looking puffed and golden brown on bottom. If it's not quite there, cover and let grill for another minute.

Lightly brush the top side of the dough with oil, and flip it over.

Right away, slather the chocolate hazelnut spread on the cooked side of the dough, and top with mini marshmallows, crushed graham crackers & chocolate chips.

Close the lid and grill for 2-3 more minutes. You'll know it's done when the bottom of the crust has a crisp golden color, and the marshmallows on top are slightly puffed up.

Remove the pizza from the grill onto a cutting board, and sprinkle with flaky sea salt (optional).

Cut into slices while still warm, and share the joy immediately!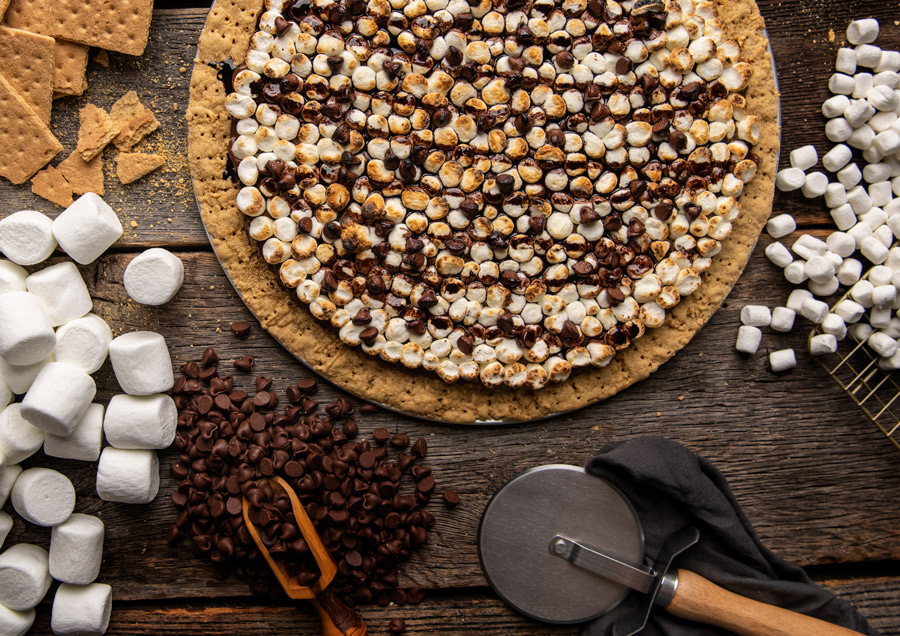 Let's be friends!
Follow us on social media and fill us in on all your grilling adventures using #EveryonesInvited. We promise to keep you up to date with all our latest grill tips, stories, recipes, and more—everything you need to stay satisfied between cookouts.
Looking for more recipes to get under your belt? Check out the rest of our unique grilling ideas to get the most out of your grill.
Try Pairing It With These Other Recipes
---
Everything You Need
To Make This Recipe
---