grilling
Grilled Bison Burgers
---
Behind the Recipe
Serve Up a Healthy Alternative to Beef Patties
Have you ever sunk your teeth into a grilled bison burger? They're seriously delicious. Bison burgers (AKA buffalo patties) are made from ground American bison.
The delicate flavor of bison is exceptionally tasty, and compared to beef, contains much less fat (because bison themselves don't store as much fat as cows). The lack of fat in these burgers also means you're getting less cholesterol and more protein with each bite without compromising your taste buds or waistline.
You can dress up your grilled bison burgers the same way you do any beef burger, but this recipe dials up a secret thousand island-inspired sauce. You can also make the patties ahead of time and freeze them for an easy, anytime meal (just thaw overnight in the refrigerator).
This grilled bison burgers recipe only takes minutes to cook, so don't skip out on the toppings! Serve with thick cut fries, sweet potato chips, or your favorite gluten-free bun for a truly mouthwatering BBQ meal that won't compromise your diet.
Ingredients
BISON BURGER PATTIES
1 lb. ground bison
1 egg
½ cup panko breadcrumbs
2 tbsp Worcestershire sauce
BISON BURGER SAUCE
½ cup mayonnaise
3 tbsp ketchup
2 tbsp sweet pickle relish
1 ½ tsp sugar
1 ½ tsp distilled white vinegar
TOPPINGS
4 ciabatta burger buns
4 slices American cheese
1 large tomato (sliced)
½ red onion (sliced)
dill pickles
Preparation
---
Preheat your Nexgrill to 400º, and lightly oil the grates.
In a large bowl, mix the ground bison, egg, panko, and Worcestershire sauce by hand. Form 4 evenly sized patties with your hands, and set aside. (You can also create patties ahead of time and freeze)
For the burger sauce, combine ½ cup mayonnaise, 3 tbsp ketchup, 2 tbsp sweet pickle relish, 1 ½ tsp sugar, and 1 ½ tsp distilled white vinegar into a bowl. Stir until well mixed, and set aside.
Place your bison patties on the hot grates over direct heat, and grill for 6 minutes without flipping.

Flip the patties and cook for 2 additional minutes. If you want to toast your ciabatta bread buns, add them to your grill now.

Pull your buns off the grill.

Top patties with a slice of American cheese, and cook until melted and the internal temperature reaches 155ºF.

Place patties onto buns, and spread the top bun with your bison burger sauce.

Add toppings to your bison burgers and enjoy! We recommend topping with sliced tomato, lettuce, sliced red onion and dill pickles.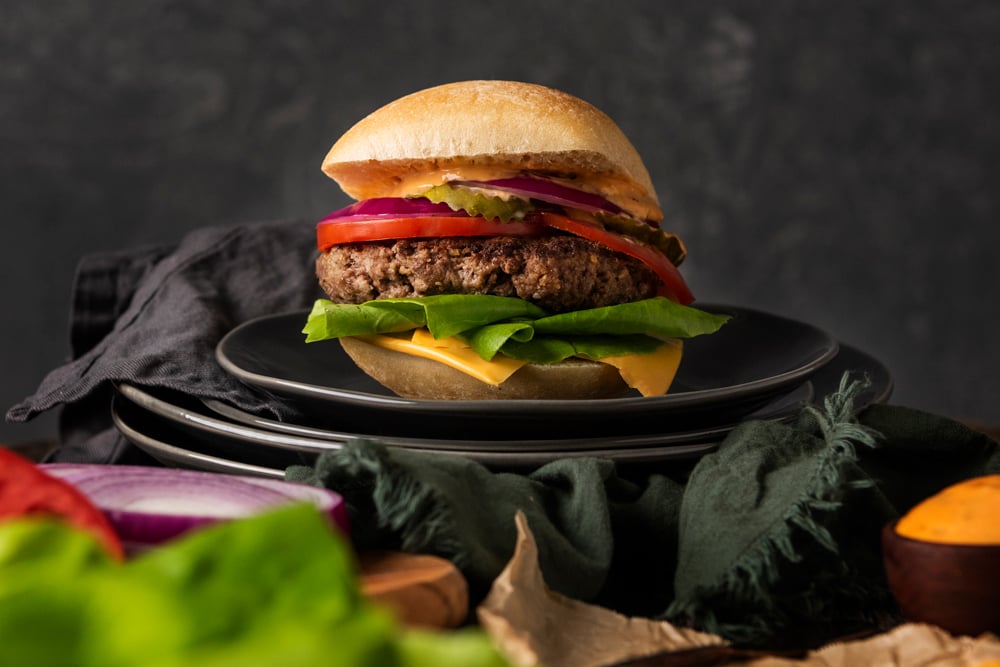 Let's be friends!
Follow us on social media and fill us in on all your grilling adventures using #EveryonesInvited. We promise to keep you up to date with all our latest grill tips, stories, recipes, and more—everything you need to stay satisfied between cookouts.
Looking for more recipes to get under your belt? Check out the rest of our unique grilling ideas to get the most out of your grill.
Try Pairing It With These Other Recipes
---
Everything You Need
To Make This Recipe
---