Chicken
Grilled Chicken Cordon Bleu
---
Behind the Recipe
Times Were Tough, But The Chicken Was Tender & Juicy
Growing up, we didn't have much in the way of expendable income. What we did have was a hard-working mom who would cook the best chicken cordon bleu.
One particularly hot summer, she decided to give her signature recipe a spin outside on the grill instead of in the oven. And to everyone's surprise, her grilled chicken cordon bleu was even better than the original. There's something about the combination of juicy, chargrilled chicken and melty cheese that made everyone flock to the dinner table.
It wasn't until much later in life that I discovered how easy this stuff is to make. But mom's still a superhero for giving us a comforting, home-cooked meal to look forward to all those years.
Ingredients
4 boneless skinless chicken breasts, pounded thin
Olive oil
Salt and freshly ground black pepper
½ lb. triple creme cheese or brie, thinly sliced
2 lemons, halved
8 thin slices of prosciutto
¼ lb. baby arugula
Preparation
---
Using a meat mallet, rolling pin, or small pan, carefully pound chicken breasts to an even ¼ in. thickness.
Brush chicken with olive oil on both sides and season generously with salt and pepper.
All prepped! Now let's head out to the Nexgrill and fire up some flavor.
Set up your Nexgrill for high, direct heat. About 450 degrees.

Grill your ¼ in. thick chicken breasts about 2 minutes per side so that they're only just cooked through. If they aren't fully done yet, that's okay. The chicken will continue cooking through the next couple of steps.

Place a few slices of cheese on each chicken breast, close the lid of your Nexgrill, and let melt for about 45 seconds.

Meanwhile, brush the cut side of your halved lemons with oil and grill cut-side-down until golden brown. About 45 seconds.

Once your cheese is nice and melty, transfer chicken to large serving plates and top each breast with 2 slices of prosciutto and some arugula.

Squeeze grilled lemon halves over top, drizzle with olive oil, and enjoy. See? Told you it was easy!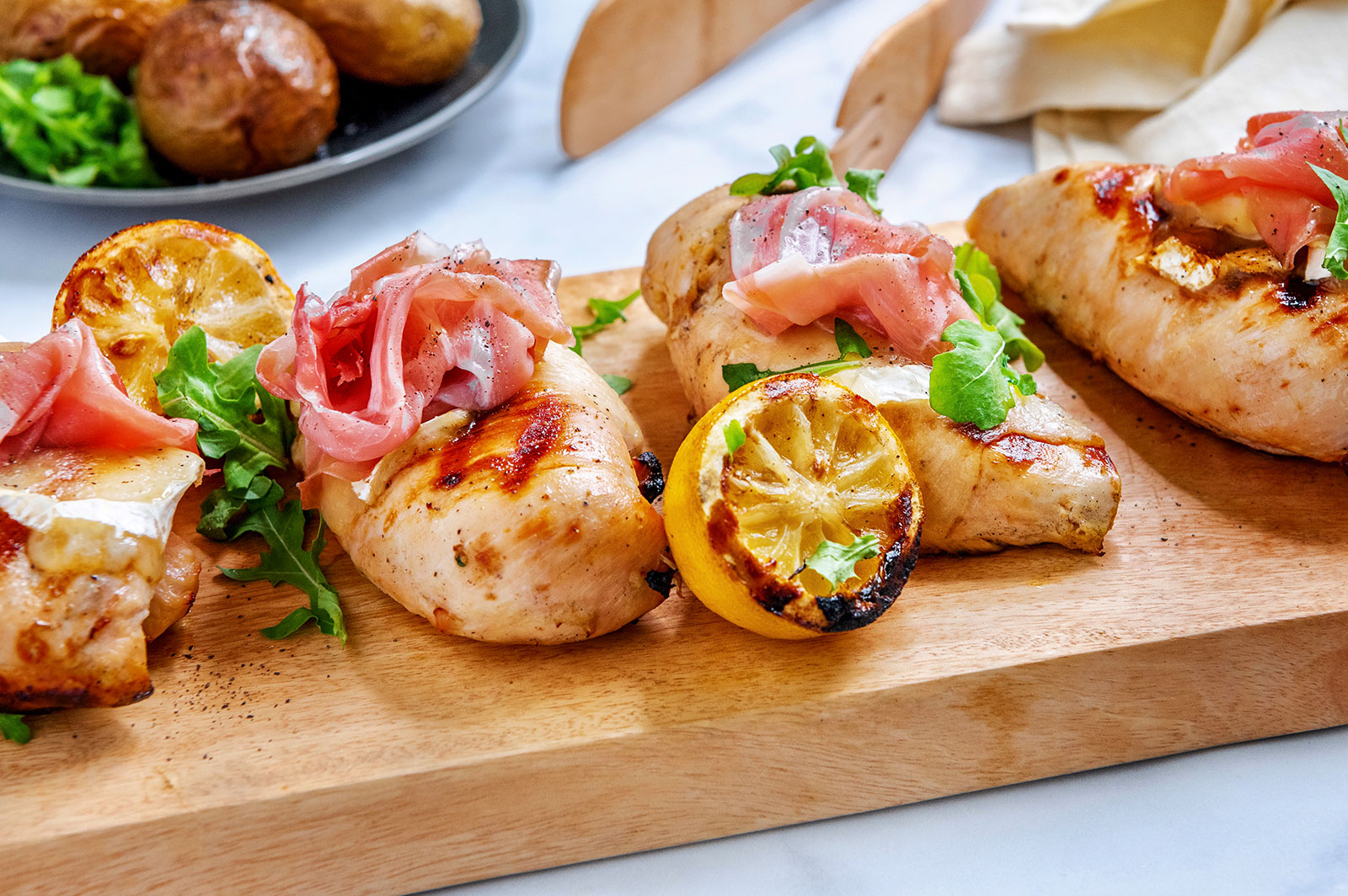 Let's be friends!
Follow us on social media and fill us in on all your grilling adventures using #EveryonesInvited. We promise to keep you up to date with all our latest grill tips, stories, recipes, and more—everything you need to stay satisfied between cookouts.
Looking for more recipes to get under your belt? Check out the rest of our unique grilling ideas to get the most out of your grill.
Try Pairing It With These Other Recipes
---
Everything you need to
Make This Recipe
---