Beef, grilling, spicy
Jalapeño Cream Cheese Stuffed Cowboy Burgers
---
Behind the Recipe
Even Cowboys Crave Variety
Did you know that Hamburg, Germany is the birthplace of the hamburger? Appropriate, ain't it? While Hamburg certainly made burgers what they are today, some claim that the concept of minced beef predates the German port town. It has been said that the Mongol cavalry first ate a similar form of meat, steak tartare, as early as the 12th century!
Whatever its origins, over the years the hamburger has become a hallmark of cookout culture, and today there are more variations than we could possibly count. So without further adieu, here's another for the heap:
This jalapeño cream cheese-stuffed burger possesses the spice and spontaneity that any tong-wielding trailblazer worth their stirrups will crave. Say that five times fast, partner.
Ingredients
4 oz. cream cheese, softened
½ a cup shredded cheddar cheese
½ a cup shredded mozzarella cheese
2 jalapeño peppers, minced
Kosher salt to taste
Black pepper, freshly ground
6 slices of bacon, cooked and chopped
½ teaspoon chili powder
1 ½ lb. Angus ground beef
4 burger buns
Preparation
---
Let cream cheese soften at room temperature.
Mince jalapeño peppers.
Shape ground beef into 8 large, thin rounds (about ¼ inch thick).
Preheat your Daytona Grill to medium-high heat.
Add bacon to preheated griddle.

While bacon cooks, create the cream cheese filling: In a medium bowl, mix together cheddar cheese, cream cheese, mozzarella, and chopped jalapeño peppers. Season the mixture with salt and black pepper, then fold in cooked bacon bits.

Grab your burger patties and spoon approximately a ¼ cup of filling mixture onto one, then place a second beef patty on top. Pinch the patty edges to seal the burger. Re-shape the ground beef patties into a disc if necessary. Repeat this process with the remaining patties and filling mixture.

Season the beef burgers on both sides with chili powder, salt, and pepper. Place prepared burgers on the grill and cook until cooked through, or to your preference. For a medium cook, grill about 6 minutes per side.

Once done, place each burger patty on a bun, add any toppings you like, and go buck wild.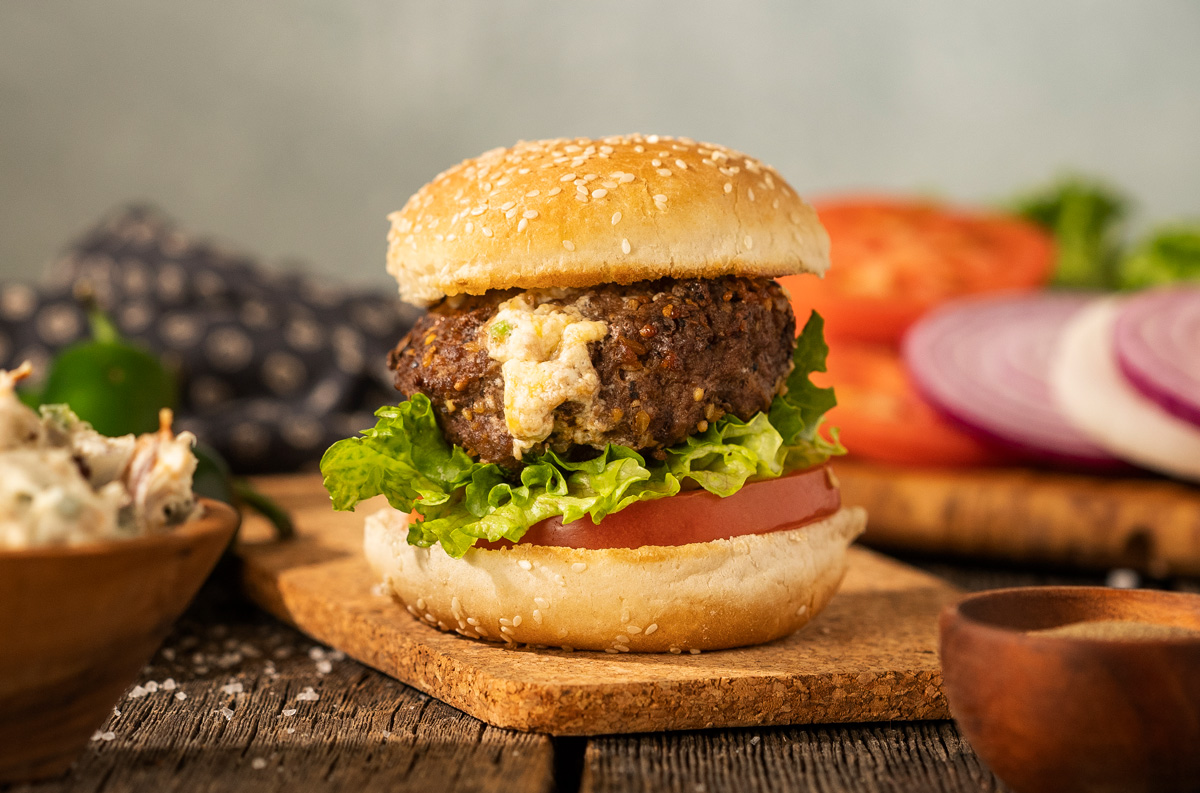 Let's be friends!
Follow us on social media and fill us in on all your grilling adventures using #EveryonesInvited. We promise to keep you up to date with all our latest grill tips, stories, recipes, and more—everything you need to stay satisfied between cookouts.
Looking for more recipes to get under your belt? Check out the rest of our unique grilling ideas to get the most out of your grill.
Try Pairing It With These Other Recipes
---
Everything You Need To
Make This Recipe
---