Breakfast
Lemon Ricotta Pancakes with Blueberries
---
Behind the Recipe
The Best Ricotta Pancakes You've Never Had
We all know how a stack of syrup-drenched pancakes can really just make your morning. Now imagine the day you'll have after eating the fluffiest, most flavor-packed pile of flapjacks you've ever had the privilege of stuffing your face with.
That is the power of ricotta cheese.
Ricotta is an Italian whey cheese usually made from sheep, cow, or buffalo milk. It appears in many of Italy's flagship recipes, such as lasagna, manicotti, and even cannoli.
Not quite sweet and not quite savory, ricotta cheese brings a creamy texture that punches up pancake batter like you wouldn't believe. Pair it with complementary fruits like lemon and blueberry and Bisquick will be banished from your pantry life.
Want to treat your friends and family to a pancake breakfast they won't soon forget? Fire up your Daytona™ and griddle up this recipe for Lemon Ricotta Pancakes with Blueberries.
Ingredients
1 ½ cup all-purpose flour (scoop and level to measure)
2 tsp. baking powder
3 ½ tbsp. sugar
¼ tsp. baking soda
½ tsp. salt
1 cup milk
¾ cup Ricotta cheese
3 large eggs
1 tsp. vanilla extract
1-2 tbsp. lemon zest
¼ cup lemon juice (fresh)
1 tbsp. butter (melted)
Blueberries
Preparation
---
Preheat your Daytona Griddle to medium-high heat.
In one bowl, whisk together the dry ingredients and make a well (or big bowl shape) in the center using your hands.

In a separate bowl, whisk together the milk, eggs, and ricotta cheese.

Add melted butter to the milk mixture, lemon zest, lemon juice – and whisk to blend.

Immediately pour the wet mixture into the flour mixture, whisking it gently to combine ingredients (remember, lumps are good in pancake batter – it means the batter isn't over-mixed and ultimately means fluffier pancakes).

Butter the griddle before pouring the batter on. (Vegetable oil works just as well).

Pour ⅓ cup batter onto the griddle at a time and leave plenty of space between them, then let the griddle work its magic and cook them until the bottom is golden brown.

Flip using a large spatula and cook the opposite side until golden brown.

Serve hot off the Daytona, topped with syrup and blueberries.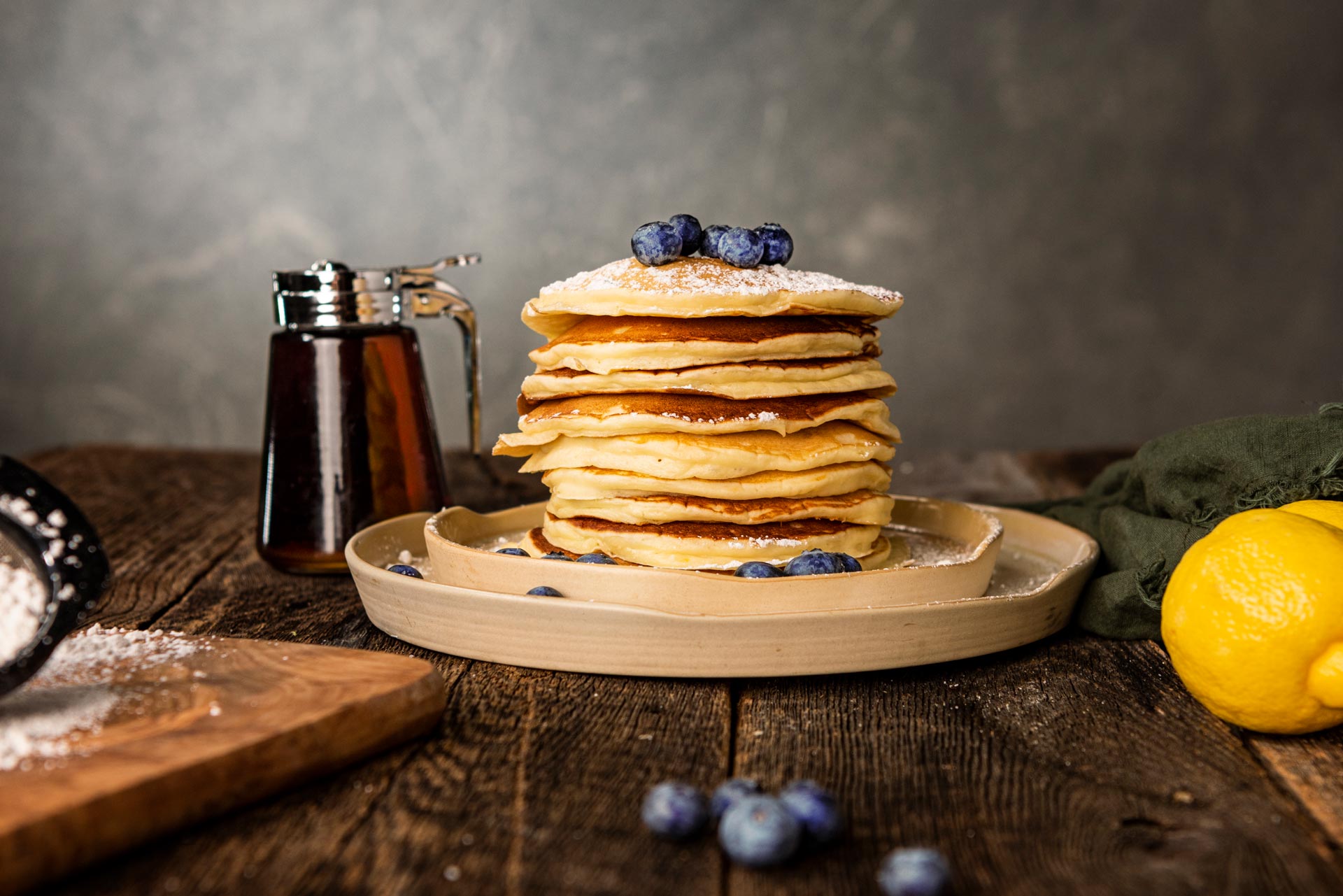 Let's be friends!
Follow us on social media and fill us in on all your grilling adventures using #EveryonesInvited. We promise to keep you up to date with all our latest grill tips, stories, recipes, and more—everything you need to stay satisfied between cookouts.
Looking for more recipes to get under your belt? Check out the rest of our unique grilling ideas to get the most out of your grill.
Try Pairing It With These Other Recipes
---
Everything You Need To
Make This Recipe
---