Chicken
Nashville Hot Chicken
Cook Time

10-12 Minutes/Batch
---
Behind the Recipe
The Spicy Fried Chicken That Can't Be Denied
Every Southern town seems to have an iconic dish--a local specialty or regional delicacy that stems directly from its people and culture. Nashville Hot Chicken is no exception.
If you've never had the revelation that is Nashville-style hot chicken, the time has come to join the ranks of the enlightened. It's spicy. It's juicy. It tickles the palette with more heat than your everyday hot sauce. And it was born right in Music City.
In this recipe, you'll learn how to make homestyle Nashville Hot Chicken using the Nexgrill 10-quart Aluminum Fish and Wings Fryer.
Here are a few extra tips for how to achieve the perfect Nashville Hot Chicken that pleases every member of your family or party guests:
Spread your spicy mix evenly over the chicken pieces to get a nice, even flavor.
Let your seasoned chicken rest in the fridge for at least 30 minutes and up to 24 hours. The more time you allow, the more flavor that seeps into the chicken.
Warning: That first bite is gonna be spicy. You might want to serve with pickles on the side or dill slaw to cool down your mouth.
Turn wings occasionally and cook until golden brown with crispy skin.
We won't lie to you. With three layers of flavor, this recipe for Nashville Hot Chicken is fairly involved, but when you sink your teeth into this hot and spicy homemade fried chicken, you'll understand why it's been a star of Nashville kitchens for 80+ years.
Ingredients
2 tbsp cayenne pepper
2 tbsp paprika
1 tbsp garlic powder
1 tbsp mustard powder
1 tbsp black pepper
1 tbsp onion powder
4 bone-in, skin-on chicken thighs
4 chicken drumsticks
1 tbsp kosher salt
2 tsp light brown sugar
½ c canola oil
2 c buttermilk
2 tbsp louisiana hot sauce
2 c flour
peanut oil (or canola) for frying
white bread
8 dill pickles, cut into chips, to serve
Preparation
---
First make the spice mix by whisking together 2 tbsp cayenne pepper, 2 tbsp paprika, 1 tbsp garlic powder, 1 tbsp mustard powder, 1 tbsp black pepper, and 1 tbsp onion powder in a medium bowl.
Pat the chicken dry and place in a large bowl. Add 5 tbsp of your spice mix and 1 tbsp of kosher salt to the bowl, and mix well. Be sure the chicken is fully coated.
Cover the bowl with plastic wrap and place in the fridge for a minimum of 30 minutes (and a maximum of 24 hours).
Next, you'll make the spicy oil. In a small saucepan over medium heat, combine ½ c canola oil, 2 tbsp of the spice mix, and 2 tsp brown sugar, and stir until the brown sugar dissolves, about 2-3 minutes. Set aside.
Finally, make the batter by adding 2 cups of buttermilk and 2 tbsp Louisiana hot sauce to a medium bowl, and mixing well. In a separate medium bowl, place 2 cups of flour.
One by one, dredge each piece of chicken into the flour until well coated. Shake off any excess flour, and then dip them into the buttermilk mixture, then back into the flour.
Set aside until ready to cook.
Heat peanut oil or canola oil in your Nexgrill 10-quart Aluminum Fish and Wings Fryer to 325°F (170°C).

Gently lower 3-4 pieces of chicken into the frying oil, and cook for 10-12 minutes, turning occasionally until golden brown and crispy. (Be sure not to overcrowd the pot, or your chicken pieces may touch together, and the batter will come out less than crispy).

Once done, place fried chicken onto a wire rack over a baking sheet, and brush with the spicy oil you made.

If you wish, you can lightly dust the chicken with any remaining spice mixture.

Serve chicken on a slice of white bread and top with dill pickle.

Enjoy!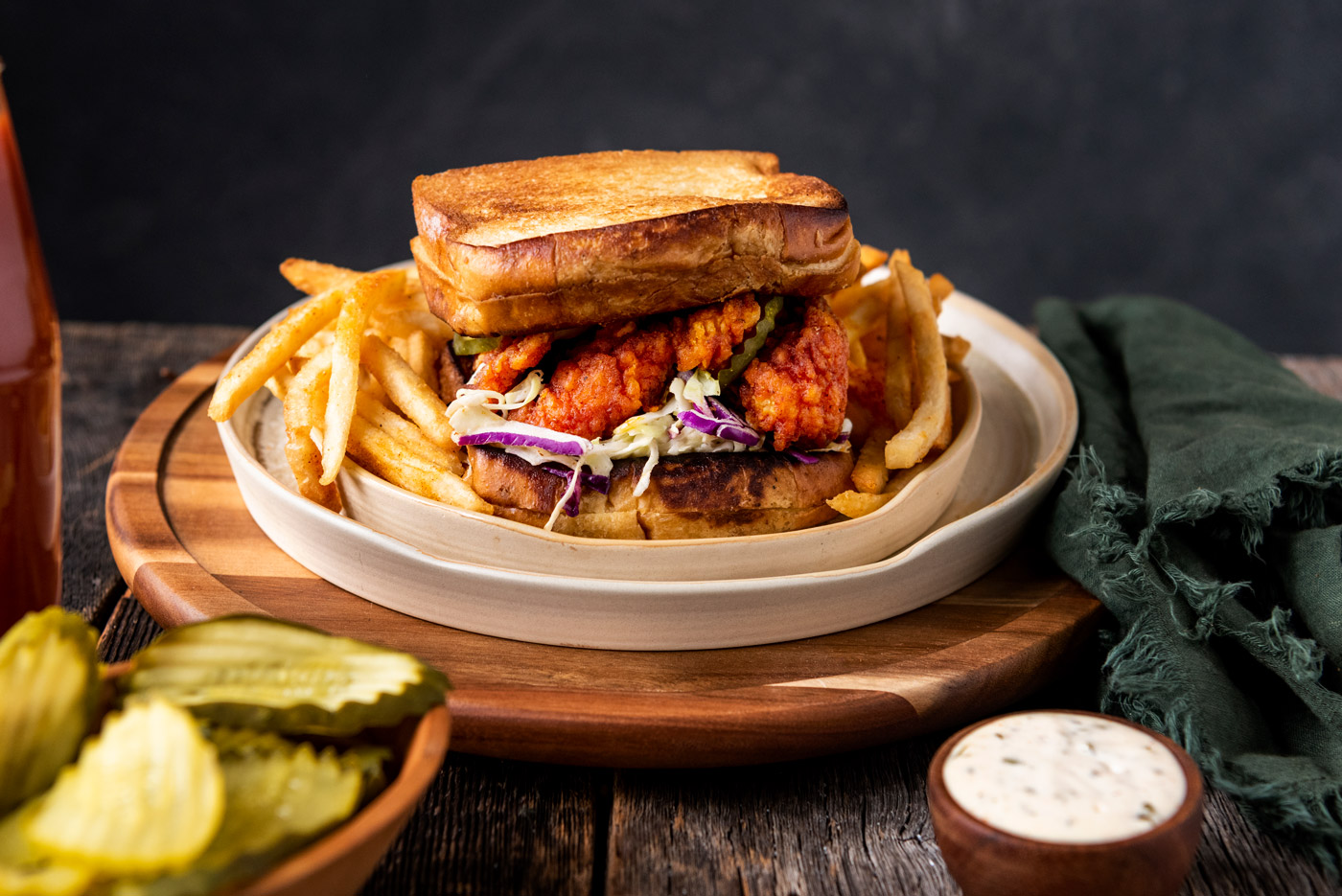 Let's be friends!
Follow us on social media and fill us in on all your grilling adventures using #EveryonesInvited. We promise to keep you up to date with all our latest grill tips, stories, recipes, and more—everything you need to stay satisfied between cookouts.
Looking for more recipes to get under your belt? Check out the rest of our unique grilling ideas to get the most out of your grill.
Try Pairing It With These Other Recipes
---
Everything You Need
To Make This Recipe
---