lamb
Reverse Sear Lamb Loin Chops
Preparation

15 Min + 3 Hours to Marinate
---
Behind the Recipe
Reverse Seared to Lock in the Flavor
If you want to grill up a holiday dinner that's one for the books, this recipe for reverse sear lamb loin chops is the perfect fit.
The flavor is rich and well-seasoned thanks to an easy homemade marinade that not only helps to tenderize the lamb while it cooks, but also adds incredible depth with distinctive layers of flavor.
And the process of reverse searing might sound complicated, but it couldn't be easier.
Reverse searing is when a cut of meat starts in the oven or grill at a low temperature, is gradually brought up to a target temperature, and ends on a searing hot surface to lock in the flavor. It's a great way to prepare thicker cuts of meat like lamb, steaks, and chops.
If you want to impress your friends and family with a delicious main course that's fit for the holidays, this recipe for reverse sear lamb loin chops is the perfect choice.
Ingredients
8 1½-inch thick lamb loin chops
½ c. extra virgin olive oil
8 tbsp fresh lemon juice (juice of 2 lemons)
1.5 tbsp lemon zest (zest of 2 lemons)
5 cloves garlic, chopped
1 tbsp rosemary, finely chopped
1 tbsp oregano, finely chopped
1 tbsp thyme, finely chopped
kosher salt
pepper
Preparation
---
Lay your lamb loin chops onto a clean surface, and generously season them with salt and black pepper on all sides.
In a medium mixing bowl, mix together 8 tbsp fresh lemon juice, 1.5 tbsp lemon zest, 5 cloves chopped garlic, 1 tbsp chopped rosemary, 1 tbsp chopped oregano, 1 tbsp chopped thyme.
Next, slowly whisk in ½ cup of olive oil until well combined.
Place your loin chops into a gallon-sized ziplock plastic bag, and pour all the marinade mixture in.
Set the bag into a large bowl, and place in the fridge to marinate.
After 3-6 hours of marinating, pull your lamb loin chops out of the fridge to rest.
Preheat your grill to 225º and set it up for an indirect heat zone. If you have a grill with three or more burners, light the end burners, and leave the middle burner off to create your indirect heat zone.
With the inside of your grill at a steady 225º, place your lamb loin chops on the grill over indirect heat, and cook for 30 minutes (try not to open your grill lid or you risk releasing heat from your firebox).

After 30 minutes, use a meat thermometer to check the temperature inside your lamb loin chops. You're looking for an internal temp of 110º (not yet fully cooked, but on its way). If the temperature isn't quite there, close the lid and take the temperature again after 5 minutes.

Pull the meat off your grill and set aside.

Next, you're going to reverse sear the lamb loin chops. Crank up the heat on your grill to around 400º.

Place your meat back on the grill, this time over direct heat at the hottest part of the grill. Let them sear for 2-3 minutes. (You'll hear a classic sizzle noise.)

Flip your meat and cook for an additional 2-3 minutes. Using a meat thermometer, check the internal temperature of your lamb loin chops. Lamb is most often served medium rare, which means your thermometer should read 135º

When the meat has reached its temperature, pull it off the grill and allow it to rest for a few minutes before serving.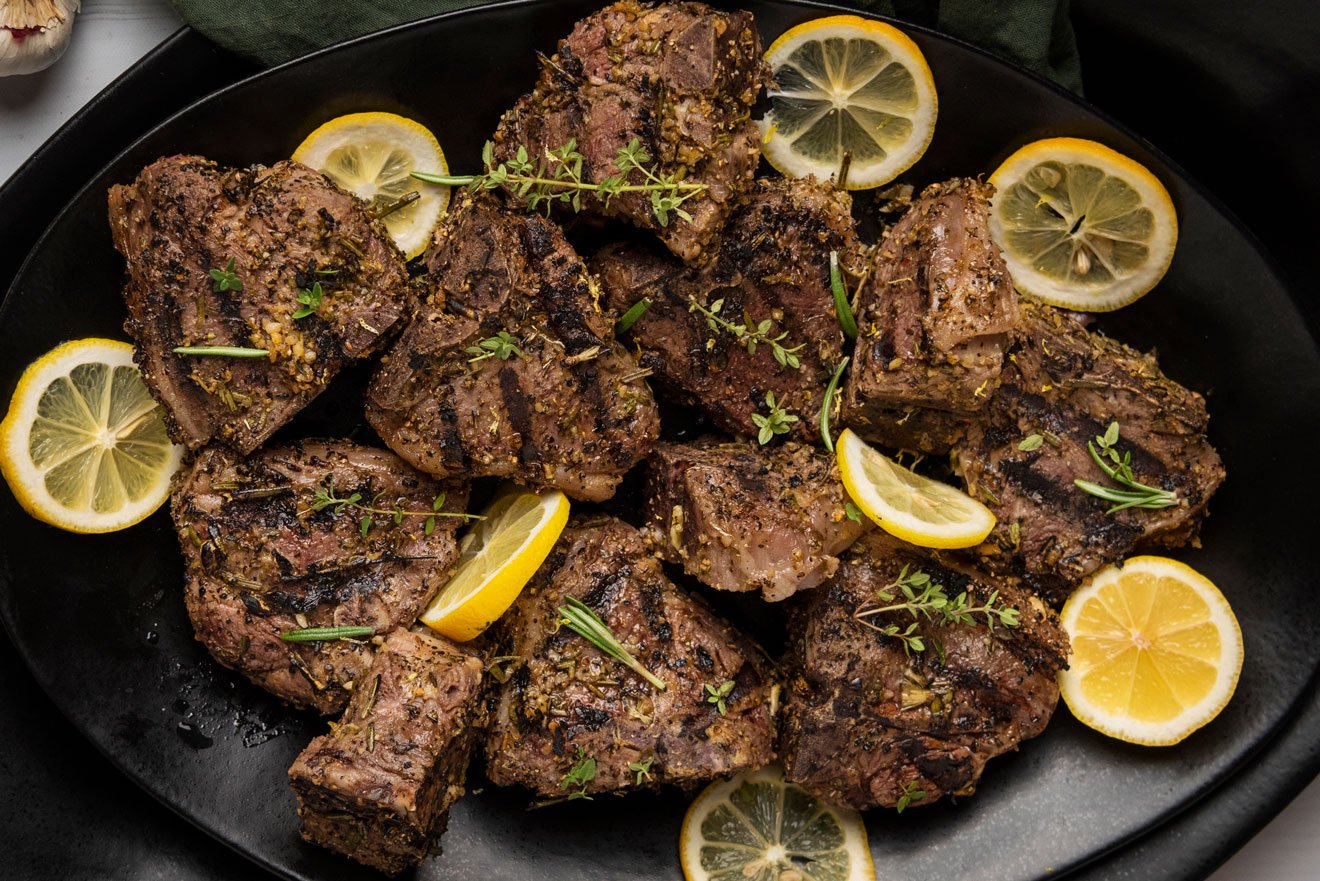 Let's be friends!
Follow us on social media and fill us in on all your grilling adventures using #EveryonesInvited. We promise to keep you up to date with all our latest grill tips, stories, recipes, and more—everything you need to stay satisfied between cookouts.
Looking for more recipes to get under your belt? Check out the rest of our unique grilling ideas to get the most out of your grill.
Try Pairing It With These Other Recipes
---
Everything You Need
To Make This Recipe
---