Pork
Rotisserie Glazed Ham
---
Behind the Recipe
Here Comes Peter Cottontail, Hamming It Up As Usual
For as long as I can remember, nothing made my old Uncle Gene happier than having his entire family over on Easter Sunday. He'd make a whole show of it. Dying hard-boiled eggs, little chocolate bunnies, big Easter egg hunts… one year he even dressed up in a full bunny costume for us kids. But the crowning touch to his Easter gatherings was always a rotisserie glazed ham like the one you see here.
This glazed ham isn't just delicious, it's a true centerpiece for any special day. With its beautiful crispy crust, the sweetness of honey, brown sugar, and cinnamon, and an impressive diamond pattern that's easier to pull off than you might think, this rotisserie glazed ham recipe will mark the highlight of any special occasion.
Ingredients
1 boneless ham, 5 lbs. (2.3kg) and fully cooked
½ cup honey
½ cup light brown sugar
2 tsp lemon juice
1 tsp cinnamon
1 tsp ground cloves
Preparation
---
You want to give your ham time to come to room temperature before it hits the grill. So 1 hour before cooking, pull your ham out of the fridge, unwrap it, and pat it dry with paper towels.
Next, take out a sharp knife and score the ham in a 1-inch diamond pattern, cutting about ¼ inch deep into the rind. This will give it that classic diamond pattern crust.
Skewer the ham on your rotisserie spit, lock it in on both sides with the spit forks, and allow it to come to room temperature.
While you're waiting, set up your Nexgrill for indirect medium-low heat, and place a drip pan on the grates in the center of the grill, directly below where your ham will cook.
To make your glaze, grab a small bowl and whisk together the honey, brown sugar, lemon juice, cinnamon, and cloves. Whisk thoroughly until no clumps of brown sugar remain.
Right before placing on the grill, pat down your ham again with paper towels to make sure the surface is dry.
Open your grill and put your rotisserie spit into place. Plug it in, and switch it on.

Close the lid, and let the ham cook over indirect heat for about 13 minutes per pound.

About 15 minutes before it's done cooking, grab your meat thermometer and take the internal temperature of the ham. When the temperature reads 150ºF (65ºC), it's time to start glazing and basting.

Grab your basting brush, and brush the glaze over the entire surface of the ham, coating it evenly (you can also brush on some of the drippings from your drip pan). Repeat this every few minutes.

Close the lid to contain the heat, and allow the sugar to turn brown until the sugar crystals are no longer visible.

Once you're done cooking (13 minutes per pound of ham), turn off the heat, but leave the rotisserie running for 10 minutes. This gives the sugar time to set in and form a beautiful crust.

Finally, carefully remove the ham from the grill and rotisserie, cover it loosely in foil, and let it rest for 10 minutes. Giving your meat time to rest after cooking allows the juices within to redistribute and settle, so that every cut of your glazed ham is moist, tender, and flavorful.

Carve it up and serve!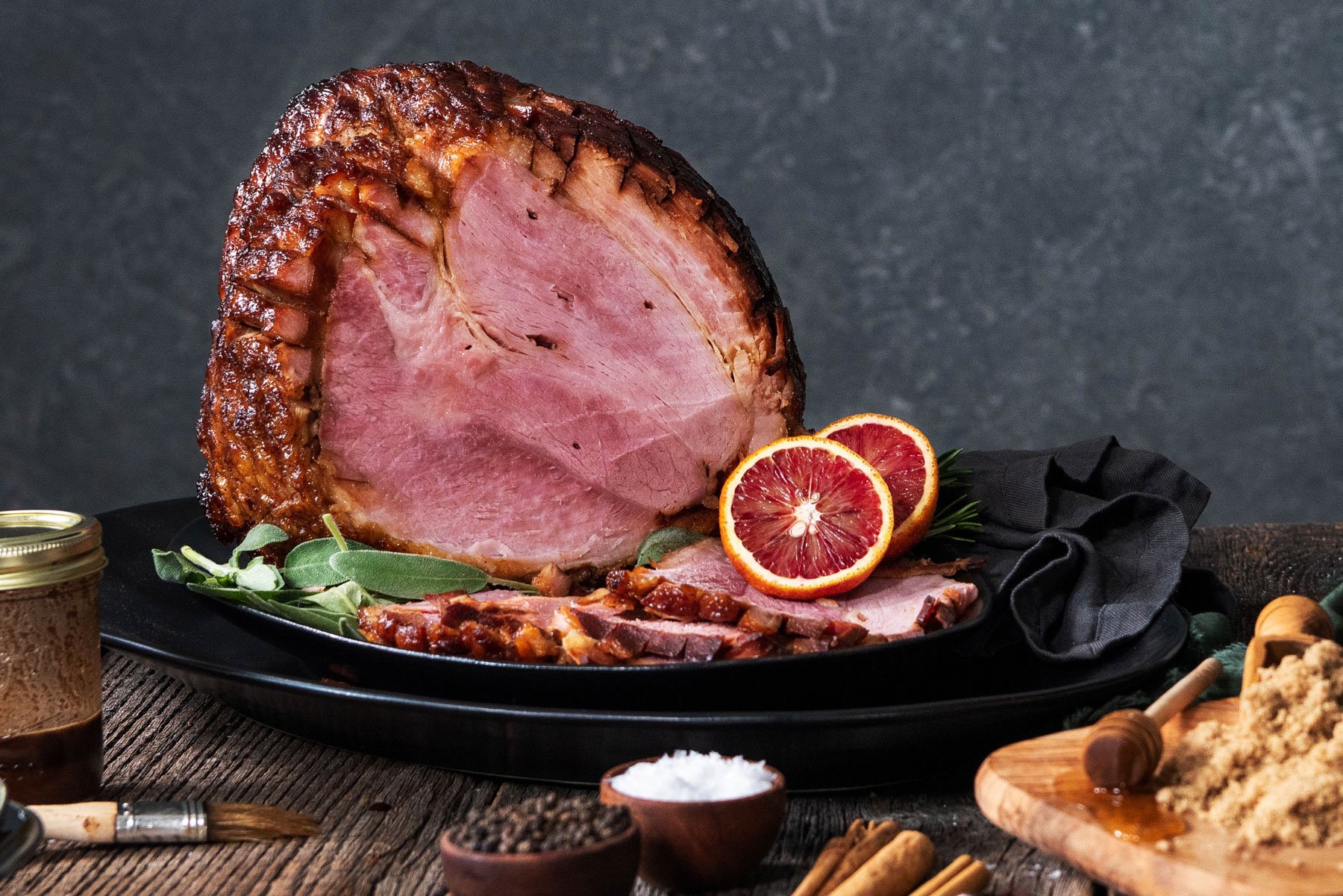 Let's be friends!
Follow us on social media and fill us in on all your grilling adventures using #EveryonesInvited. We promise to keep you up to date with all our latest grill tips, stories, recipes, and more—everything you need to stay satisfied between cookouts.
Getting tired of your usual recipes? Take a look at our other grilling recipes and find something to spice up your next backyard barbeque.
Try Pairing It With These Other Recipes
---
Everything You Need to Make This Recipe
Shop These Products
---