Beef, Pork
Smoked Bologna BLT
---
Behind the Recipe
Not Your Standard Lunchbox Bologna
It's bold to mess with a classic combo like bacon-lettuce-tomato. That's why we're wheeling out the Oakford Pellet Grill for this one. Old school ingredients infused with robust woodsmoke flavor. Now there's an idea worth getting fired up about.
Besides, bologna deserves better than brown paper bags. It's destined for greatness. Out beyond grandma's kitchen. Far from any school cafeteria.
So what do you say? Ready for a simple but satisfying sandwich that redefines what a BLT can be? Good! Then grab some pellets, fire up the Oakford, and read on for our full recipe for Smoked Bologna BLTs.
Ingredients
10 lb. chub of bologna
1 cup of your favorite BBQ rub
1 bottle of your favorite BBQ sauce
2 thick slices of hearty white bread
4 tsp. butter, soft
3 tbsp. mayonnaise
2-4 pieces green leaf lettuce
1 tomato
½ an avocado
Salt and pepper to taste
Preparation
---
Score the bologna ¼-inch deep in a diamond pattern, spacing the cuts at 1-inch intervals.
Generously coat the bologna on all sides with your favorite rub.
While your bologna is smoking, wash and dry your green leaf lettuce. Slice your tomato into about ½-inch thick slices. Place the tomatoes on a paper towel-lined plate to absorb some of the water.
Cut your avocado in half and slice one half into strips.
Spread both sides of your bread with butter.
Fill your Oakford's pellet hopper with applewood chips and preheat to 225°F.

Place your seasoned bologna directly on the grates and smoke for about 3 hours.

At 3 hours, raise your temperature to about 375°F and start coating the bologna with a thin layer of barbecue sauce. Once the sauce has the chance to caramelize a bit, remove from the grill. Once cooled, cut into thick slices.

Once your bologna is off the grill, it's time to assemble your sandwich. Place your buttered bread in a skillet over medium heat and toast lightly. Don't overdo it – you only need a light browning.

Spread about 1 ½ tbsp. of mayonnaise on each slice of toasted bread. Top one slice with lettuce and then 2 tomato slices. Sprinkle your tomatoes with salt and pepper.

Add 1-2 slices of bologna and then top with avocado strips. If you want, sprinkle a bit more salt and pepper on.

Finally, add the final slice of bread atop your masterpiece. Slice in half for 2 halves of one wholly amazing sandwich!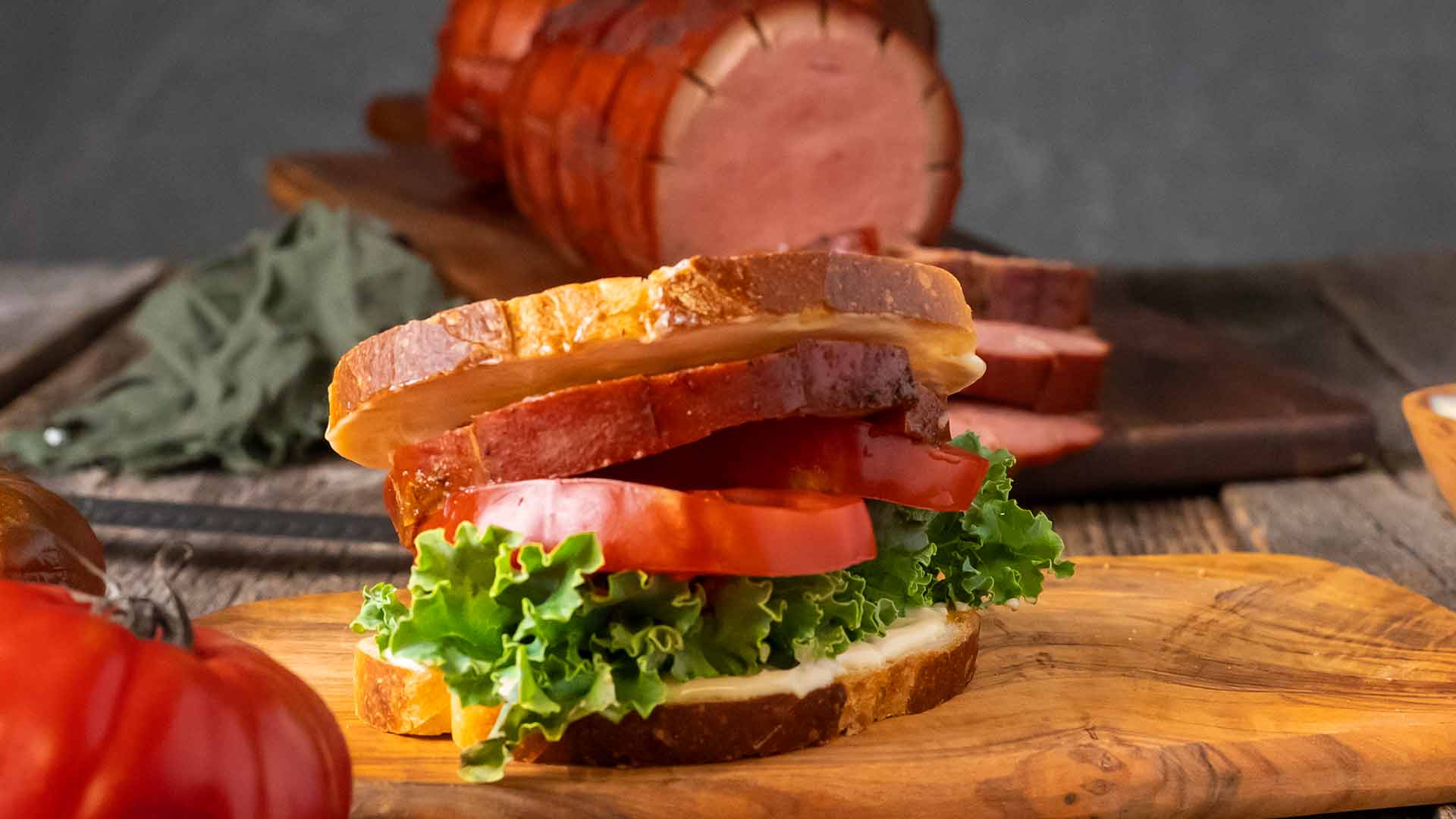 Let's be friends!
Follow us on social media and fill us in on all your grilling adventures using #EveryonesInvited. We promise to keep you up to date with all our latest grill tips, stories, recipes, and more—everything you need to stay satisfied between cookouts.
Looking for more recipes to get under your belt? Check out the rest of our unique grilling ideas to get the most out of your grill.
Try Pairing It With These Other Recipes
---
Everything You Need
To Make This Recipe
---