Beef, grilling
Wild Western Chipotle Cheesesteaks
---
Behind the Recipe
A Philly Classic with a Western Kick
Fire up your Daytona Griddle and find your best ten-gallon hat. Today, we're giving the legendary east coast sandwich you know and love a little extra giddy-up. But first, how 'bout a little background?
It was way back in 1930 when Pat Olivieri, a hotdog cart operator in Philadelphia, started piling thinly sliced steak and melty cheese high on hotdog rolls. Legend has it that a passing cab driver caught a whiff of Pat's innovative steak sandwich and asked if he could try a taste. Pat obliged the cab driver, word spread like wildfire, and the rest is Philly cheesesteak history.
For an unforgettable cheesesteak, use very thinly sliced ribeye steak. You can either have your butcher finely slice it for you, or you can carefully do it yourself.
For those who want a new twist on the classic Philly, here's a step-by-step recipe for cheesesteaks with a spicy chipotle kick.
Ingredients
1 tablespoon vegetable oil
2 lbs. thinly sliced ribeye (but most cuts of beef will do)
1 red bell pepper, sliced
1 onion, sliced
Sliced white American cheese
Your favorite chipotle sauce
4 hoagie rolls
Salt and pepper to taste
Preparation
---
Slice your veggies and steak, if purchased whole.
Season your thinly sliced steak with salt and pepper.
Butter the inside of your hoagie rolls.
Preheat your Daytona Griddle to medium-high heat and add 1 tbsp. cooking oil to cooking surface.
Once your oiled griddle is nice and hot, add sliced steak, onions, and peppers to cooking surface. Cook together until heated through, for about 5 minutes.

Once cooked, separate steak and veggies into 4 even proportions while everything's still on the griddle top. Place cheese slices on top of each serving of steak and veggies and let melt.

While cheese melts, places buttered hoagies face down on griddle top and let toast.

Once hoagies are toasted and cheese is melted, assemble your cheesesteaks, top with chipotle sauce, and chow down!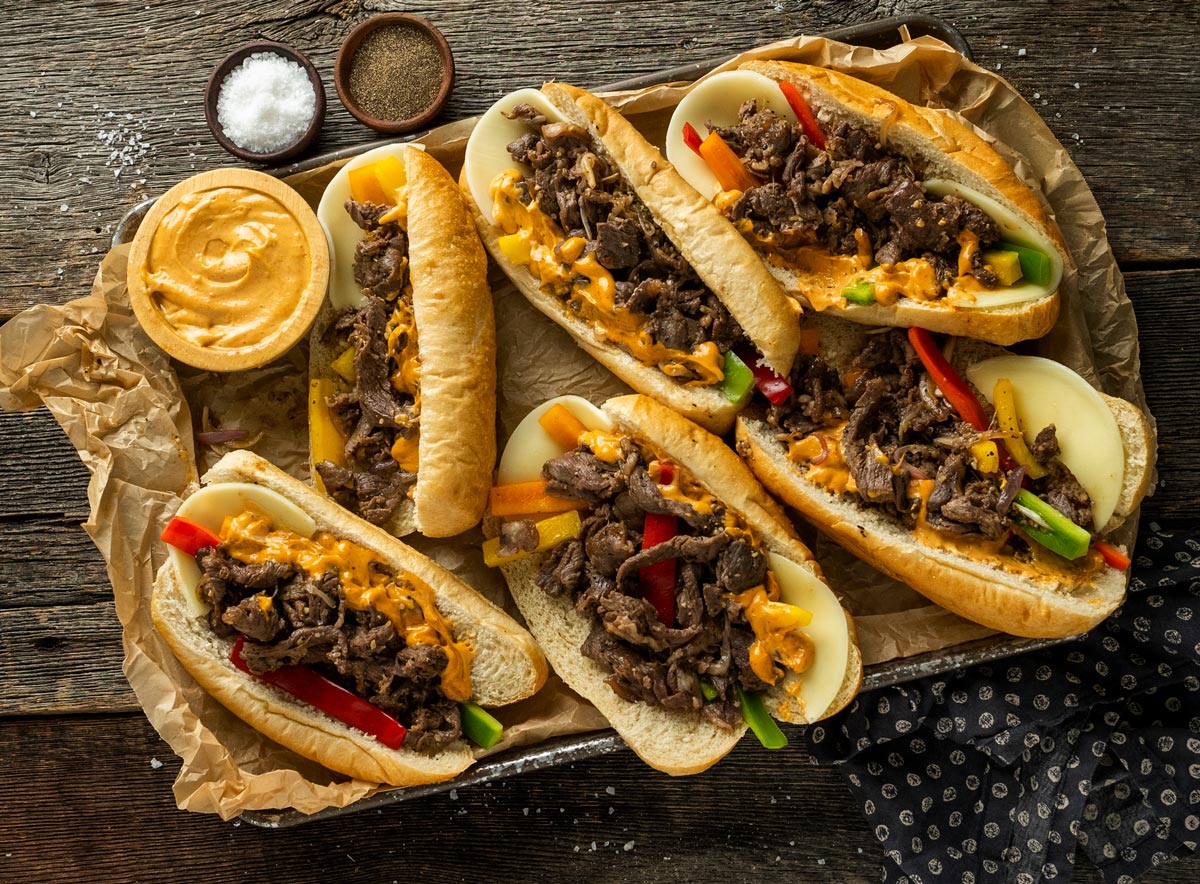 Let's be friends!
Follow us on social media and fill us in on all your grilling adventures using #EveryonesInvited. We promise to keep you up to date with all our latest grill tips, stories, recipes, and more—everything you need to stay satisfied between cookouts.
Looking for more recipes to get under your belt? Check out the rest of our unique grilling ideas to get the most out of your grill.
Try Pairing It With These Other Recipes
---
Everything You Need to
Make This Recipe
---