Beef, Seafood
Smoked Crab Imperial
---
Behind the Recipe
Crab Imperial. Royally Delicious.
For the uninitiated, Smoked Crab Imperial is a decadent (and dang easy to make) dish that features tender chunks of crab meat folded into a rich "imperial" sauce. This may sound fancy, but is really just a simple mixture of mayo, egg, and Old Bay seasoning.
You can enjoy Smoked Crab Imperial on its own or atop a steak for the most flavorful surf and turf of your life. Either way, think of this dish as a creamy, unstructured version of a crab cake that's smoked to impart a bonus layer of umami flavor. Try applewood chips for a light smoke that pairs beautifully with shellfish!
If you have dietary restrictions, you're more than welcome to substitute imitation crab here, but for most grillers, we recommend using the freshest jumbo lump crab meat available in your area. If you don't have luck at the grocery store, try your local fish market!
Ready to impress your cookout with a dish that will win hearts, minds, and tastebuds? Get your claws on some quality crab and fire up this easy recipe for Smoked Crab Imperial today.
Ingredients
1 lb. lump crab (fresh)
½ cup mayonnaise
1 tsp. Worcestershire sauce
1 tbsp. melted butter
1 tsp. lemon juice
¼ onion, minced
2 tsp. Old Bay seasoning
½ tsp. ground mustard
1 egg
½ tsp. parsley, chopped for garnish
Preparation
---
Preheat your Oakford Pellet Grill to 300°F.
Place your crab meat in a large bowl.
In a separate bowl, mix together the mayo, Worcestershire sauce, melted butter, and lemon juice.
Add the onion, seasoning, ground mustard, and toss to combine. Then mix in the egg and parsley, and toss to combine.
Add the mayo mixture to the bowl with the crab and mix gently. Transfer the mixture to a small cast-iron skillet.
Cover and smoke for 30-40 minutes, or until golden and bubbling.

Remove from heat and let cool for 5 minutes.

Serve garnished with additional seasoning and chopped parsley.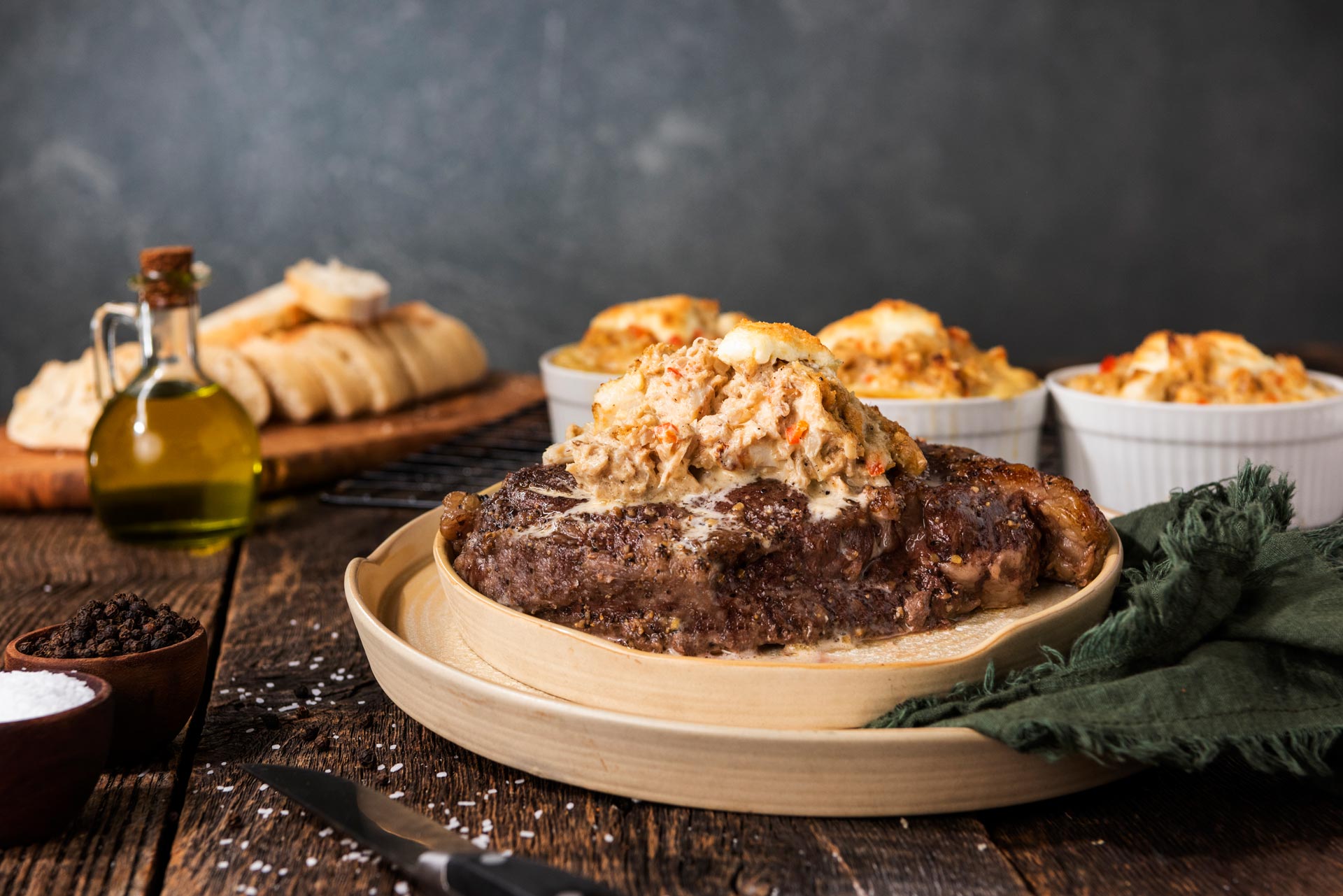 Let's be friends!
Follow us on social media and fill us in on all your grilling adventures using #EveryonesInvited. We promise to keep you up to date with all our latest grill tips, stories, recipes, and more—everything you need to stay satisfied between cookouts.
Looking for more recipes to get under your belt? Check out the rest of our unique grilling ideas to get the most out of your grill.
Try Pairing It With These Other Recipes
---
Everything You Need To
Make This Recipe
---