---
Behind the Recipe
I Thought I'd Grilled It All
I've been grilling ever since I could grip a pair of tongs. Back in the day, I'd spend hours with my pops smoking ribs and brisket on the back patio. As I got older, I developed an appetite for trying different cuts of beef.
Every weekend it was something new. Shoulder tender, tri-tip, hangers, bavettes. Nose to tail, there wasn't a cut the beef I didn't have a recipe for… or so I thought. When my butcher casually mentioned he had fresh oxtail, I didn't blink. "I'll take a couple pounds of that," I blurted out. That same weekend, pops came over for dinner. There we were again just like old times, but with a taste of something completely new.
Ingredients
7 pieces of oxtail
¼ cup of your favorite BBQ rub
1 cup long grain white rice
3 cups beef broth
1 cup red wine
¼ Worcestershire sauce
¼ balsamic vinegar
1 tbsp. beef base
1 tbsp. tomato paste
1 tbsp. olive oil
½ cup onion, chopped
½ cup carrot, chopped
½ cup celery, chopped
4 cloves garlic, minced
1 tsp. kosher salt
1 tsp. freshly ground black pepper
1 pinch parsley
Preparation
---
Prepare braising sauce by heating olive oil in a large pan over medium heat on stovetop or side burner. Add onion, celery, and carrot, sautéing for 2-3 minutes.
Add garlic, kosher salt, and black pepper, continuing to cook for 1-2 minutes.
Stir in Worcestershire sauce, balsamic vinegar, tomato paste, and red wine. Reduce for 3 minutes.
Add beef broth and beef base, stirring and continuing to reduce for 10 more minutes, then set aside.
Preheat your smoker for indirect cooking at 275 degrees, adding wood chips for extra flavor as desired.
Trim excess fat from outer edges of oxtail and generously coat all sides with your favorite BBQ rub.
Place seasoned oxtails on grill and smoke for 2 hours, or until the outside develops a deep mahogany color.

Remove oxtails from smoker and arrange in a large cast iron skillet. Pour braising sauce over oxtail.

Place cast iron skillet on smoker and continue to cook at 275 degrees for 2-3 more hours, or until oxtails are fork tender.

As meat finishes, prepare long grain white rice according to directions on package. Arrange cooked rice on large serving platter.

Remove cast iron skillet from smoker and place oxtail on top of rice. Strain braising liquid and skim fat from top.

Ladle sauce over each piece.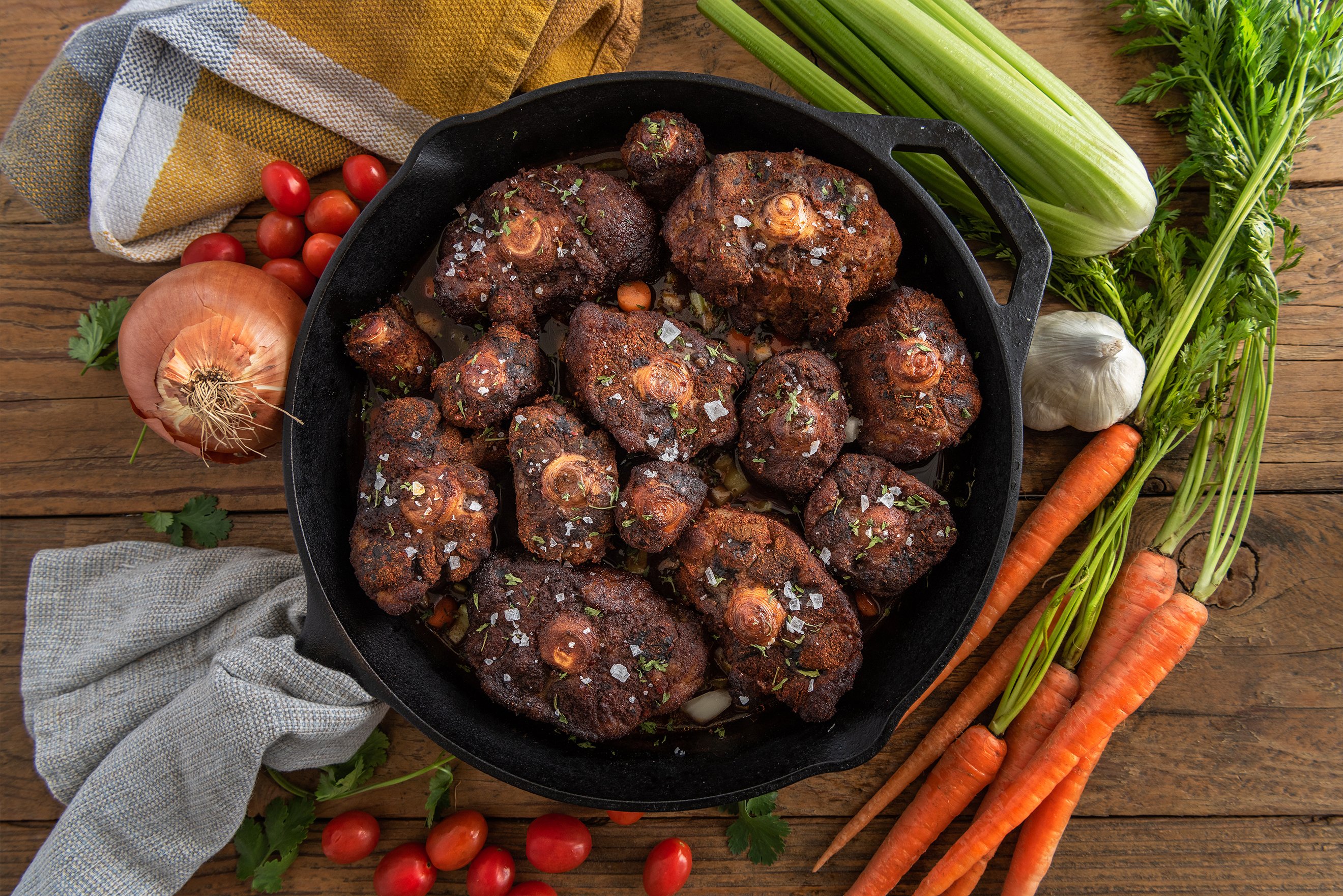 Let's be friends!
Follow us on social media and fill us in on all your grilling adventures using #EveryonesInvited. We promise to keep you up to date with all our latest grill tips, stories, recipes, and more—everything you need to stay satisfied between cookouts.
Looking for more recipes to get under your belt? Check out the rest of our unique grilling ideas to get the most out of your grill.
Try Pairing It With These Other Recipes
---
Everything You Need To
Make This Recipe
---