Pork
Smoked Pork Shoulder
---
Behind the Recipe
Good Time to Start Smoking
Fire up those smokers and get ready to enjoy the perfect smoked pork shoulder!
Whether you prefer using fruit tree wood like apple, peach, and pear, or whether you fancy heartier woods like mesquite or hickory – smoke is the key to breaking down the fat, which adds flavor and moisture to the shoulder.
The mouth-watering smoky flavor is as quintessential as cheese is to wine, rendering the two the perfect pair.
This paired perfection emanates from the Maillard reaction, which occurs when the pork is smoked with heat. It also helps the shoulder burst with flavor, making the day you use your Oakford Pellet Grill one of the most satisfying.
Ingredients
1 pork shoulder roast (10 pounds)
1/4 cup yellow mustard
1/4 cup brown sugar
1/4 cup coarse sea salt
3 tbsp cracked black pepper
2 tbsp smoked paprika
2 tsps chipotle powder
2 tsps garlic powder
2 tsps onion powder
Preparation
---
Preheat the smoker to 225 degrees F.
Ensure you have a meat thermometer at hand.
Remove and pat your pork shoulder dry with paper towels.

Rub the yellow mustard over the pork shoulder.

Mix the spices in a bowl and reserve 2 tablespoons.

Season your pork shoulder with spices.

Place your pork shoulder on the smoker – fat side up.

Insert a meat thermometer.

Smoke the pork until it reaches 195 degrees.

Once your pork reaches the desired temperature of 202 degrees, remove the pork shoulder from the smoker and wrap in foil.

Rest your pork for a minimum of 1 hour.

Once the hour is done, shred the pork shoulder. Sprinkle with reserved seasoning and enjoy.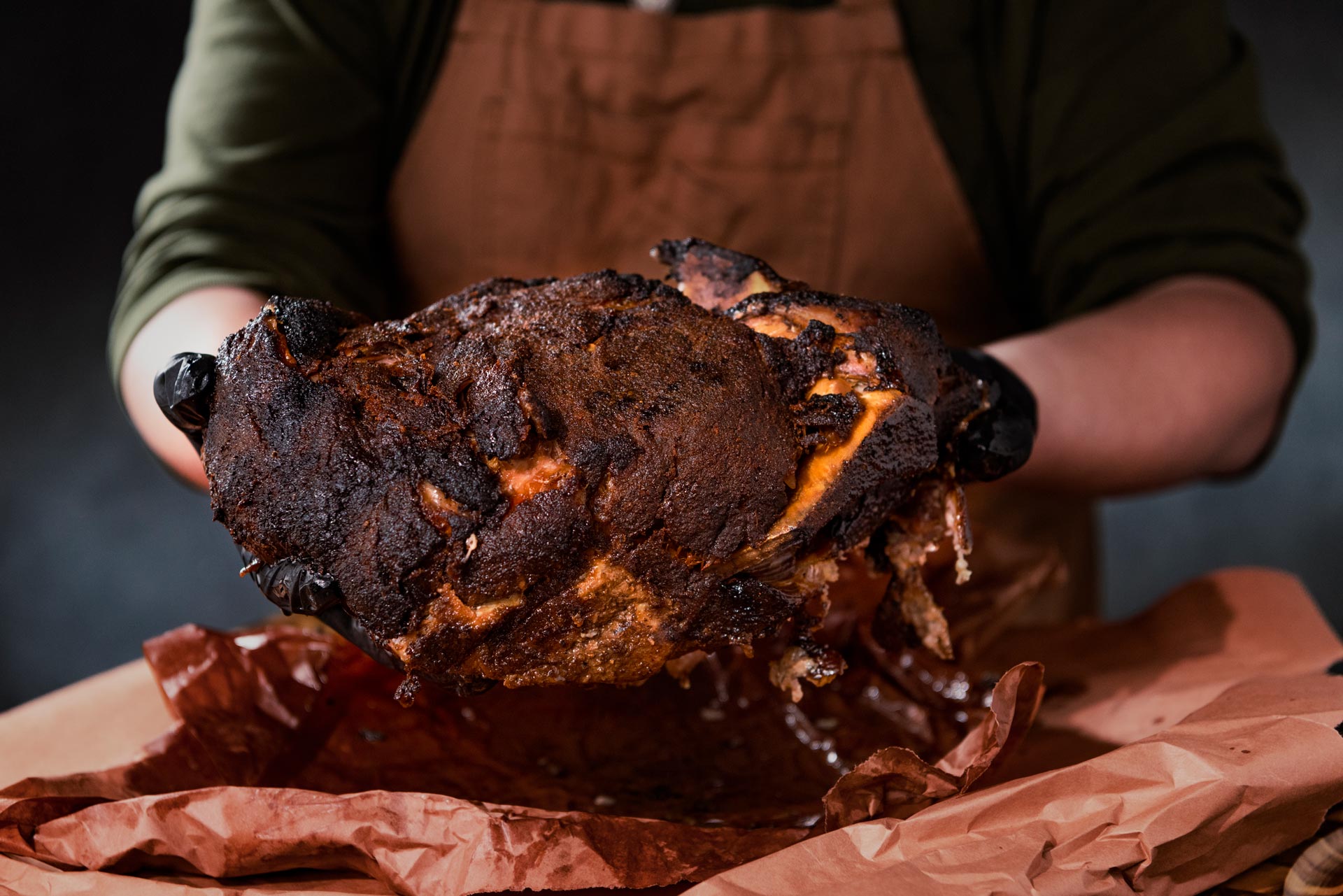 Let's be friends!
Follow us on social media and fill us in on all your grilling adventures using #EveryonesInvited. We promise to keep you up to date with all our latest grill tips, stories, recipes, and more—everything you need to stay satisfied between cookouts.
Looking for more recipes to get under your belt? Check out the rest of our unique grilling ideas to get the most out of your grill.
Try Pairing It With These Other Recipes
---
Everything You Need To
Make This Recipe
---