spicy
Spicy Chili Crisp Grilled Cheese
---
Behind the Recipe
More Than Comfort Food, This is Comfort Heat
Grilled cheese is the classic go-to comfort food that anyone with sliced bread, a burner, and a couple of Kraft singles can whip up.
And while grilled cheese is perfect on its own, it's amazing how easy it is to bring the age-old recipe to new heights with just a few little tweaks. That's the inspiration behind this recipe for Spicy Chili Crisp Grilled Cheese.
This little sandwich packs some delicious heat thanks to one added ingredient: spicy chili crisp. If you've never heard of spicy chili crisp, it's become something of a cult classic (look for Lao Gan Ma's chili crisp in the Asian food aisle of your grocery store). Basically, it's chili oil that contains crispy bits of onion and soy beans, but we like to think of it as the easiest way to turn comfort food into "comfort heat".
This recipe for Spicy Chili Crisp Grilled Cheese was made on a Nexgrill Flat Top Griddle, but you can also make it on a normal gas or charcoal grill to get those classic grill marks.
And if you want to put your own spin on it, try adjusting the recipe with your own ingredients like poblano chiles, black beans, corn kernels, or even beef.
Ingredients
8 slices of bread (sourdough is perfect)
2-4 c shredded cheddar cheese
4 tbsp bu

tte

r
Spicy chili crisp (to taste)
Preparation
---
Place a slice of bread open faced on a cutting board, top with shredded cheese, and add generous dollops of Chili Crisp on top (however much feels right to you).
Top with another slice of bread.
If you're using a gas or charcoal grill, spread 1 tbsp butter on the outer surfaces of the bread.
Preheat your Nexgrill Flat Top Griddle (or grill) for medium low heat.

Melt half a tablespoon of butter on the surface of the griddle (if you're using a gas or charcoal grill, then pre-butter the bread before cooking).

Place the sandwich down onto the melted butter, being careful to keep the sandwich intact.

Cook until golden brown and toasty (about 3-4 minutes). If your cheese won't melt quickly enough, cover the sandwich with a metal lid and keep your eyes on the bottom so that it doesn't burn.

Once you have the first side all golden and toasty, flip your sandwich, turn the heat down to low, and grill for another 3-4 minutes.

Remove your sandwich from the grill. Slice it into pieces, and share with your friends!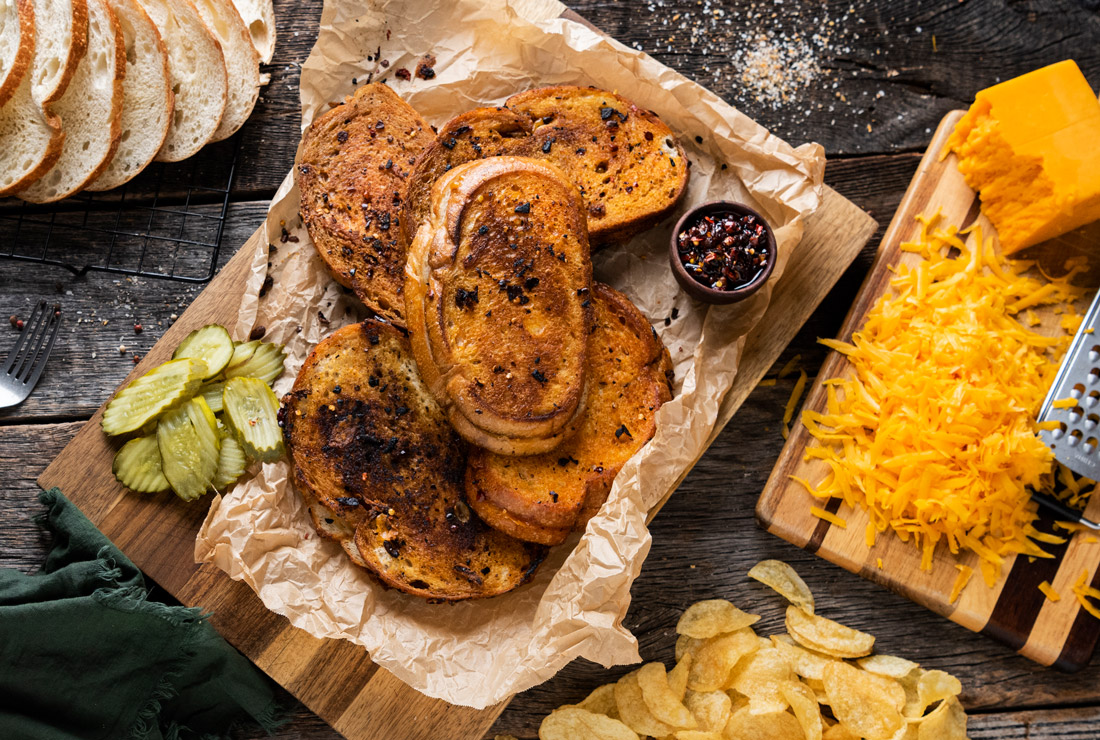 Let's be friends!
Follow us on social media and fill us in on all your grilling adventures using #EveryonesInvited. We promise to keep you up to date with all our latest grill tips, stories, recipes, and more—everything you need to stay satisfied between cookouts.
Looking for more recipes to get under your belt? Check out the rest of our unique grilling ideas to get the most out of your grill.
Try Pairing It With These Other Recipes
---
Everything You Need To
Make This Recipe
---