vegan
Grilled Portobello Vegan Cheesesteaks
---
Behind the Recipe
Eating Vegan Has Come to the Grill
Anyone who thinks a grill recipe must have meat will be pleasantly surprised by my Vegan Portobello Cheesesteak. Some people might roll their eyes when they hear the word "Vegan," but this recipe proves it's not all raw veggies and rabbit foods. With a little creativity, vegan grilling can be just as flavorful as anything else you'd toss on the grill. In fact, with ingredients like soy-sauce-marinated Portobello caps and cashew white cheddar cheese sauce on the table, you're about to find out how tasty vegan grilling can be.
As seen on Beyond the Flame with Garrett Greer
Ingredients
Mushroom Steak Strips

20 Portobello mushroom caps
1 cup water
1 cup soy sauce
2 tbsp. Worcestershire sauce
2 tbsp. onion powder
2 tsp. black pepper




Cashew White Cheddar Cheese Sauce

2 cups cashews
2 cups water
1 cup nutritional yeast
2 tbsp. cooking oil
2 tsp. salt
1 tsp. pepper
1 tsp. onion powder
1-2 tsp. Dijon mustard




Buns + Toppings

4-8 pretzel (or regular) hoagie buns
2 green bell peppers
2 yellow onions
Garlic salt
Black pepper
Liquid smoke
Preparation
---
Mushroom Steak Strips
Thinly slice Portobello caps so they resemble strips of steak.
Mix water, soy sauce, Worcestershire sauce, onion powder, and black pepper in a large bowl.
Soak Portobello strips in marinade for at least 4 hours, but preferably overnight.
In the morning, bake marinated Portobello strips in the oven at 160 degrees for 2 hours.
Cashew White Cheddar Cheese Sauce
In a separate bowl, bring 2 cups of water to a boil.
Add 2 cups raw, unsalted cashews to boiling water. Cook for 15 minutes, stirring occasionally.
Once cooked, add cashews, yeast, cooking oil, salt, pepper, onion powder, and Dijon mustard to a blender or food processor and blend until smooth.
In a pan, heat cashew cheese sauce to preferred serving temperature, adding additional water to thin as needed.
Toppings + Assembly
Dice peppers and onions. Mix together in a new bowl, then head out to your Nexgrill.
Mix and grill veggies over medium-high, indirect heat. (If you have 'em, now's the time to equip your infrared heat plates)

Add garlic salt, black pepper, and liquid smoke to onion and peppers to taste.

Add baked Portobello strips to grill over medium-high heat.

Toast hoagie buns face-down on warming rack.

Once everything's cooked (about 15 minutes), stack a healthy amount of grilled Portobello strips onto your open-faced hoagies.

Slather each sandwich with cheese sauce.

Top with grilled pepper and onion mix.

Devour your vegan cheesesteak with plenty of napkins on hand.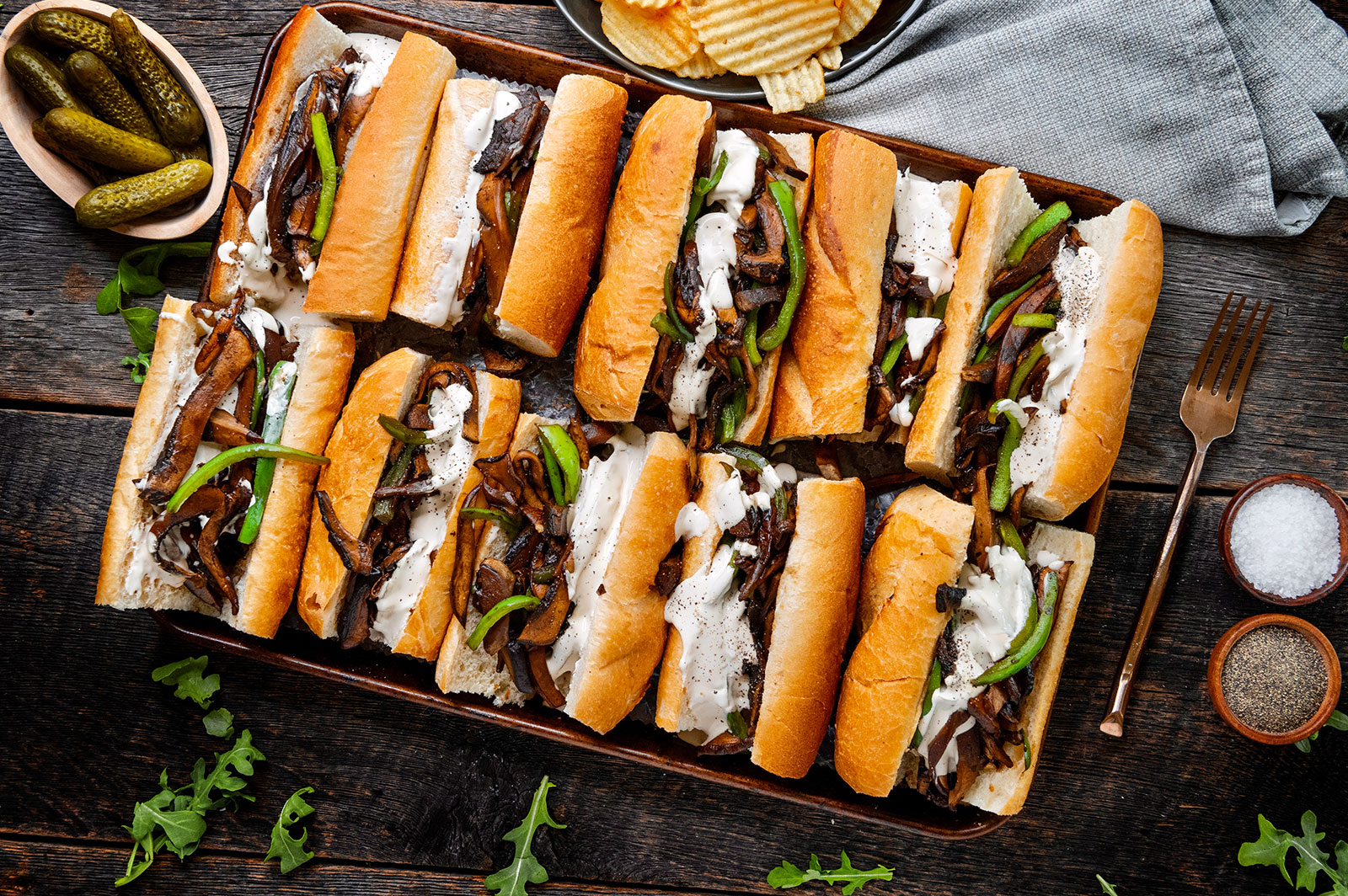 Let's be friends!
Follow us on social media and fill us in on all your grilling adventures using #EveryonesInvited. We promise to keep you up to date with all our latest grill tips, stories, recipes, and more—everything you need to stay satisfied between cookouts.
Looking for more recipes to get under your belt? Check out the rest of our unique grilling ideas to get the most out of your grill.
Try Pairing It With These Other Recipes
---
Everything you need to
Make This Recipe
---