Chicken
Drumsticks 3 Ways
---
Chicken Recipe
For Drummin' Up 3 Types of Tasty
Nothing says 'summer' like friends and family gathered 'round the grill. And nothing says 'feasting' quite like chicken drumsticks. Well, break out the wet naps. 'Cause here's a chicken drumstick recipe that makes mouths water in not one, not two, but three different ways.
Needless to say, this isn't your average BBQ chicken recipe. To pull this cook off, you'll need the help of your trusty Neevo™720 Plus with Air Fryer, the digital smart grill that removes virtually all guesswork from grilling, guaranteeing perfectly grilled poultry every time you fire up.
All you have to do is marinate your chicken, set your time and temp, and let Neevo's advanced cooking modes grill, bake, and air fry your chicken to tender, juicy perfection.
Sound like your kind of summer cookout? Ours too.
Now let's dig in!
Ingredients
5-7 chicken drumsticks
1 tsp. garlic powder
1 ½ tsp. smoked paprika
1 tsp. onion powder
1 tbsp. brown sugar
2 tbsp. olive oil
1 tsp. dried thyme
½ tsp. chili powder (optional)
Salt and pepper to taste
Preparation
---
Add the olive oil and seasoning ingredients to a large mixing bowl.
Mix thoroughly.
Place the drumsticks in the bowl and mix with a wooden spoon until all the chicken is evenly coated in your marinade.
Cover the bowl and allow the drumsticks to marinate for at least 20 minutes (but we recommend leaving them in the fridge overnight).
In the Neevo Air Fryer: Lightly oil the inside of your air fryer tray with olive oil and use your NEX-fiTM app to preheat the fryer to 400°F for a minute. Place your coated drumsticks in the air fryer in a single layer. Close it up and set the timer for 12 minutes. Open the air fryer and turn the chicken pieces over carefully. Cook for another 15 minutes, or until the internal temp reads 165°F

Baked with Neevo: Use your NEX-fiTM app to preheat your air oven to 425°F. Prepare a baking sheet with aluminum foil and spray with non-stick cooking spray. Add another 2 tbsp. of olive oil to your chicken and toss lightly (this prevents your chicken from drying out while it bakes). Place your drumsticks on the baking sheet and bake for 40-45 minutes until the internal temp reads 165°F.

Grilled with the Neevo: Fire up the grill to around 425°F. Place your seasoned chicken drumsticks on the hot grill and sear for about 5 minutes, then turn them over and repeat. Close the grill and reduce the temperature to 325°F. Cook for five minutes, then flip your drumsticks, close the lid, and cook for another 5-7 minutes or until the internal temp reads 165°F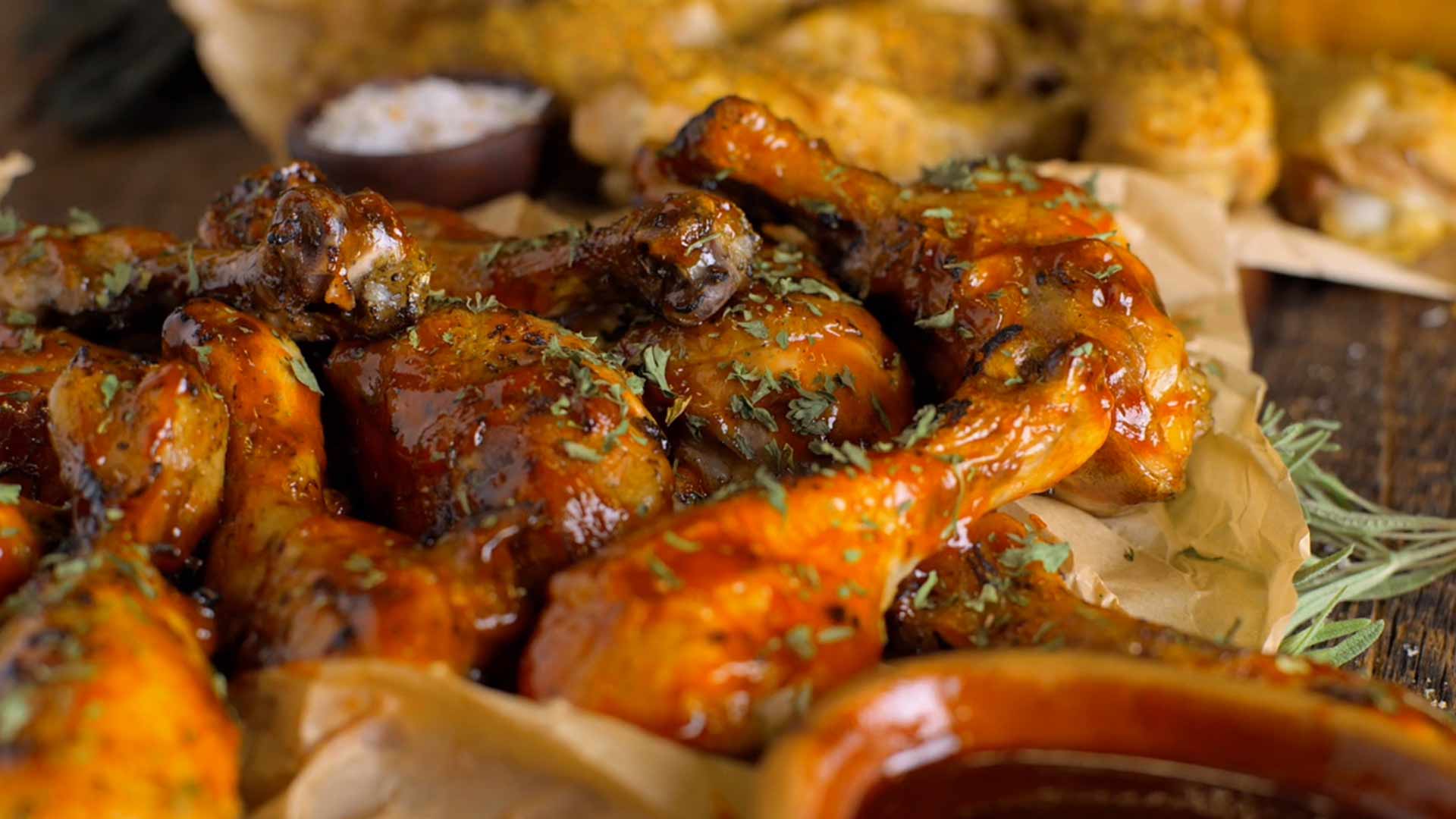 Let's be friends!
Follow us on social media and fill us in on all your grilling adventures using #EveryonesInvited. We promise to keep you up to date with all our latest grill tips, stories, recipes, and more—everything you need to stay satisfied between cookouts.
Looking for more recipes to get under your belt? Check out the rest of our unique grilling ideas to get the most out of your grill.
Try Pairing It With These Other Recipes
---
Everything You Need
To Make This Recipe
---