Fish
Honey Glazed Smoked Halibut
---
Behind the Recipe
Go Fishin' for Woodsmoke Flavor
Historically, halibut hails from the Atlantic Ocean. But today, it belongs on your Oakford Pellet Grill.
Due to its mild flavor and tender consistency, the Pacific Halibut has been topping supermarket menus across the globe for decades. And unsurprisingly, there's no shortage of methods for preparing this low-fat yet seriously succulent white fish.
Halibut is closer to flounder and tilapia than any other fish. It mimics the sweet taste of crab or clam, which is why it's so popular. One of the lesser-known benefits of this beautiful fish is that it absorbs seasoning exceptionally well, making it the perfect fish to douse in your favorite BBQ rub and pop in the pellet grill to smoke.
If you haven't tried smoking fresh halibut on your Oakford Pellet Grill, you don't know what you are missing. Cast a line for legendary woodsmoke flavor with this whopper of a smoked seafood recipe today.
Ingredients
1 ½ lb. halibut filet (cut into 4 pieces)
Your favorite sweet & smokey BBQ rub (we like Meat Church's Honey Hog Rub)
4 tbsp. clover honey
½ cup kosher salt
1 cup sugar
4 tbsp. cumin
2 bay leaves, crushed
½ gallon water
Preparation
---
Mix all brine ingredients (salt, sugar, cumin, white pepper, bay leaves, water) in water and dissolve thoroughly.
Pour the brine over the filets in a large bowl or pan and let sit for two hours.
After two hours, remove fish from brine, rinse off, and pat dry.
Generously season filets with rub on all sides.
If you prefer a bolder flavor profile, try adding some fresh cracked pepper over the top of the halibut after seasoning.
Set your Oakford Pellet Grill for indirect cooking at 275°F. For this cook, we recommend lighter smoking hardwood pellets, such as Alder, fruitwood, or pecan wood.

Place the filets directly on the cooking grate, skin-side down. The skin will act as a barrier to the heat and remove easily after the cook. Smoke the fish until it reaches an internal temperature of 135°F/57°C degrees.

Optional: Drizzle the filets with warm honey during the last 10 minutes for a sweet twist on this smoked seafood recipe.

Using a spatula, remove the fish carefully. Place it on a plate to rest for 10 minutes. Then enjoy!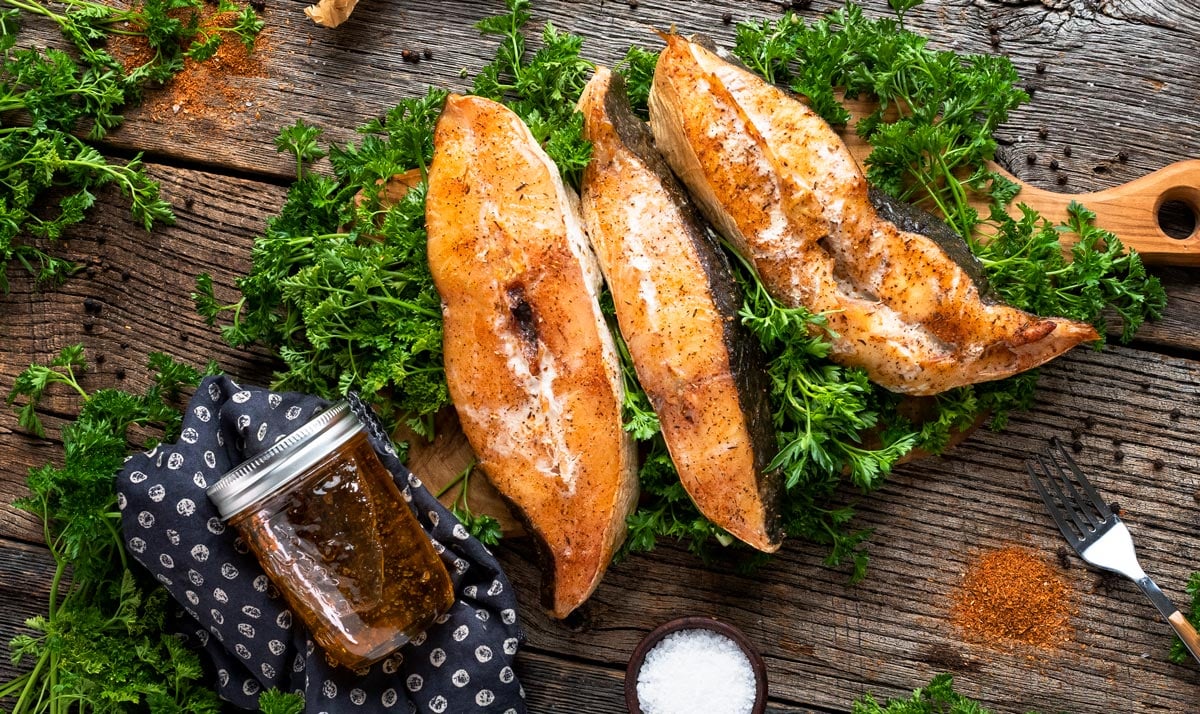 Let's be friends!
Follow us on social media and fill us in on all your grilling adventures using #EveryonesInvited. We promise to keep you up to date with all our latest grill tips, stories, recipes, and more—everything you need to stay satisfied between cookouts.
Looking for more recipes to get under your belt? Check out the rest of our unique grilling ideas to get the most out of your grill.
Try Pairing It With These Other Recipes
---
Everything You Need To
Make This Recipe
---